China 2017
Guangzhou and area
Dates March 5 2017 --- March 17 2017
| | | | |
| --- | --- | --- | --- |
| Date | Location | Activity | Hotel |
| March 5 2017 | Travel | | |
| March 6 2017 | Arrive 9:00 am Guangzhou | Pearl Rive cruise evening (lets do some shopping) | Nanfang Dasha Hotel |
| March 7 2017 | Guilin | Two Rivers four lake tour, Cave, Elepant trunk hill | Lakeside Inn |
| March 8 2017 | Guilin to Longji Rice Terraces | Climb a big hill and look at one of the wonders of the world | Lakeside Inn |
| March 9 2017 | Yangshuo | Lee river cruise, evening show, West Street, bike tour | Lucy's Hotel |
| March 10 2017 | Zhaoqing | Day trip Caves and views | Home Base |
| March 11 2017 | Guangzhou | gerneral sights | Home Base |
| March 12 2017 | Shenzhen or Guangzhou | Shopping | Home Base |
| March 13 2017 | Hong Kong | Big Buddha, Tram, .... | Airbnb |
| March 14 2017 | Hong Kong | | Airbnb |
| March 15 2017 | Macau | Casino, magic show, house of dancing water,old forts, archetecture | Hotel Royal Macau |
| March 16 2017 | Zhuhai - Guangzhou | Sights | Home Base |
| March 17 2017 | Travel home | | |
In general this will be our travel map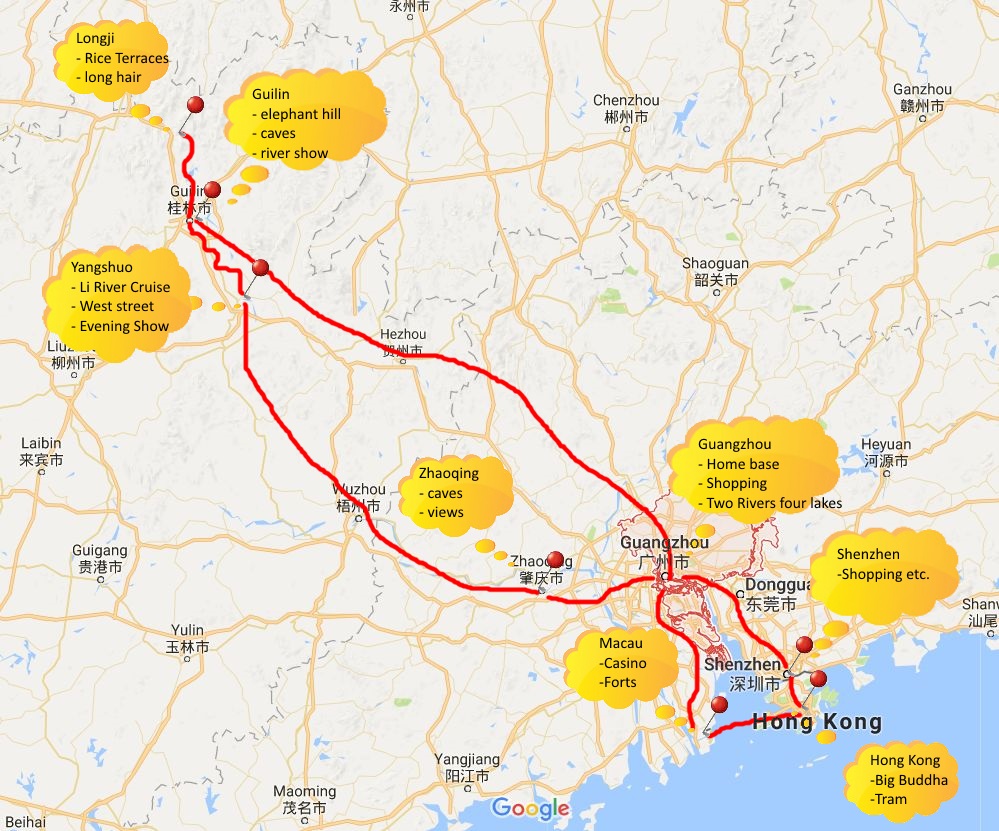 Planning some more, we (I mean Jane) did some more research and looks like we need to see one of the world wonders in the Longji Rice Terraces aka dragons backbone. This should be a great addition to the trip.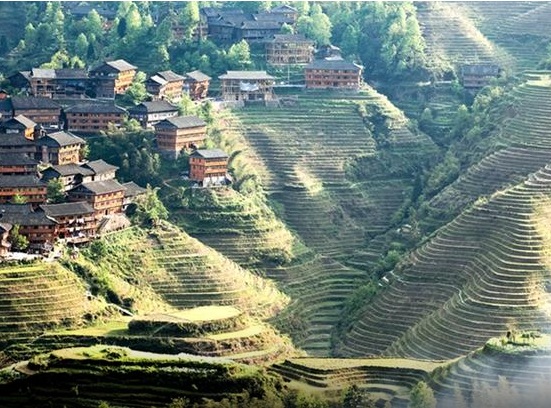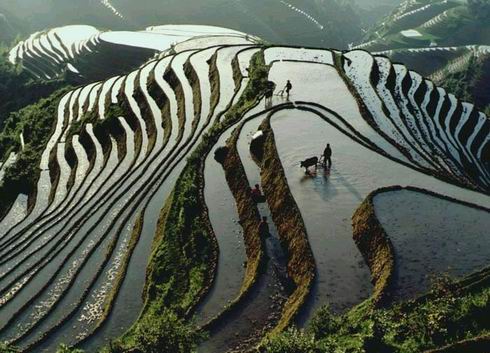 It must have taken years and years and years to do that.
This means we have to do some adjustments and stay an additional night in Guilin, well worth it I would say. As a result we may not get our shopping trip to Shenzhen we will be fine.
Phaydy and I got our visa's to China as well, they gave us ten year unlimited entry (who knows we may go back to see the great wall).
Now some of the things we will do.
Elephant hill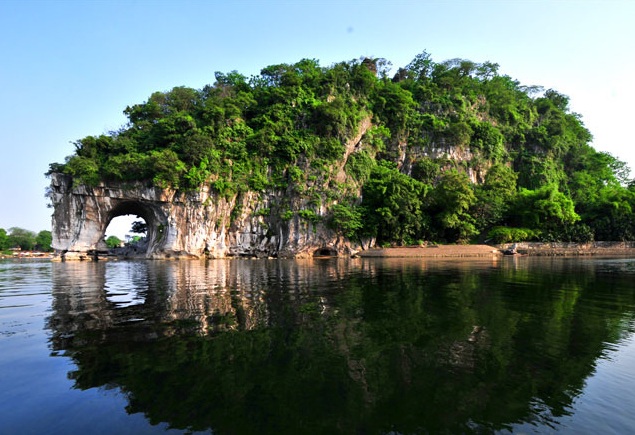 Reed Flute Cave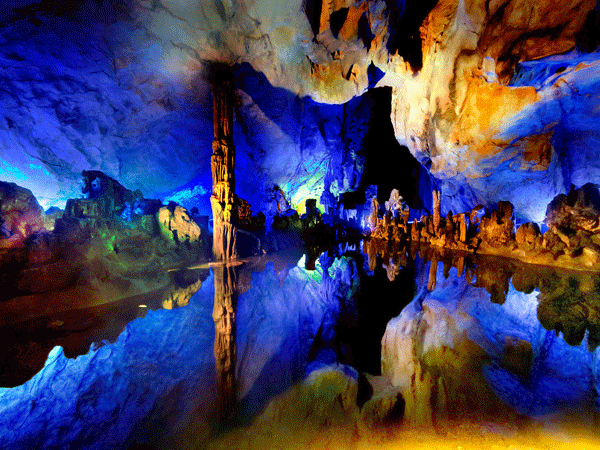 I will have to figure out how to use my camera to take some indoor pictures like this before I go don't want to be playing around too much with the tool while I am there. I actually want to enjoy the view not spend my time figuring out some camera thing (that is to be done before hand)
Fubo Hill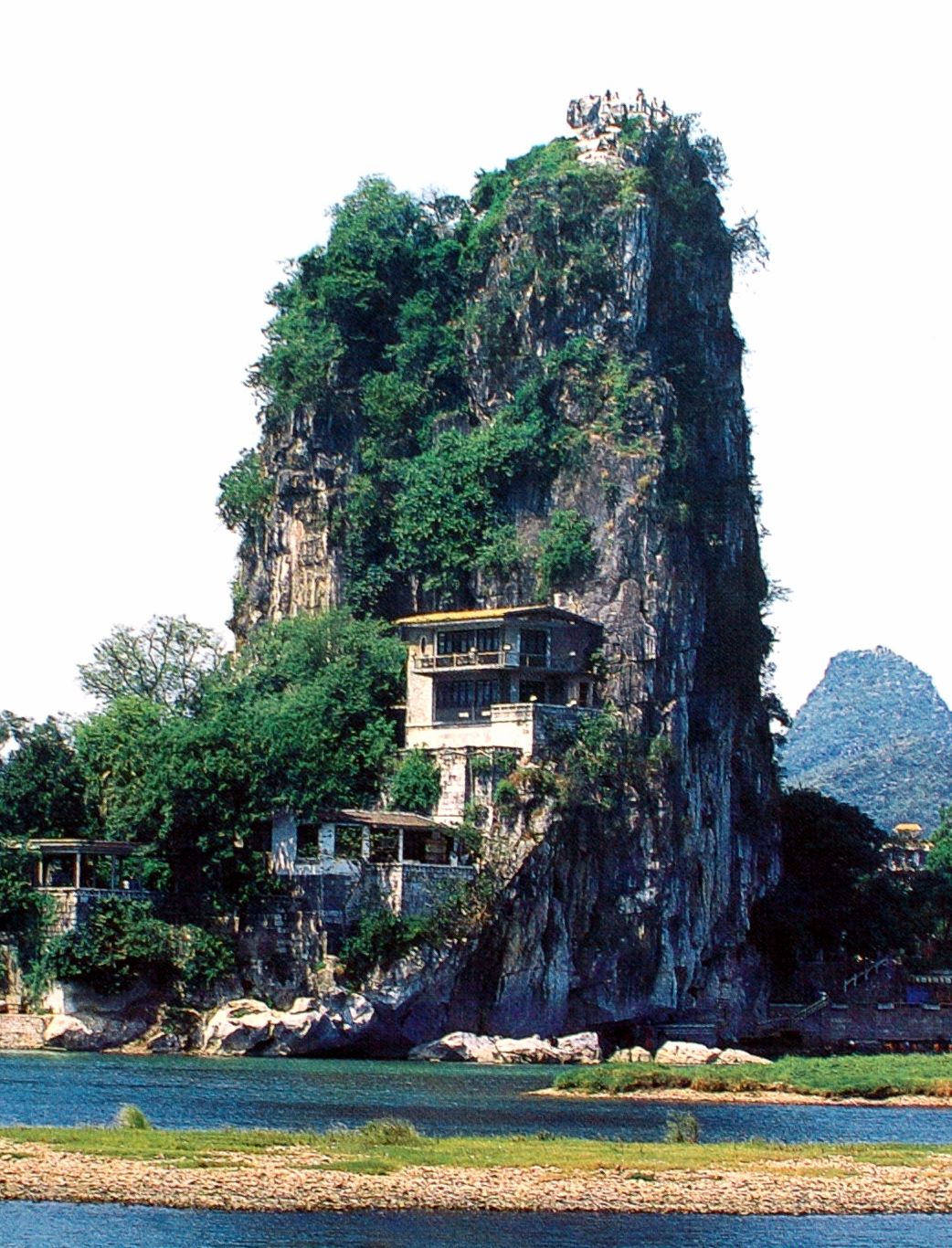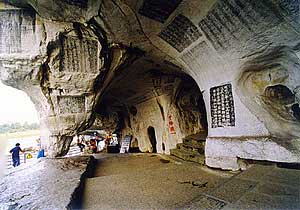 Yao Mountain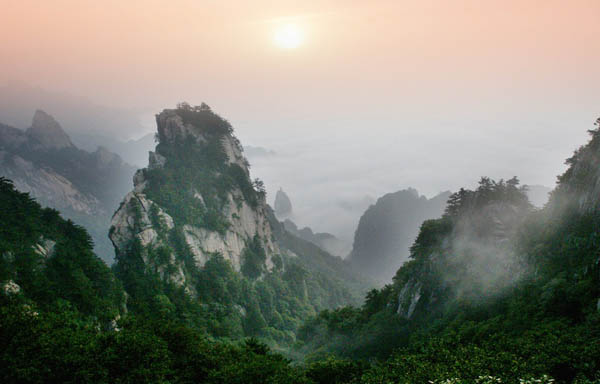 Two river four lakes tour at night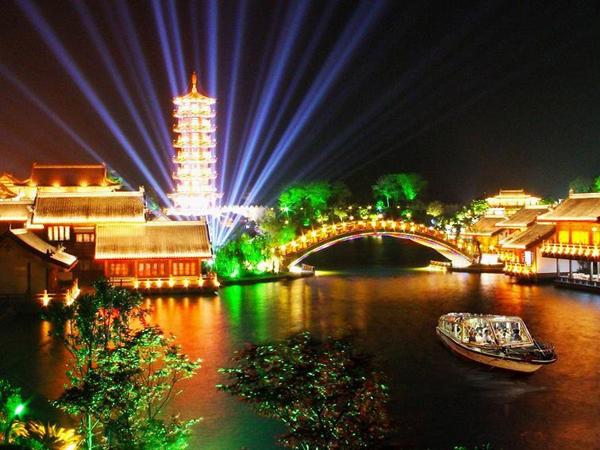 In the moring we will do a river cruise to Yangshuo from Guilin.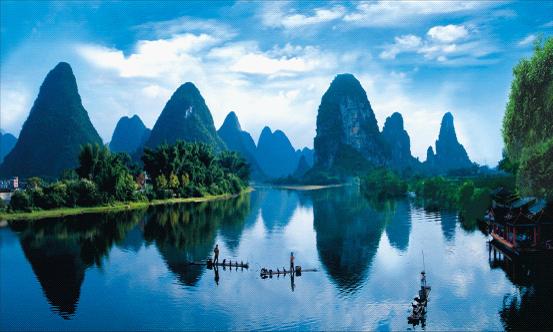 Once in Yangshuo many things to do two of the musts are west street for food and shopping and of course the evening show.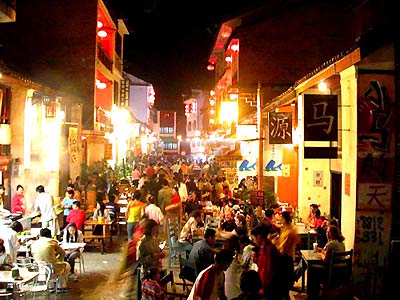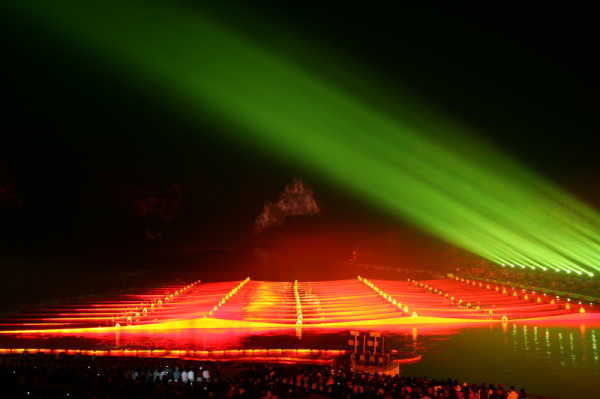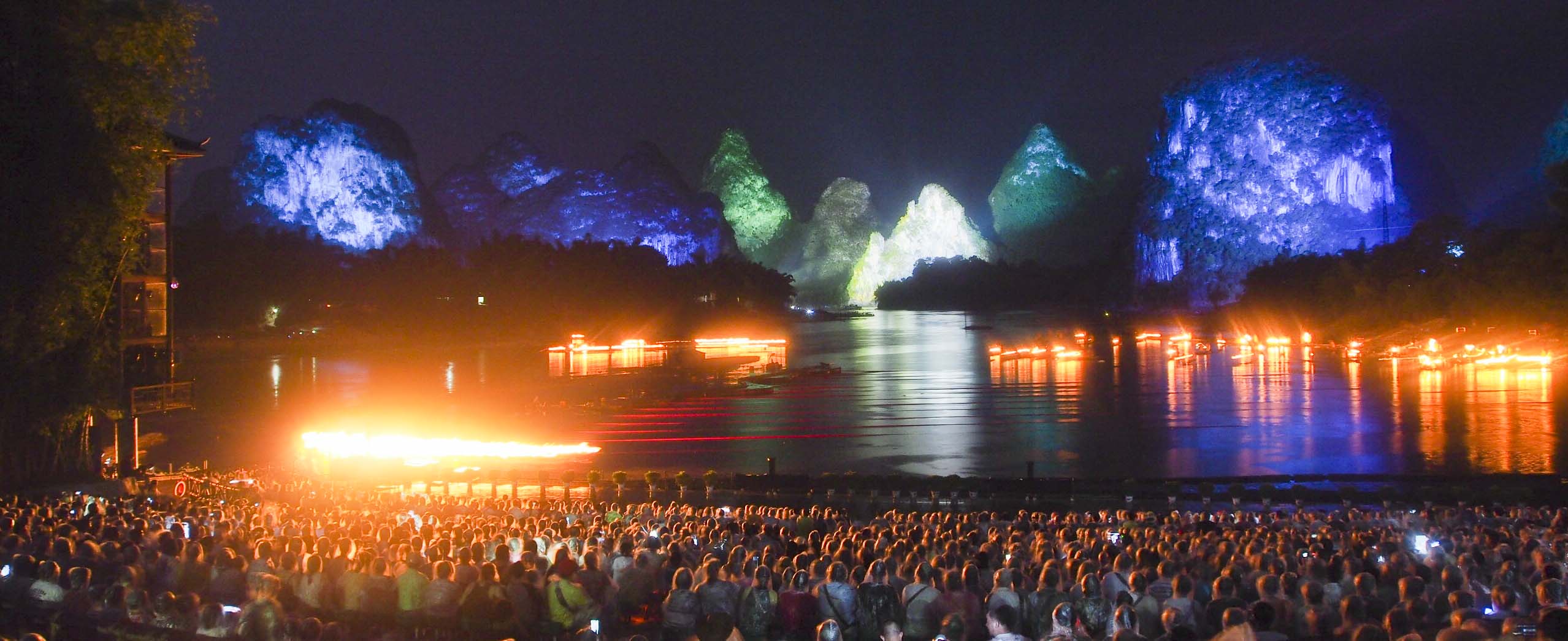 Some information about the area.
Population of the Cities we will visit:
Guangzhou - 13,659,000
Guilin - 963,600
Yangzhou - 600,000
Zhaoqing - 600,000
Shenzhen - 14,000,000
Hong Kong - 7,000,000
Macau - 600,000
I hope that I can remember all the names of the people its going to be hard but with enough time and ... there is no way that will happen.
Travel to guangzhou
Well today is a travel day. Skied Whistler for the day then traveled back to vancouver for some dinner and to the airport. During the day i tried to do some pre booking of seats. Actually i tried to do it 24 hours in advance but found nothing available, so during lunch i went on my phone to book seats i booked them but what a pain that site is to use when on a phone. The adventure part of it comes when we get to the airport and find out i booked the seats for the return flight. I guess my eyes are not really all that good when looking at the phone, but i give myself an excuse as i was under the impression that one could only book seats 24 hours in advance i guess that was not the case.
The flight was long it never really gets easy sitting for 12 hours in an aluminium tube. If did get some sleep so that was a good thing. The sleep though was on vancouver time and we need China time.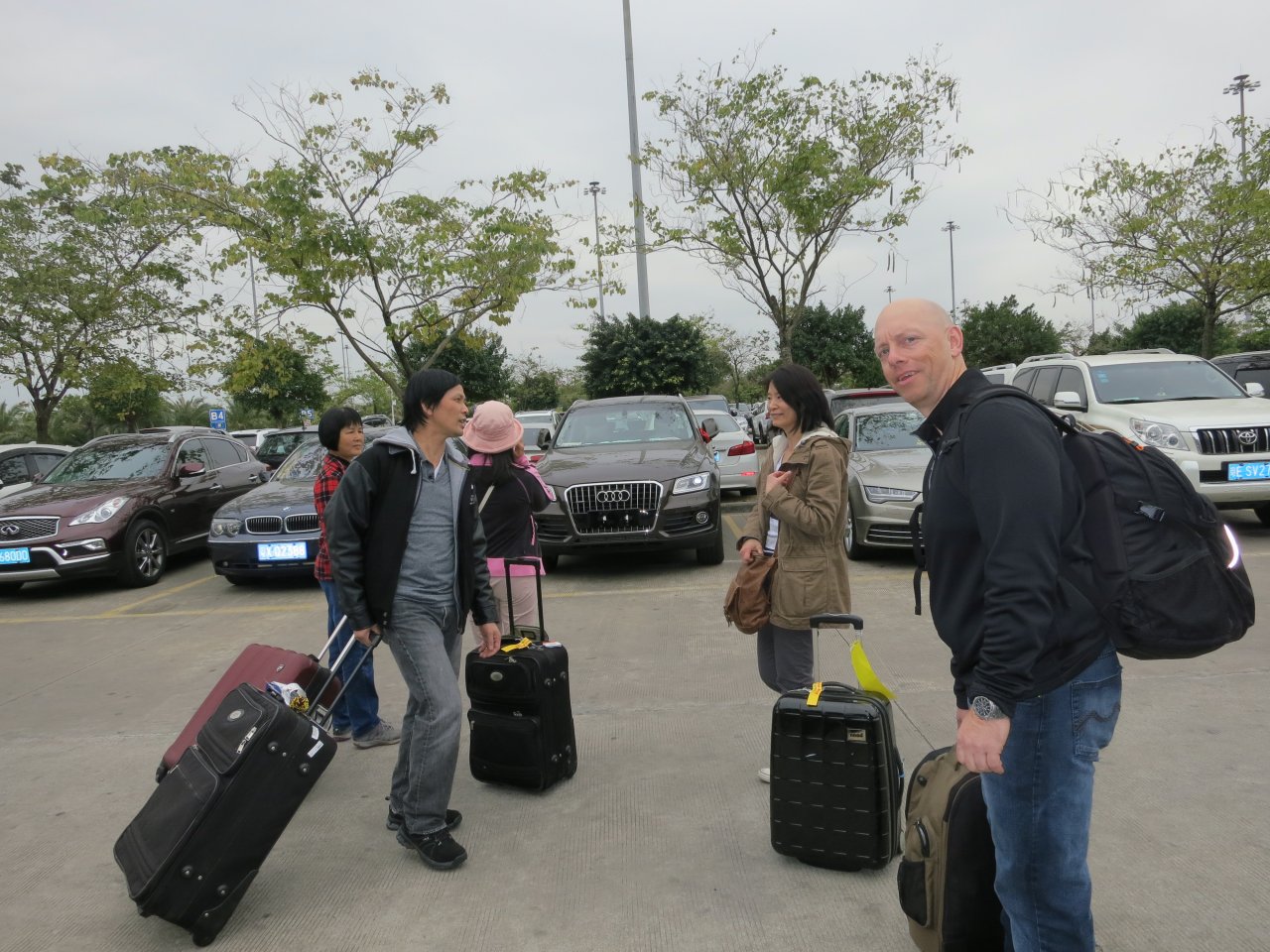 Getting into the country was not an issue but the was a long line. Did our second flight and got picked up at the airport it was quite a nice reunion for Jane and her cousins. We had dim sum for lunch then a family visit to cemetery not so fun for us but it was really nice to see that Jane was able to connect with her grandmother.
Back in the 11 person bus and off to the flat. This ride took a while due to traffic not sure i would like to drive here but my guess it would become normal after a while. Dropped some luggage there so we can travel lighter for the next 4 days then to our hotel and river cruise.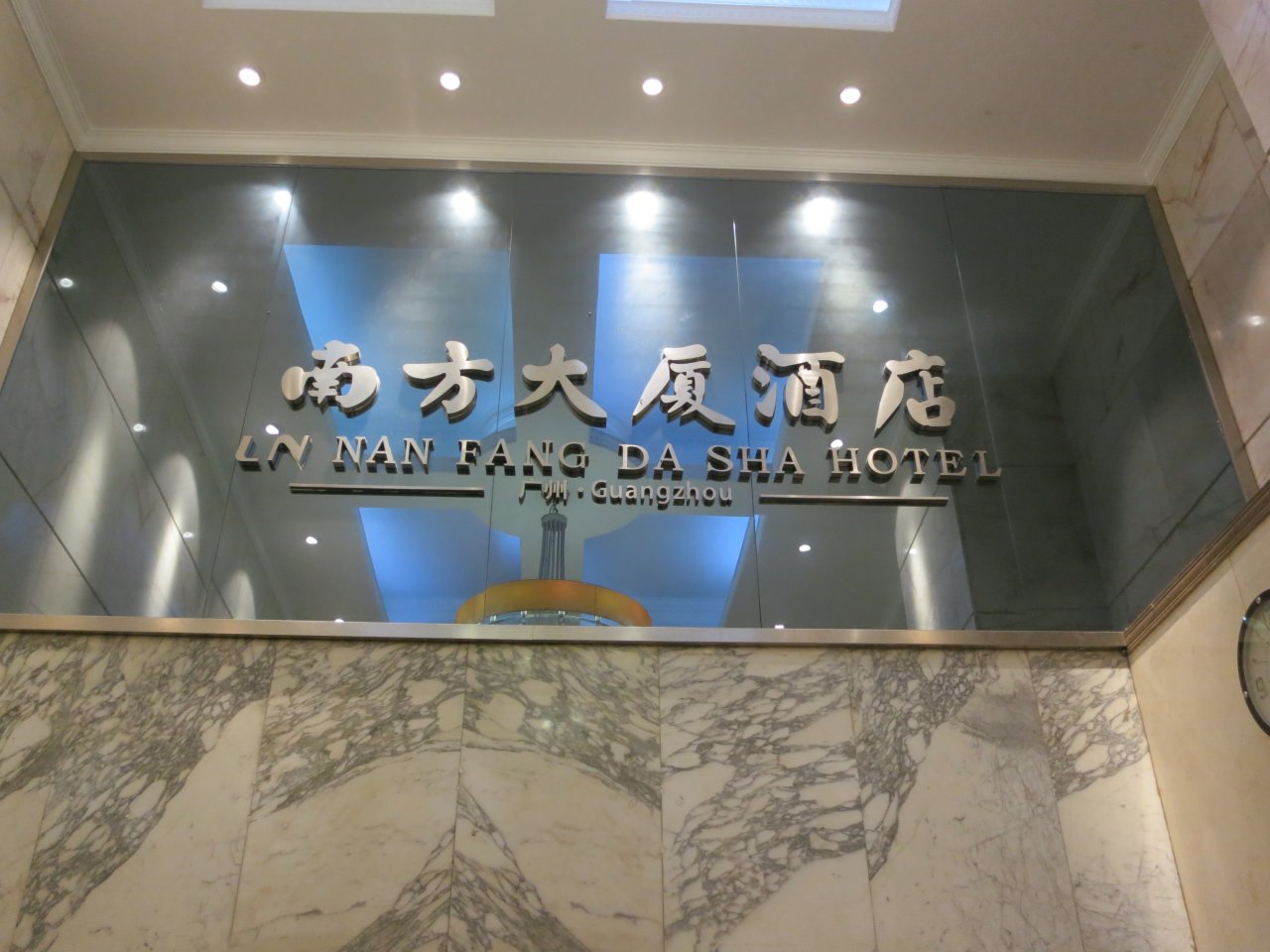 In the bottom of the hotel is a cell phone electronics market. What would you like new screen new camera module well just about new anything. The only thing that i wanted or needed was an OTG sd card reader so i could get pictures to my phone and post them up to this blog. Oh did a tiny bit of negotiating and b ended up with one for $3.
We had two sim cards here waiting put one in my phone and it did not work at first. Grrrr i reseated the card and it worked. Got the vpn to work so now I'm happy. Hold on a second nothing can be that easy well it isn't the card must have died now the phone says no sim card. Well at least Jane's is working.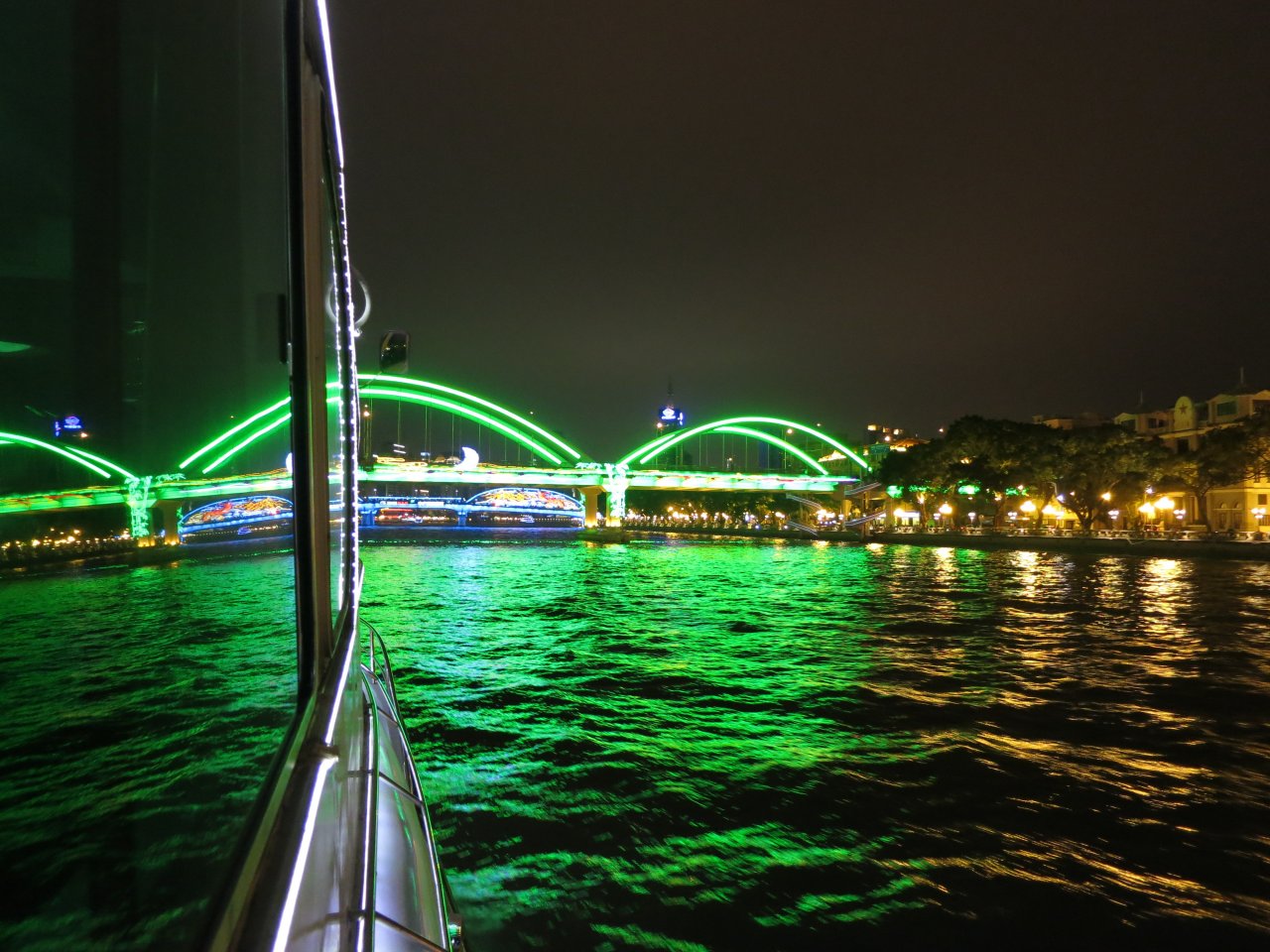 The river cruise was fun passed under many bridges all lit up in many colors. I also noted that all the buildings have a distinctive top floor or floors that are lit up . I quite liked it as it gives the city a nice feel. I took a number of pictures trying to figure out how to get a good picture of a lit up building without over exposing the light and still have a sharp picture all while bobbing around on a boat. So if some of the pictures are a little fuzzy i was going to say forgive me but wry they are my pictures.
Let's try to get some sleep. It's not working to well this post is being written at 5 in the morning because I can't sleep. It does not help that the guys in the room next door keep on taking loud. I felt like calling the front desk or banging on their door but I don't think that would help.
Got to get up at 6 so I'll try to get an hour of sleep
Guilin day2
Getting up early to travel to Guilin today we managed to get first class tickets on the bullet train which when looking on the Web site was not possible so we are quite happy. The adventure begins early which is not a problem as jet lag had taken care of getting up (not to mention our noisy neighbors). So we know there is a subway station nearby that we want to get, so off we go. Now nearby can still mean not easy to find but after asking a few people and lots of pointing we finally get there. The machine for the ticket only takes small bills we only have large bills assistance both not occupied so more asking and pointing till we find the one open both, we are on our way (oh Ya remember to keep your token or you won't get out on the other side). Guangzhou has a really good transit system as good as any that i have seen. Arrive at the south train station with lots of time to spare this place is huge congee for breakfast then lots of asking pointing and lines till we are at our train gate. The security here like an airport for these trains.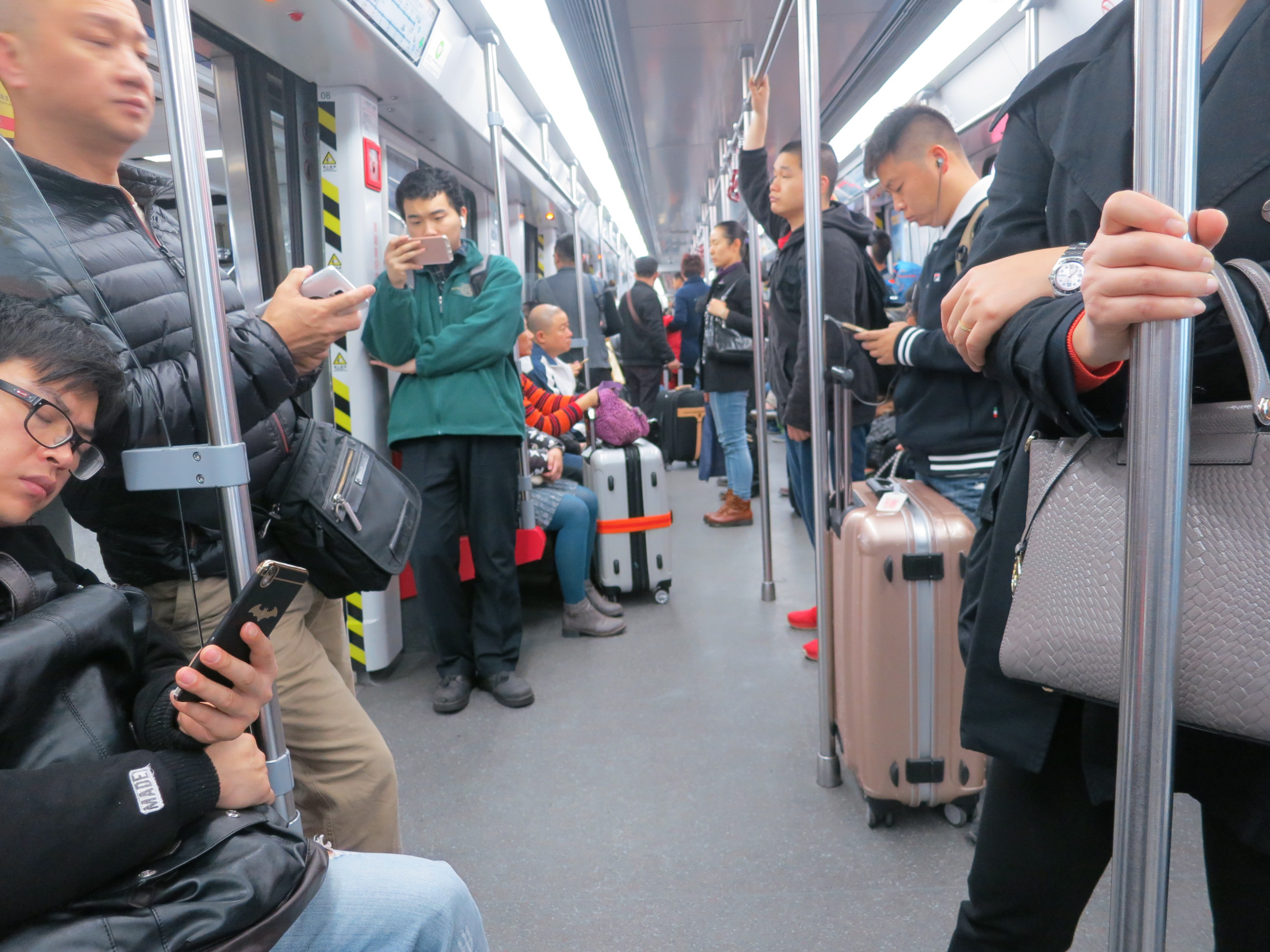 I'm glad we got the first class ticket as the regular seats are so busy and crowded. It's a little cloudy kind of like fog so the scenery is a bit obscure but a pleasant ride, I really like these fast trains.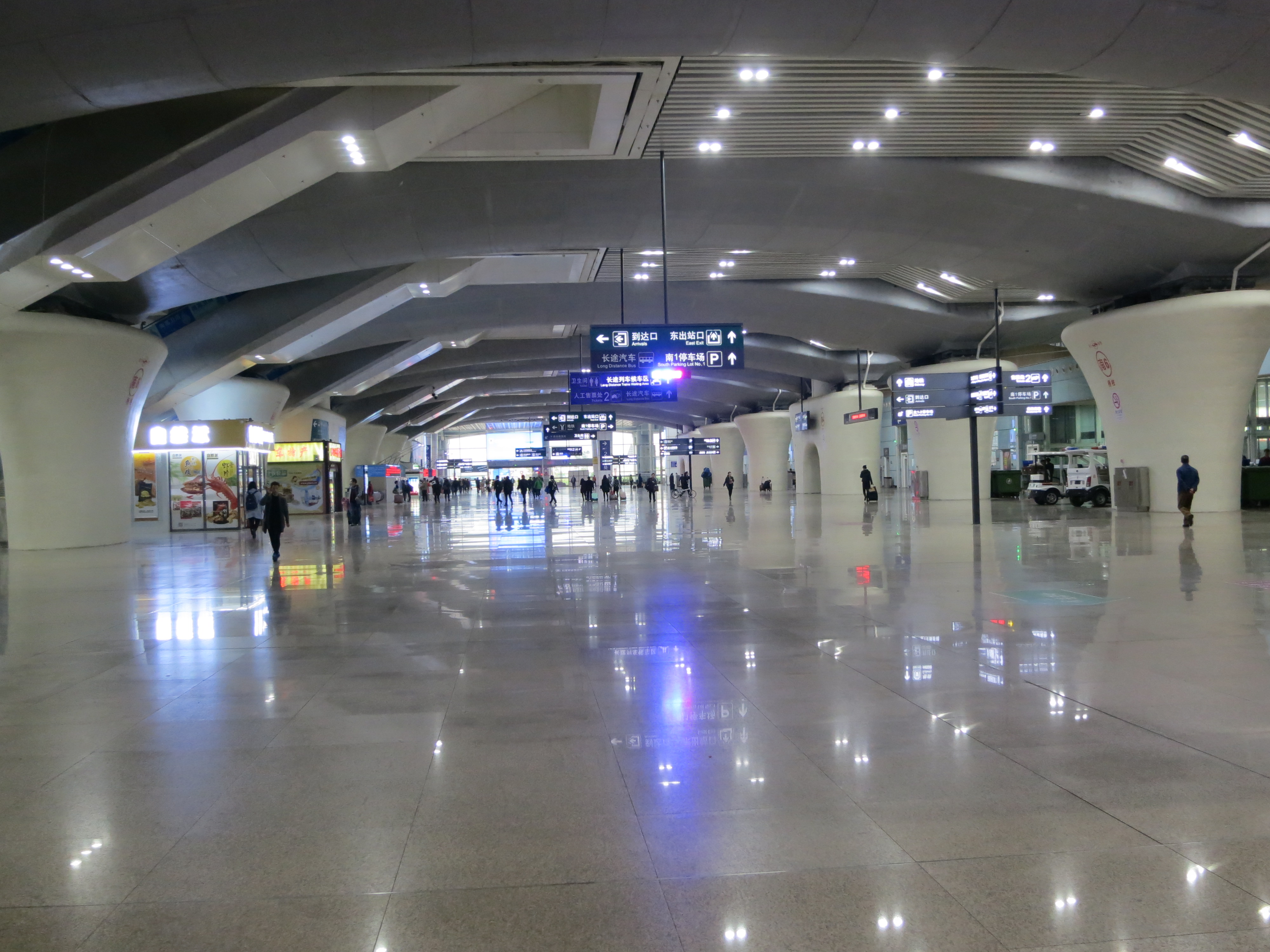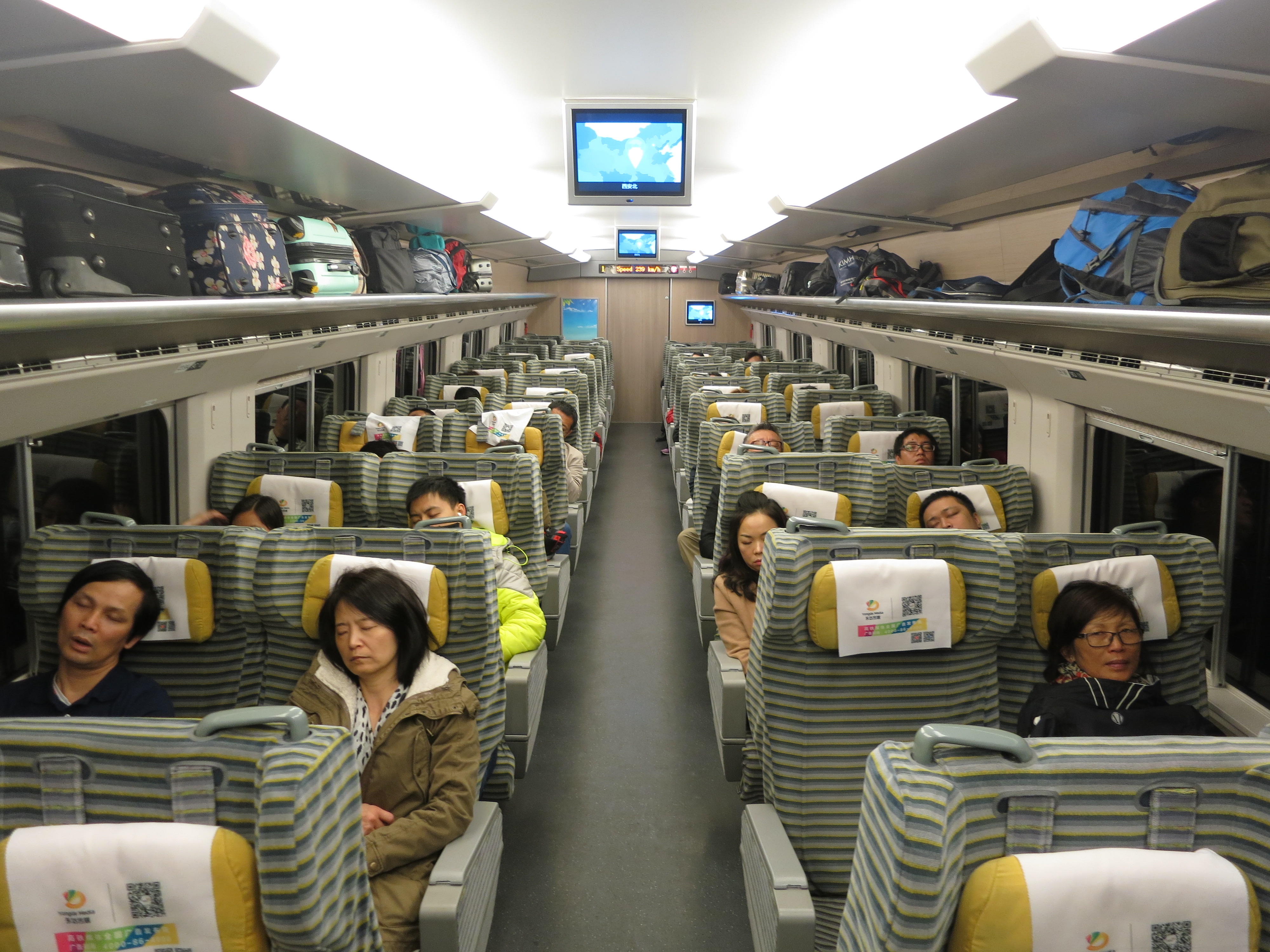 Got the second sim card to work in Van's phone, it must be the alignment in my phone that is the problem. So myconnection is viahotspot. I was able to post the first blog post but really can't do any photo uploads as only have limited data as well there are lots of tunnels which make uploads a pain, will have wait for some wifi to upload pictures.
Once here we got accausted by people at the train station wanting to take us places. We already have a driver bookes so we find him and get aquainted and let him know what we want to do so first stop reed flute caves.
This place is amazing the limestone structures and the lighting really well done. It was quite easy to take good pictures here so i took many. The tour was in Chinese so did not get much of the stories but Everton was beautiful. Upon exit we encounter souvenir sellers many of them. The ones that can speak English seek me out and and as much as i can say no thank you they walk down the whole hill with me showing me the goods and dropping the price with each meter of elevation dropped.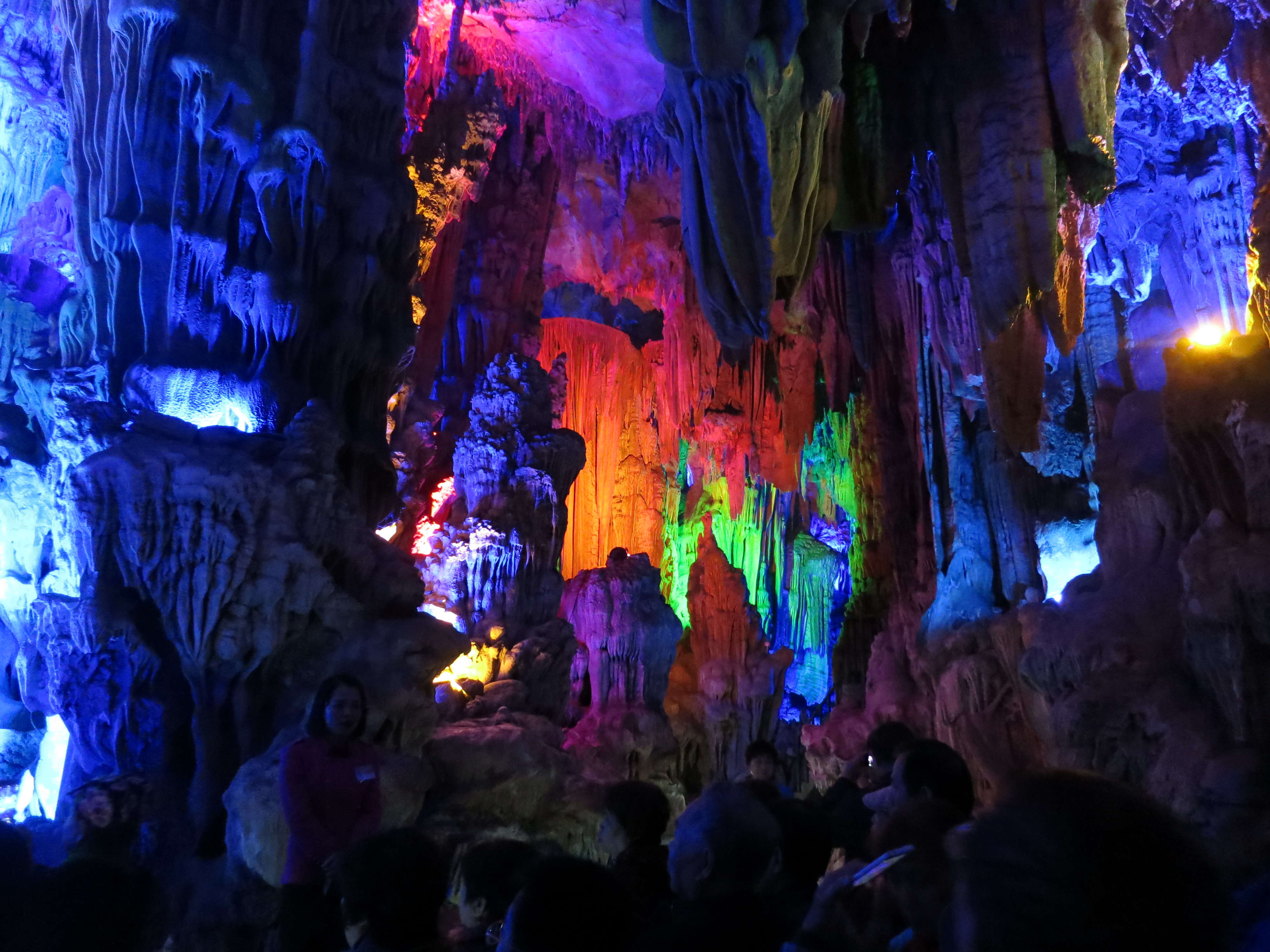 This place is noted for its rice noodles so that is what we will have for lunch. Vantho loved the street food market we passed to get there. Food like squid on a stick, small birds on a stick, silk worms, crickets on a sick were prevelent there (we will have to come back to get some).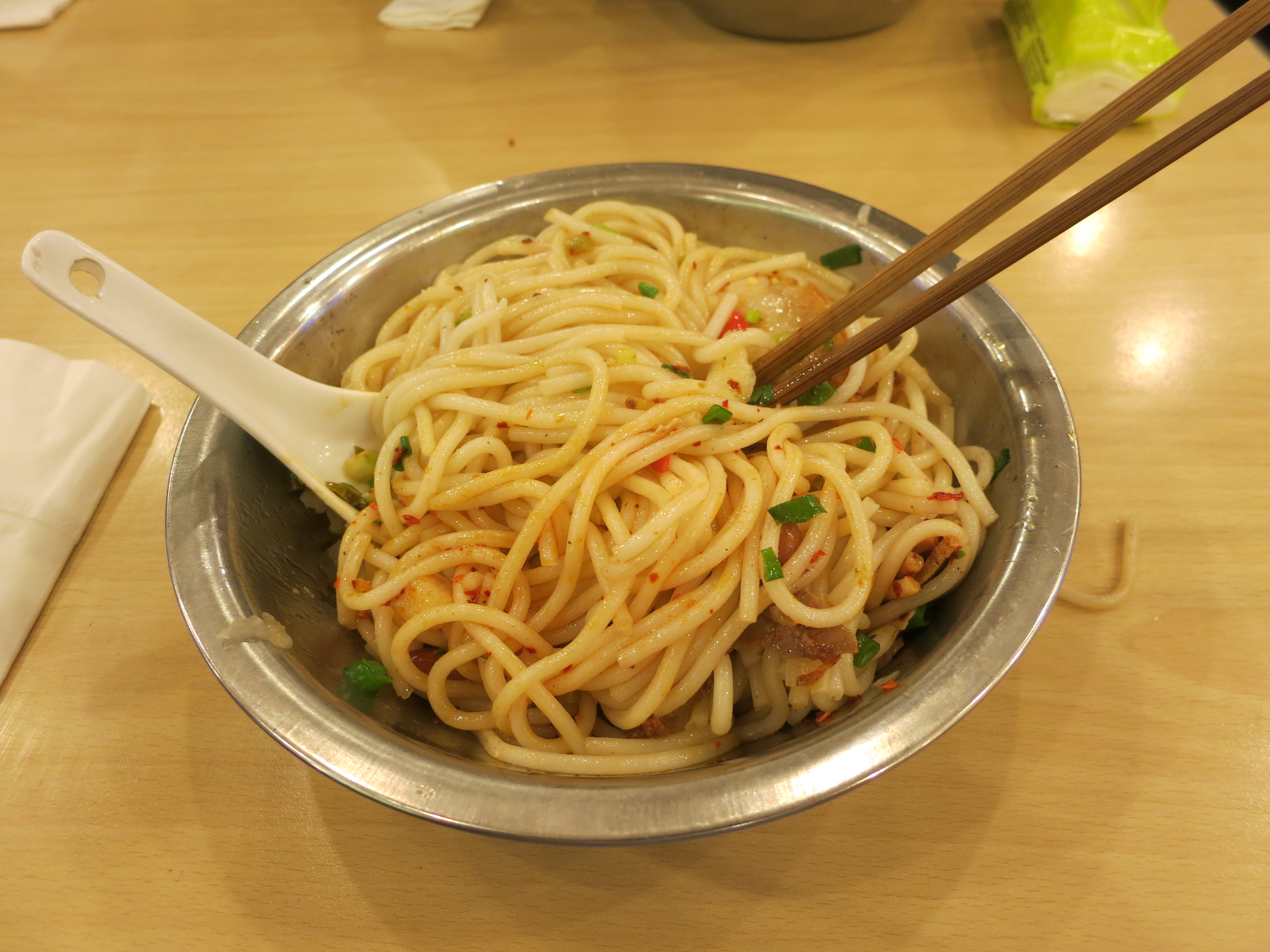 Next to the ming dynasty prince palace, after a bit of confusion and some lines we are in ( i see a pattern here with lines and confusion). The palace itself is quite simple and only a replica of what was there the original had been destroyed centuries ago. The tour was in Chinese so i missed many of the stories that were told. There was quite some time spent on the particular color and way of writing that was only done in this area (our interpreter Jane was able to explain) and even a group exercise in creating a character in red ink. Out of that building and on to the lime stone hill bend the palace. This was quite the stairmaster Vantho thought he was going to die. The views from the top were great you could see the whole city and all the famous lime stone structures. I must also explain that it is much cooler than i expected probably only 8 or 11 degrees not the shorts weather i was promised, so we are cold.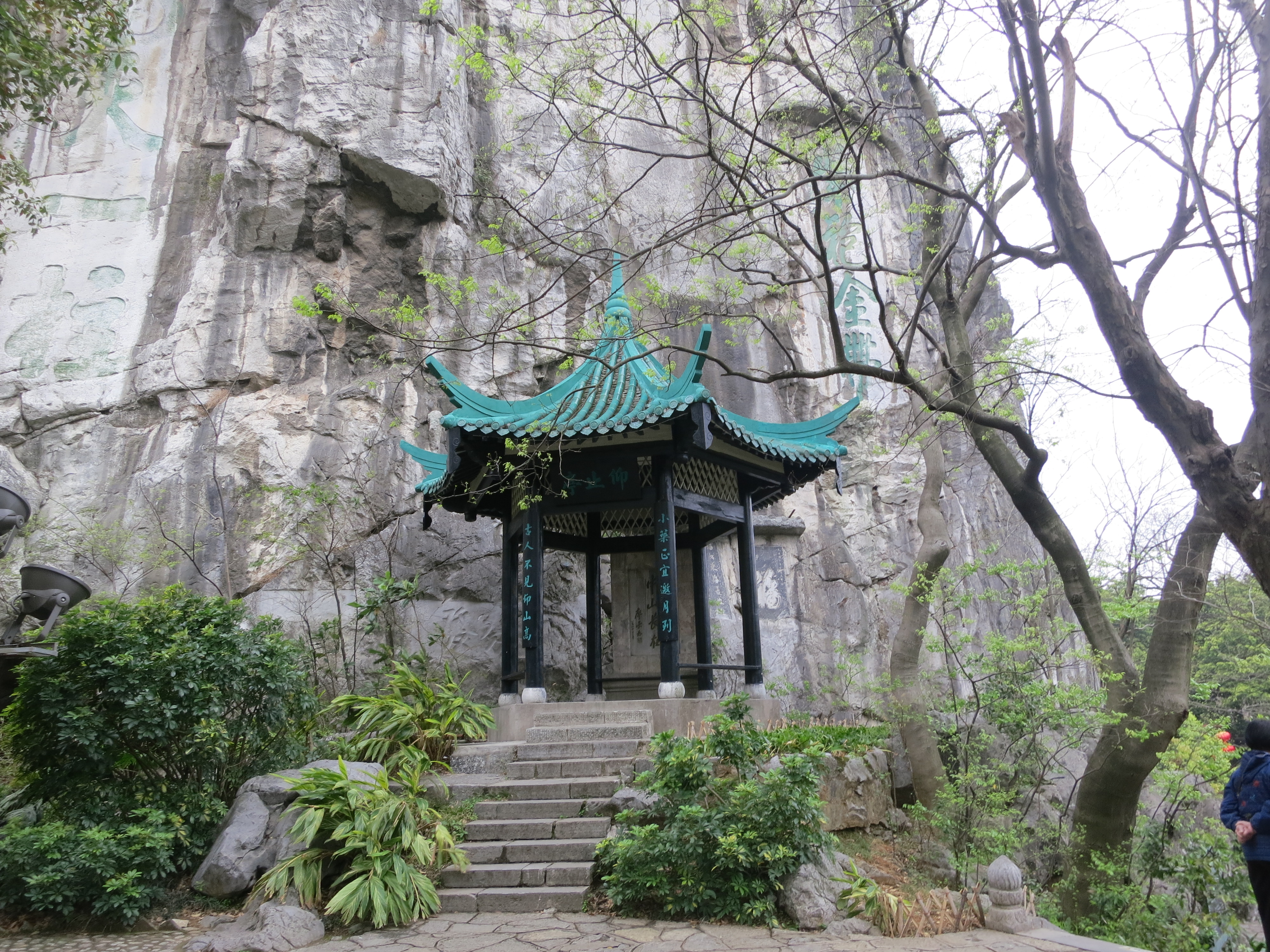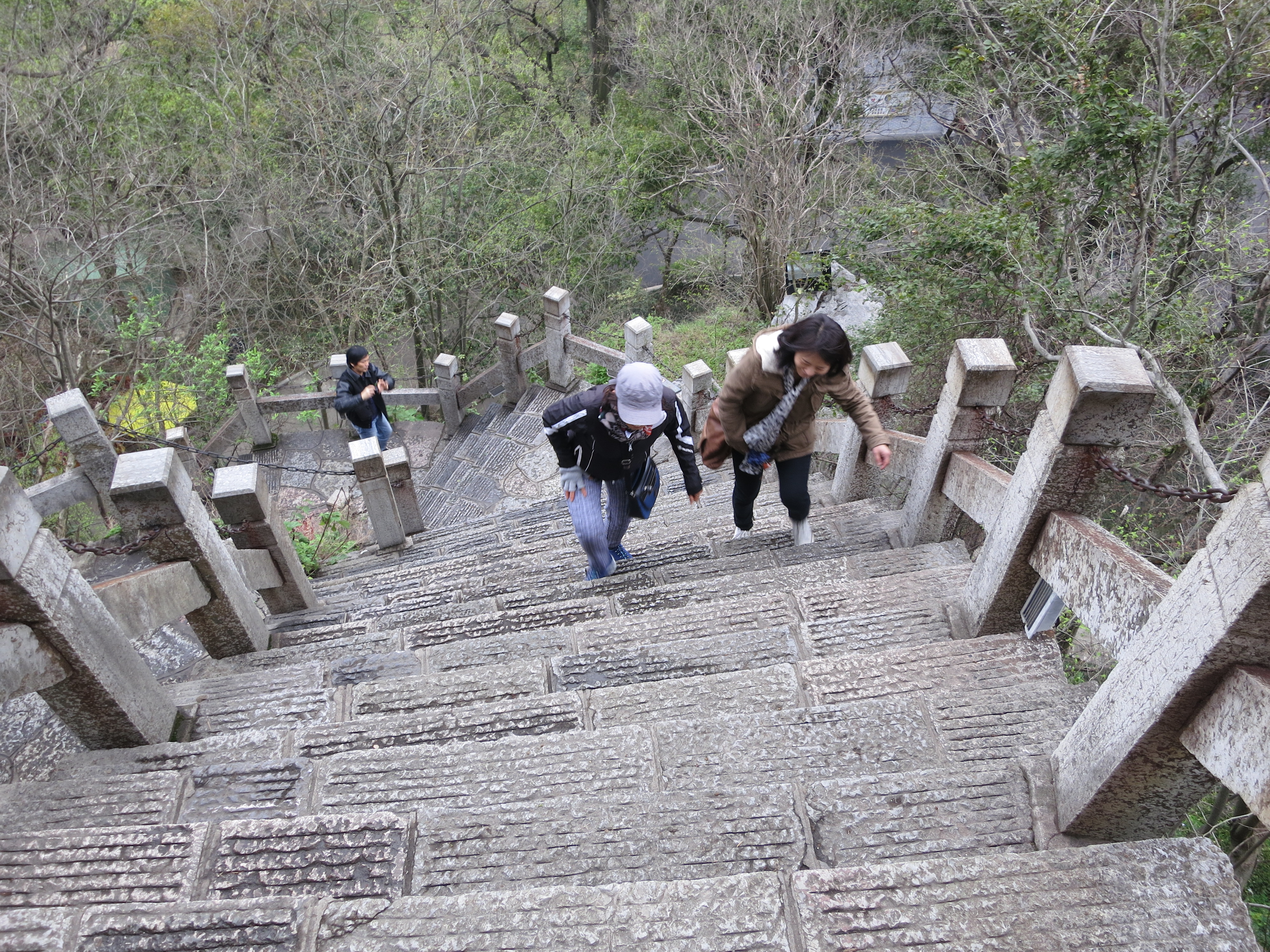 Back home to warm up and rest did i mention it was cold today before the 4 lakes 2 rivers night cruise. The community or the government really have done a great job with putting lights and doing art under the bridge decks. So the river cruise was quite good along with lit shores and artistic bridges we got to go through two sets of locks probably a 3 meter change in elevation. At various points on the cruise there were also performances on stages.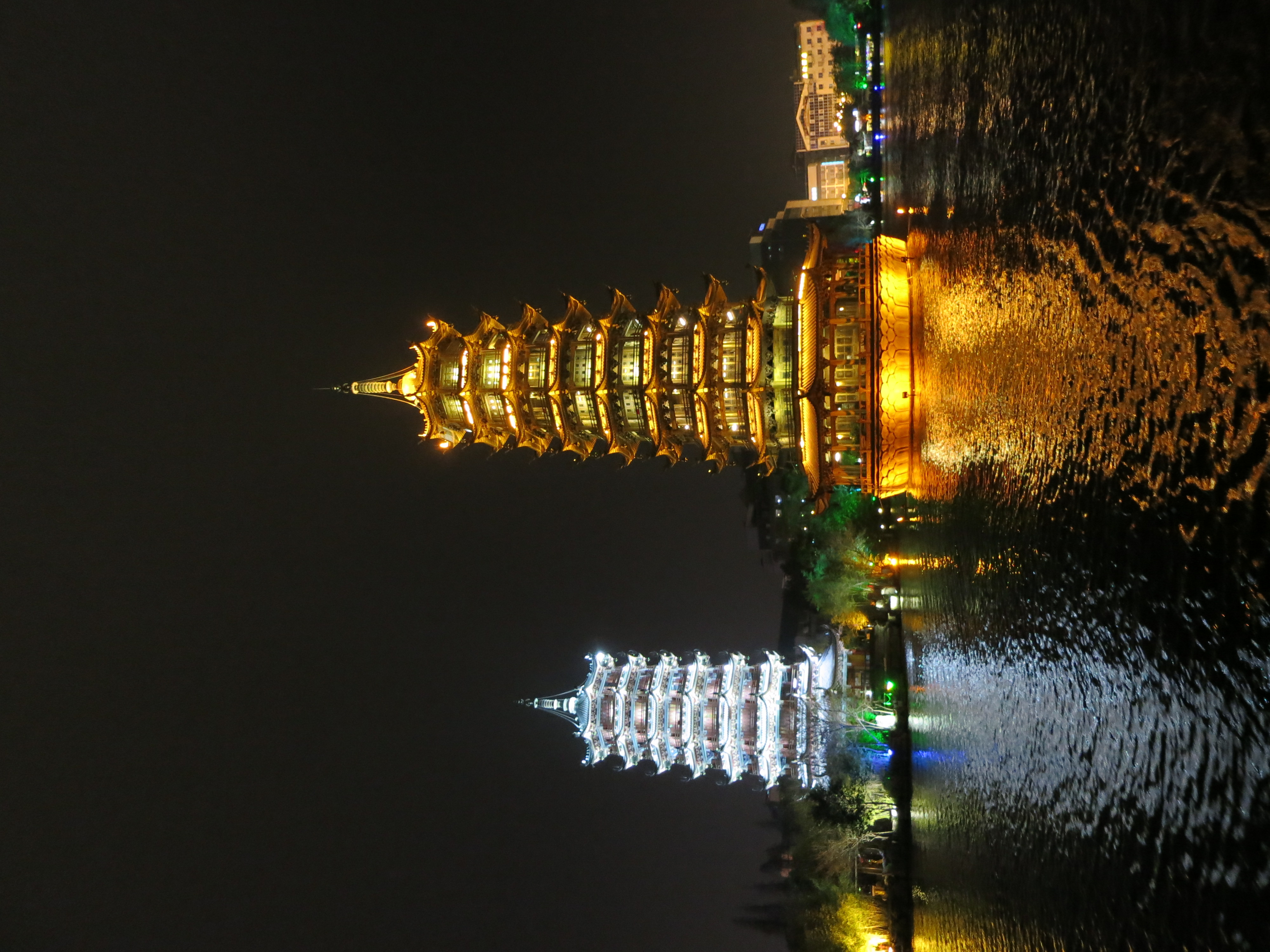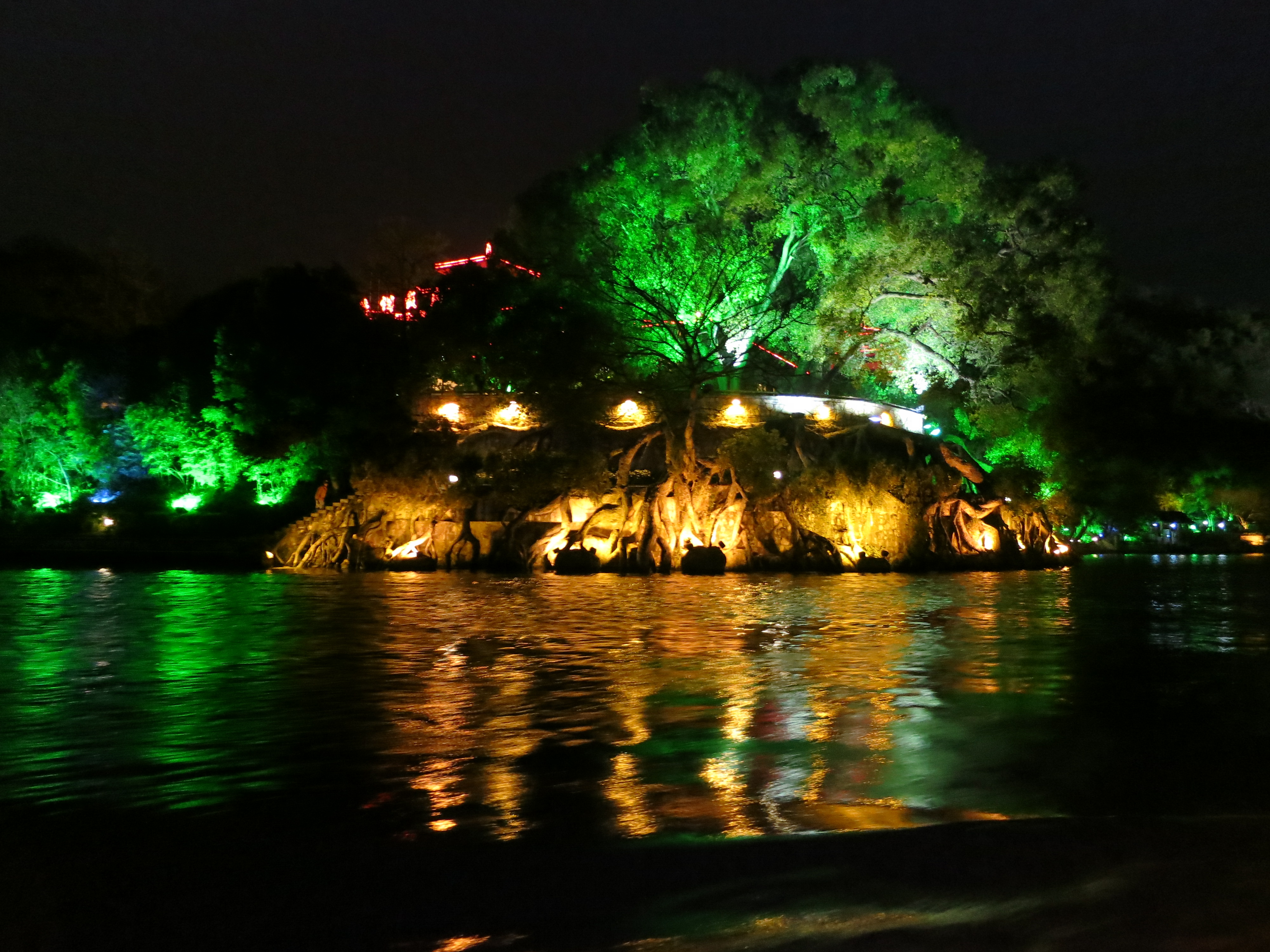 Tired now so i hope i can sleep all night.
Traffic in China
When you first arrive as see the traffic all seems pretty normal they drive on the same side of the road they have lines on the road indicating lanes. You soon realize that the lanes are really just a suggestion, and that wherever you can get buy is where you go. It really seems like kaos must of the time but it works.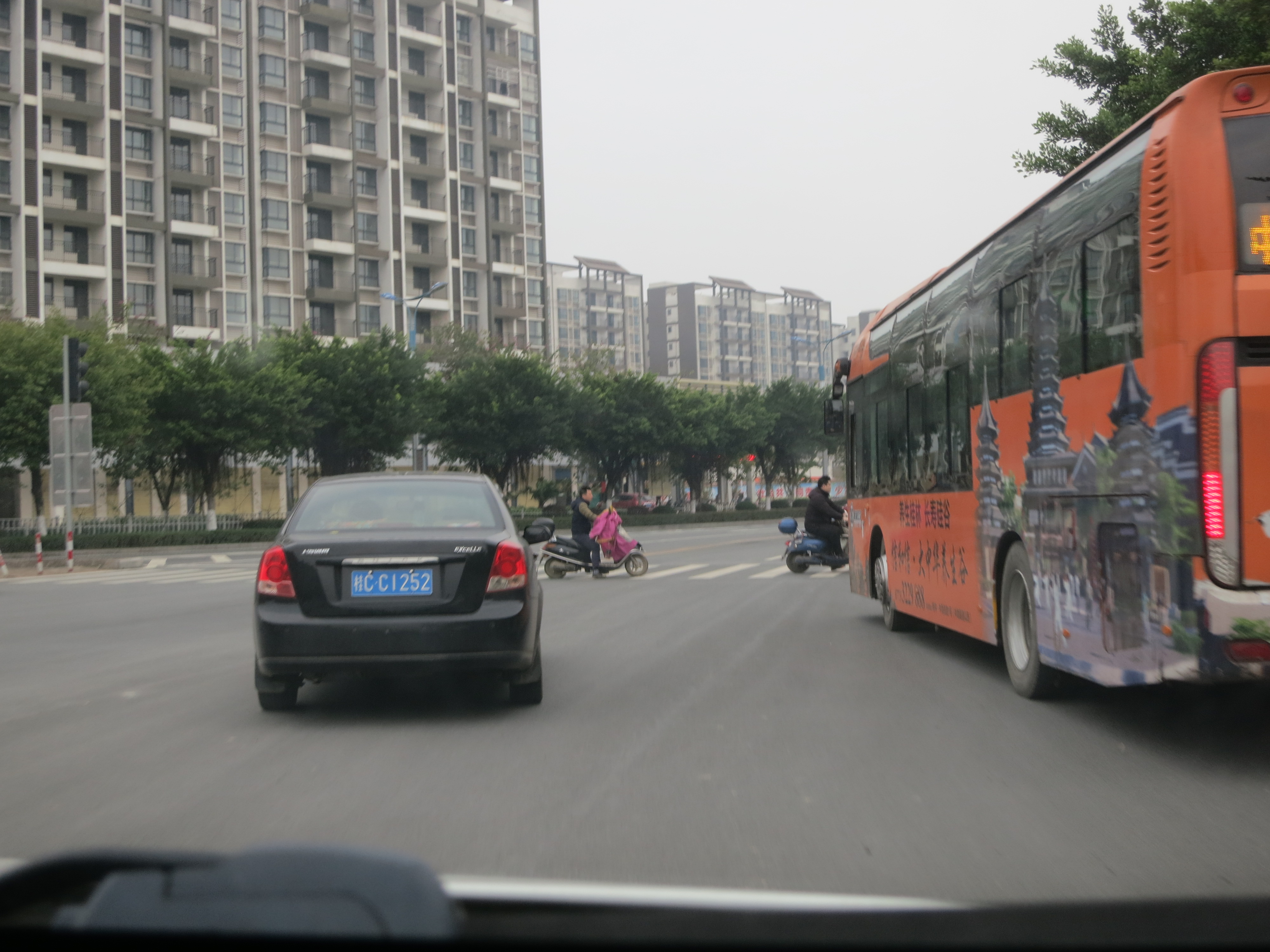 If you drive here you will need to have a good sense of where the sides of your car are as the will be bikes scooters and cars within inches of each side all the time. It seems like one only needs to care about what is from the driver door forward what is behind you is someone else's problem. Always keep moving and things will work out. Left turn don't wait for the oncoming traffic to clear just go slowly the oncoming traffic will go either side of you. Waking across the street is the same just keep going slowly. I think the only reason that this works is because they serve slow, the shouted limit is only 40k most places i see on some hwy type roads that it goes up to 60k and im not sure but i think i may have seen 80 at one point. The thing is that they stick to the limit all the time. The horn is used often but not as an angry thing but as a means of communication. Vantho states that he can't sit in the front seat as he would be ghost braking all the time.
Let's say it would take quite a bit of time to learn to drive here.
Long ji rice terrace
We need to get an early start for this trip as it is about a 2 hour drive. We opted for a private tour so we can spend the time we need. First we stop of at the village of the long hair woman we did not go to the show and did not see much but the woman of this village cut their hair once at age 18 and then never again. Phaydy negotiated with one of the ladies to get some bracelets they look like silver but i have a feeling they are not.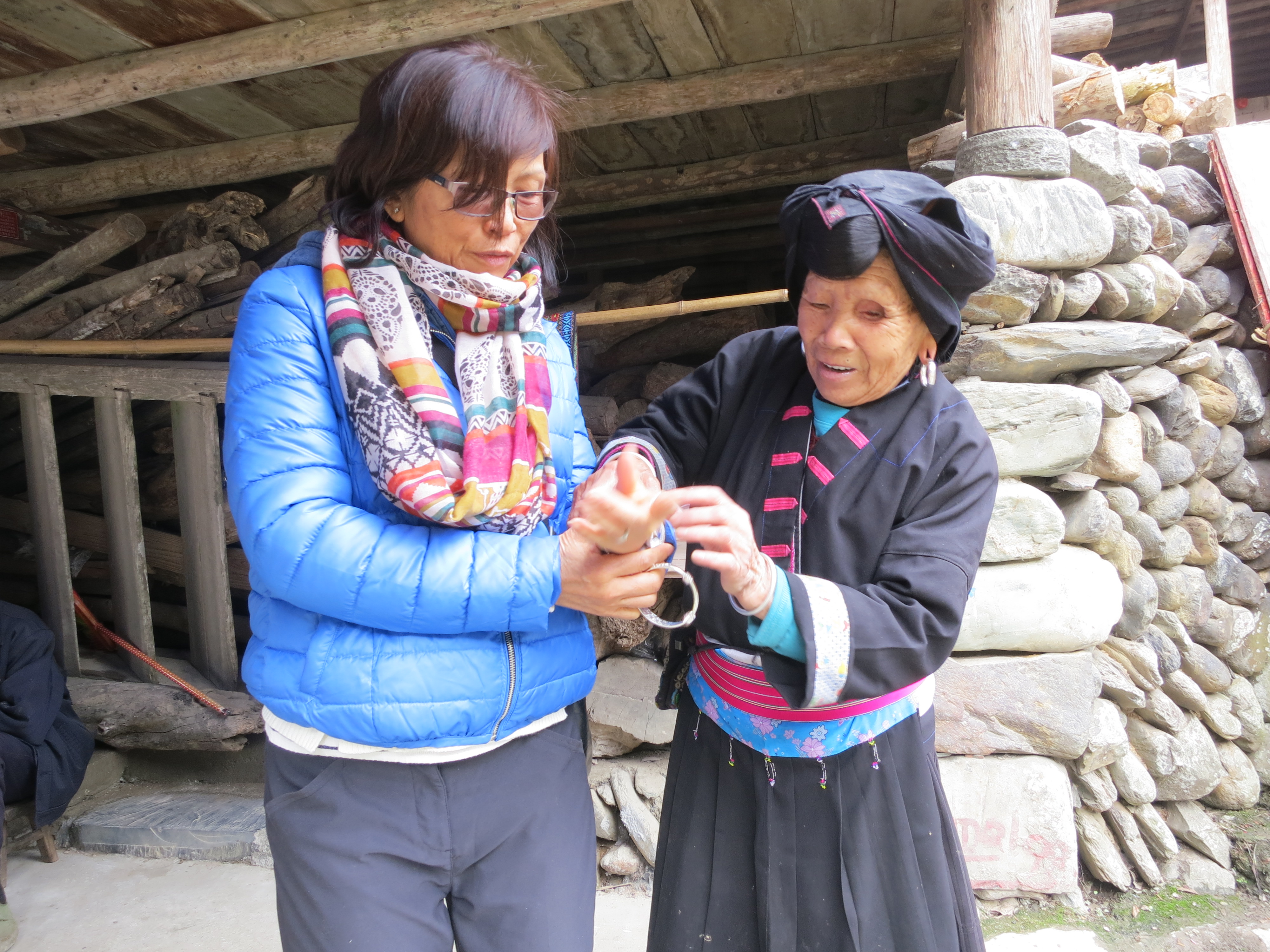 Then we went off to the terraces. We took an old looking gondola up the top. It was inerrant to load as each of us had to stand on our mark and load 1 at s time. We chose to walk down where we could stop at a village to get some food. The terraces are impressive to say the least i can only imagine how long it must have taken to terrace the whole mountain the way they did.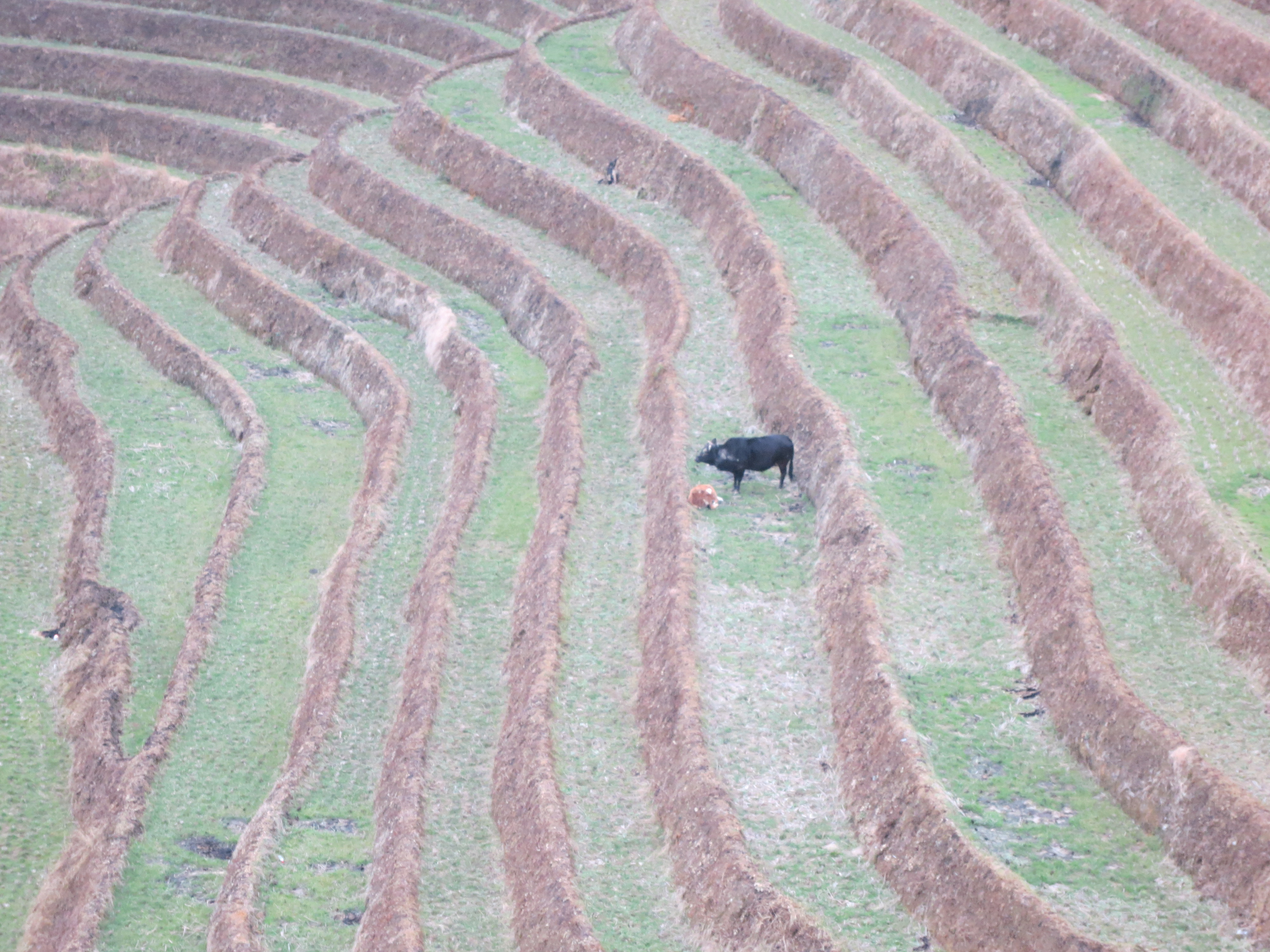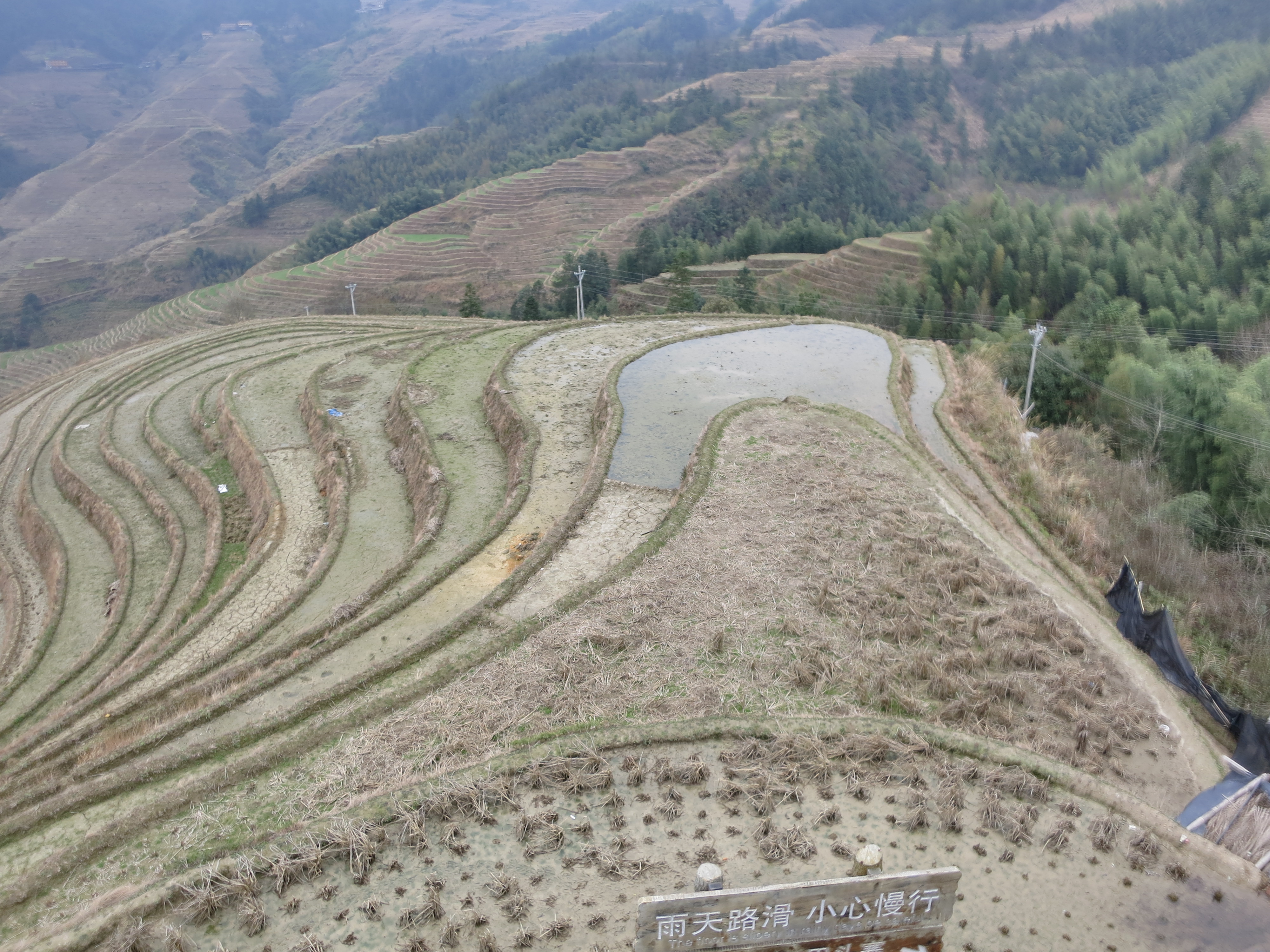 Half way down the hill we decided to have lunch. Now there was a couple a ahead of us that had stopped and were trying to get some lunch as well. Let's negotiate with the restaurant to make some food for all of us. Hey wait two more guys coming down let's add them to the party. We order some rice cooked in bamboo as well as some chicken cooked in bamboo, dried pork with bamboo shoots, and a soup. We talk with our new friends then i hear some sawing so i think lets check this out. We it looks like we are getting a real fresh meal as our host is sawing the bamboo so i decide i need to help and finish helping him cut the wood and bring the pieces up past the group. Next we find a chicken that we will be having for the meal (i told you it was fresh) I'll spare the details but a little while later we have some fresh chicken on the way. Let's help bring this along time to strip the bamboo shoots for the meal. We left the rest to the hosts to prepare and enjoyed our meal with our new friends from around the world Amsterdam, Shanghai, Tokyo.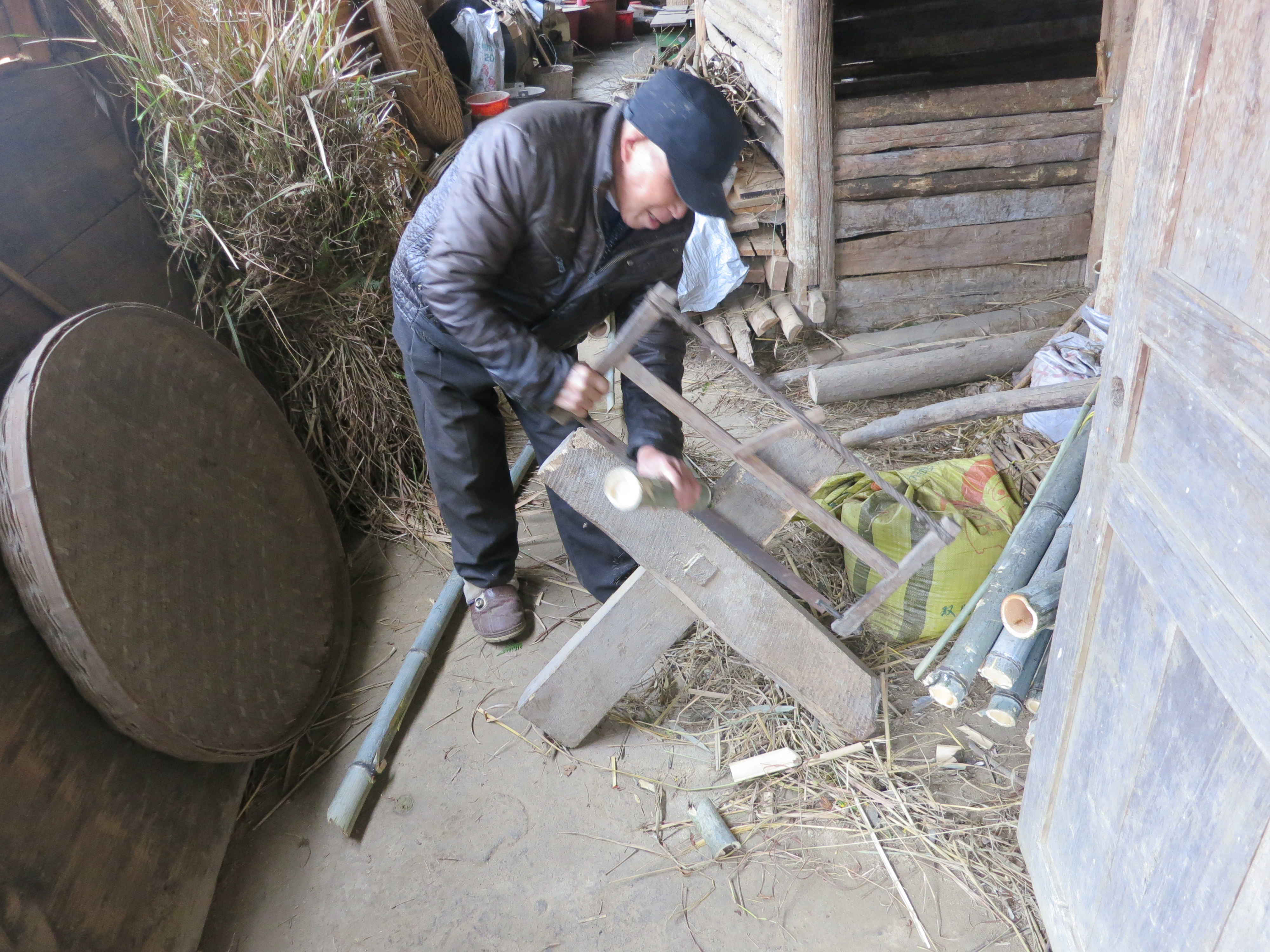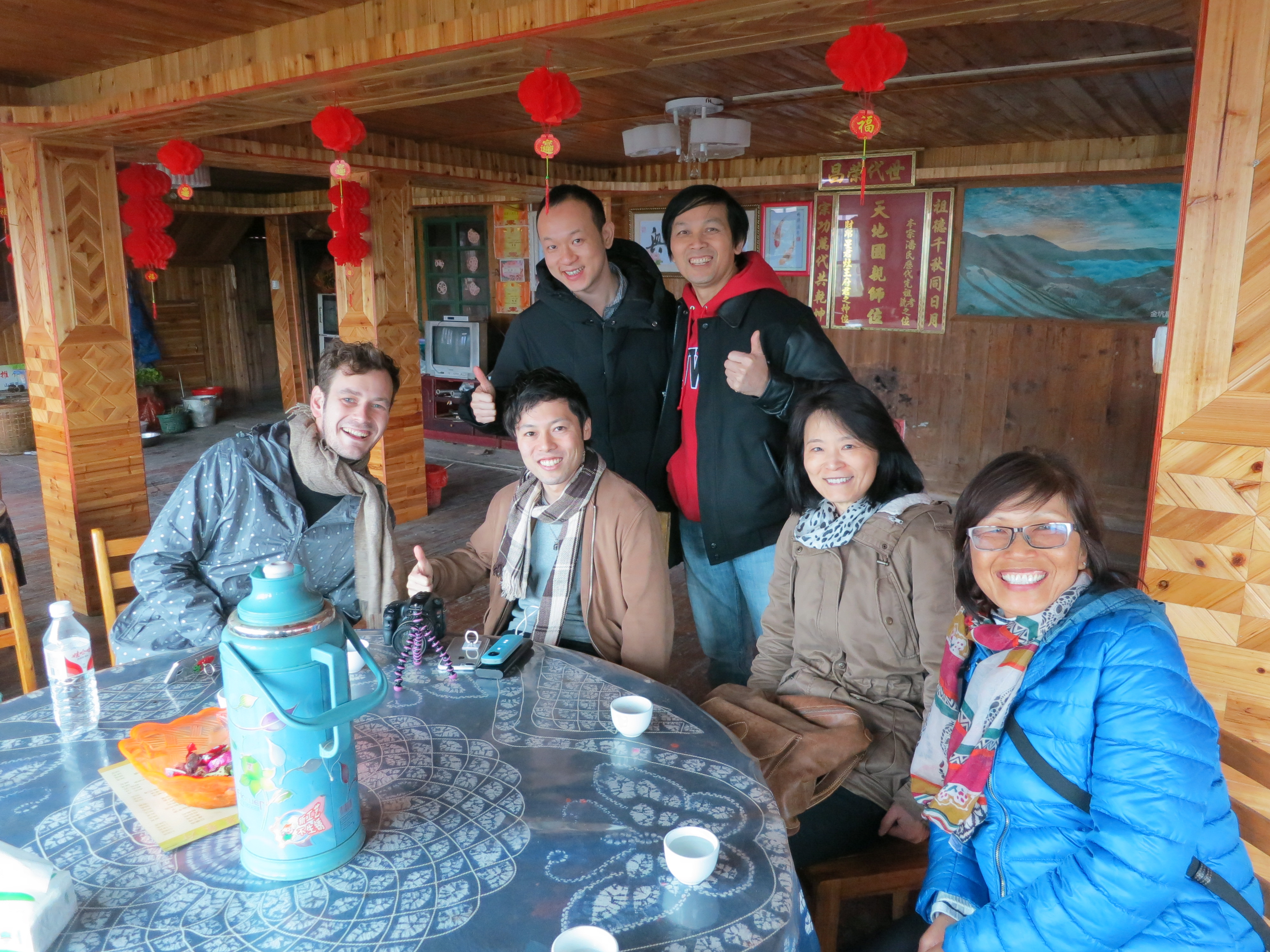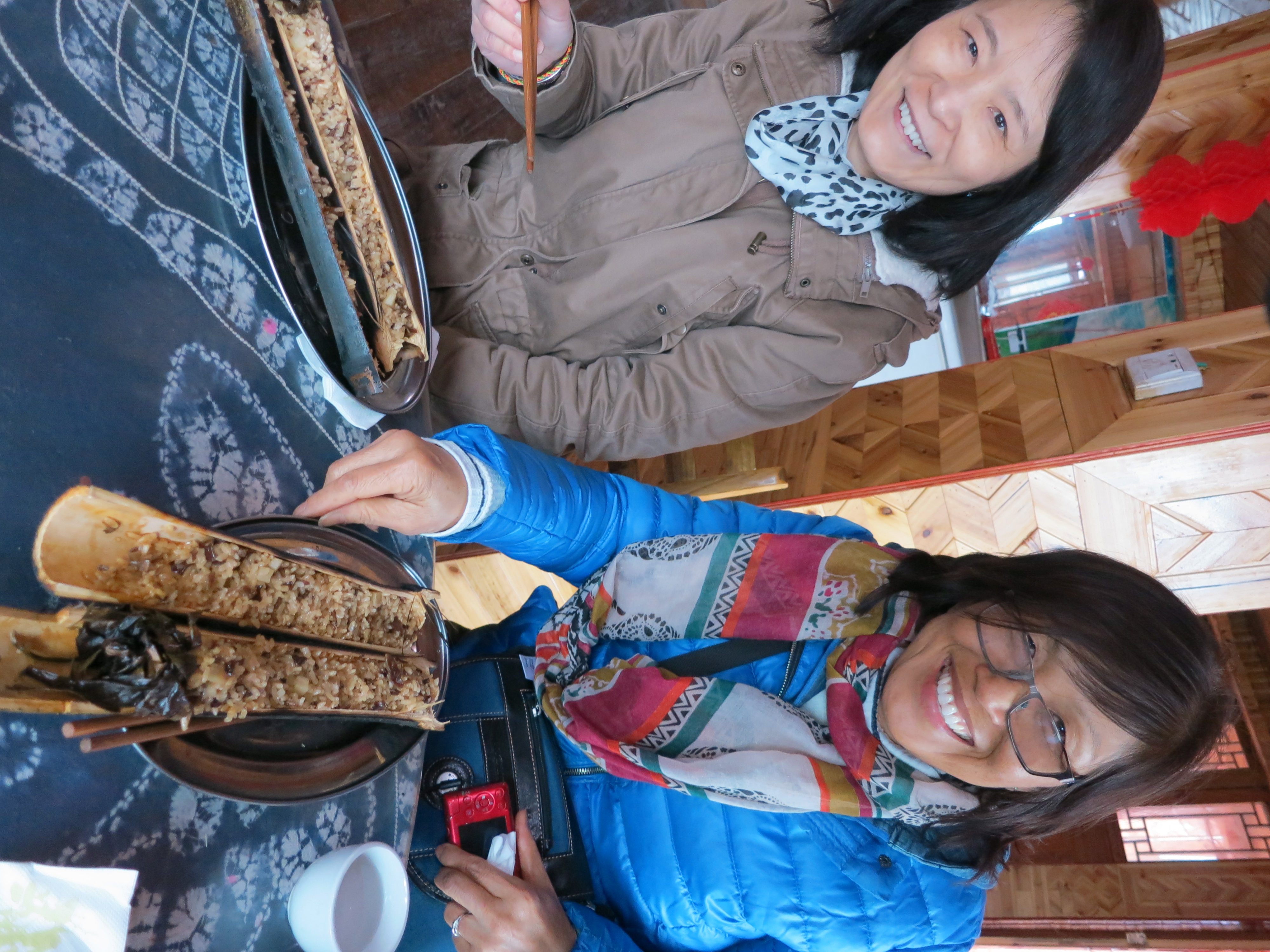 On the way back we stopped at a tea house and plantation where we drank some tea and learned all about how tea is harvested and prepared. Did you know that all different types of tea come from the same plant. I'll have to look up more on how that is done when i get back. We purchased some tea which is quite expensive.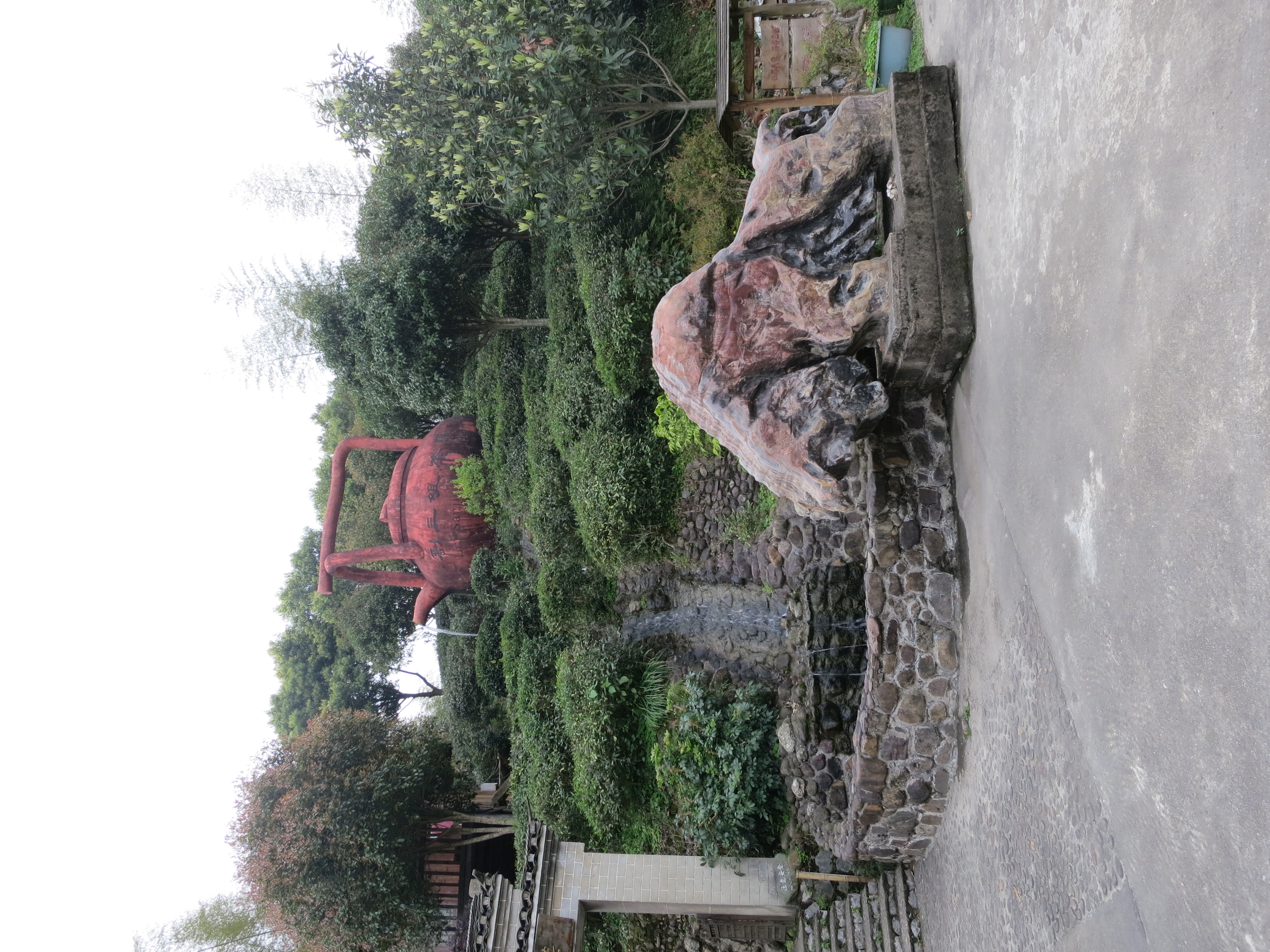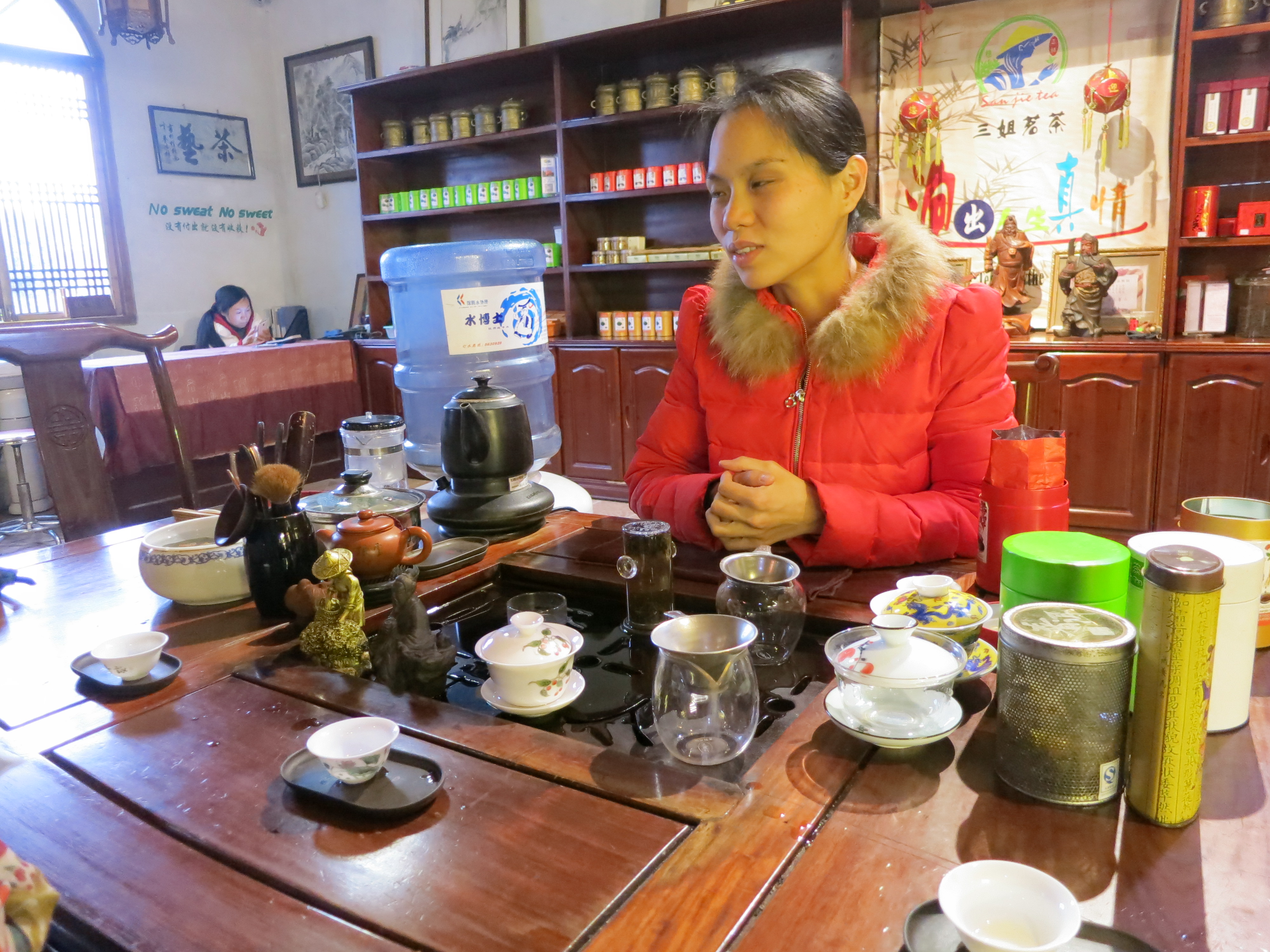 This evenings dinner was preceded by a short walk by the lake near our hotel the lakeside inn and a walk through a mall. The mall was more than a bit overwhelming with so many clothes and such low prices. Dinner was at a little hotpot place where each of us had our own pot and the vegetables and meats are on a carousel which goes round and round. You pay by the skewer a cool concept.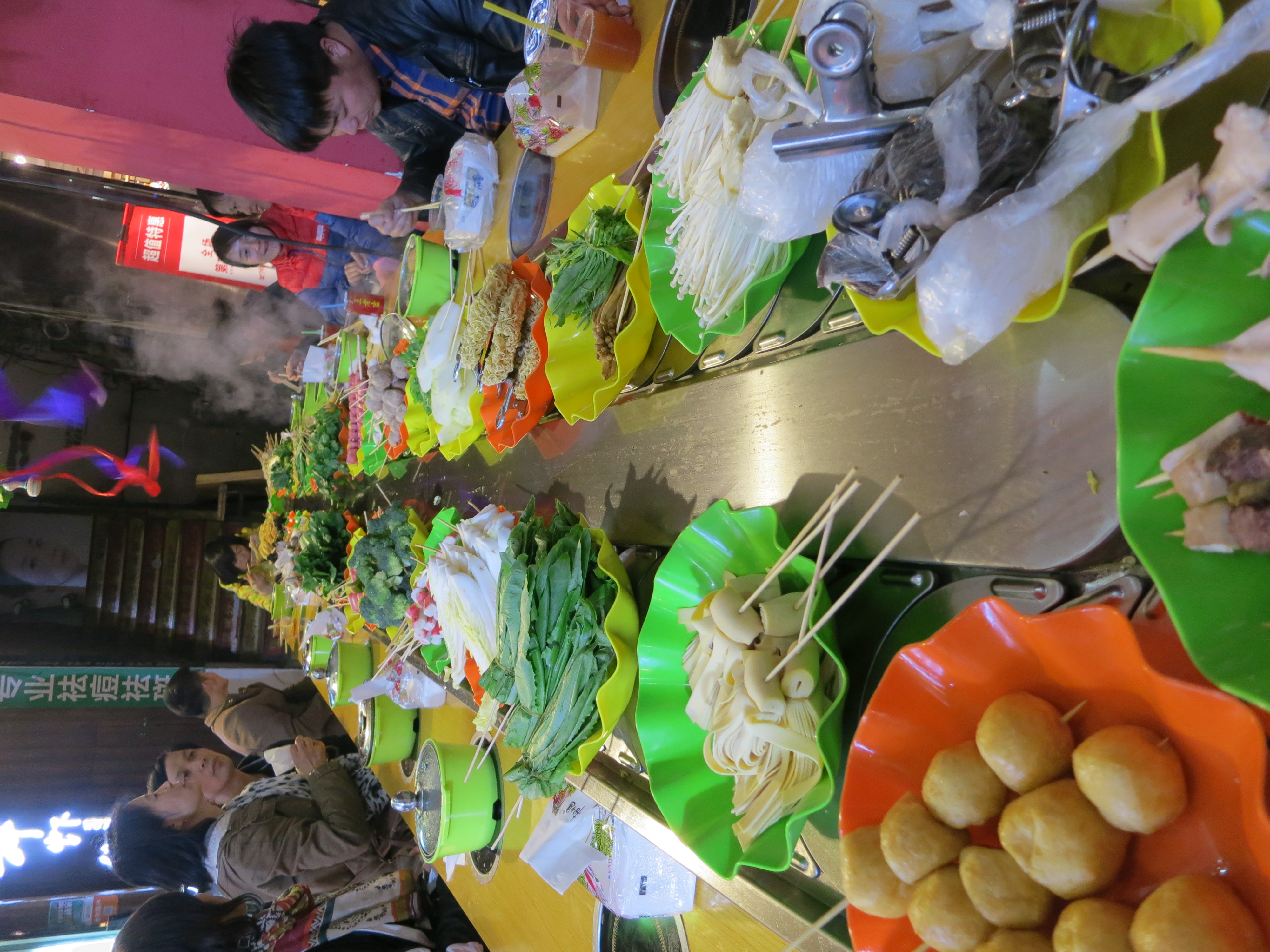 Today we take a rive cruise to Yangshuo there is a little story here isn't there always a story. Duing our stay in Guilin we had a driver Colin or should I say Jaqui. It seems the driver that we were supposed to get was Colin, but Colin could not make it so he sent his brother Jaqui. The odd thing is we were calling him Colin the whole time and he never corrected us till the end, well they played different roles as one evening we got picked up by Jaqui (the real Colin). Anyway the driver was good and showed us many places, I think the private tour we did to the rice terraces was kind of a sneaky thing in that we were supposed to purchase that tour from the hotel (so they would get their cut) the fact is that we were more than happy to have a private tour for the same price as a bus tour. So Colin lets us know that the curise which we had not booked yet was better to catch at the pier and not take the bus tour, we agreed. He said we should take a taxi and that he could not take us as that would mess things up with the hotel manager. In the moring we are going to go and get a taxi, but before we go Jane was so nervous about being able to find a taxi that she called him and had him pick us up around the block so we could not be seen by the hotel manager.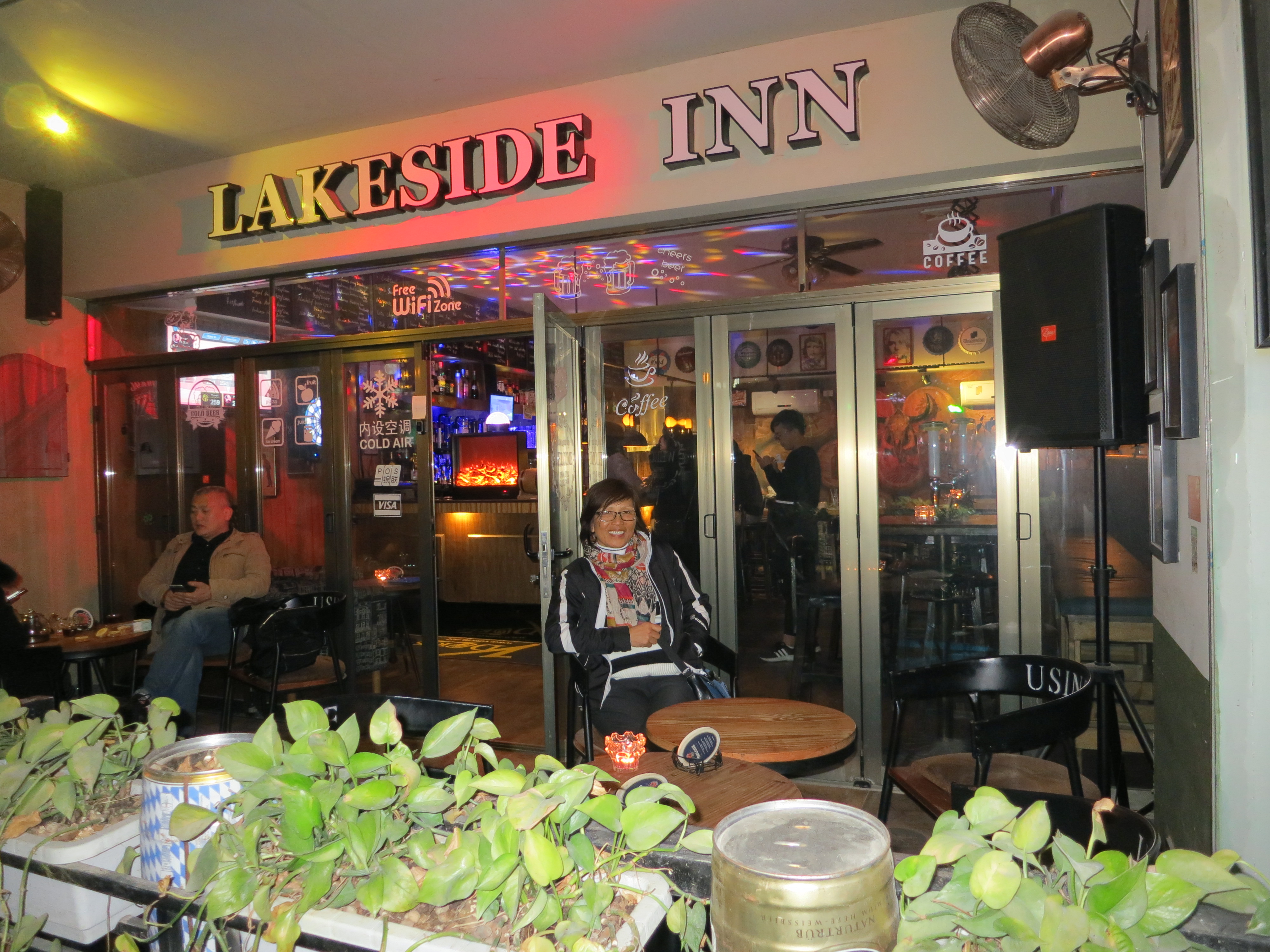 Once at the terminal we get the delux boat to do the river tour, great choice as the other boats we seen were quite a bit less...... lets say we got a great boat.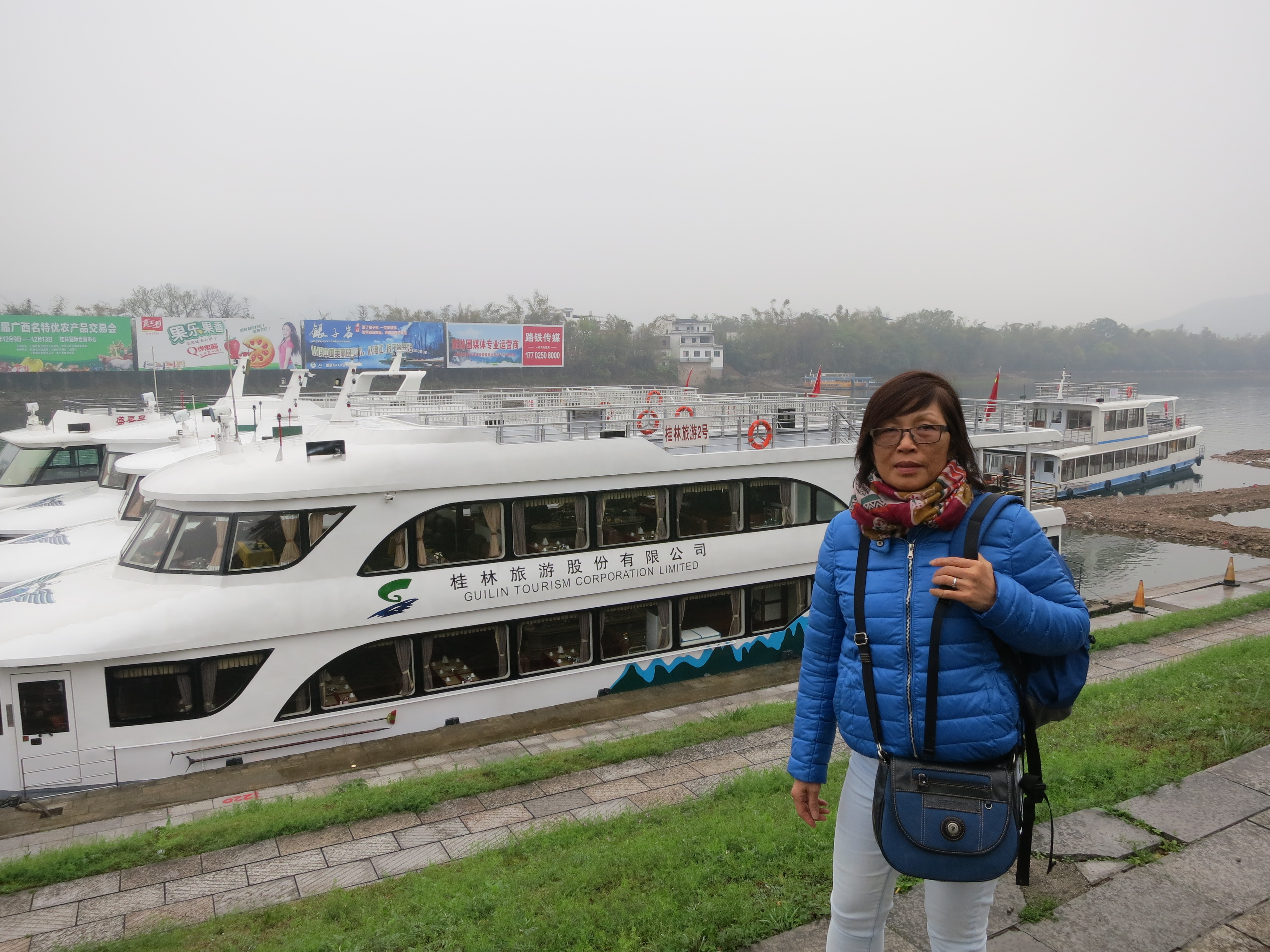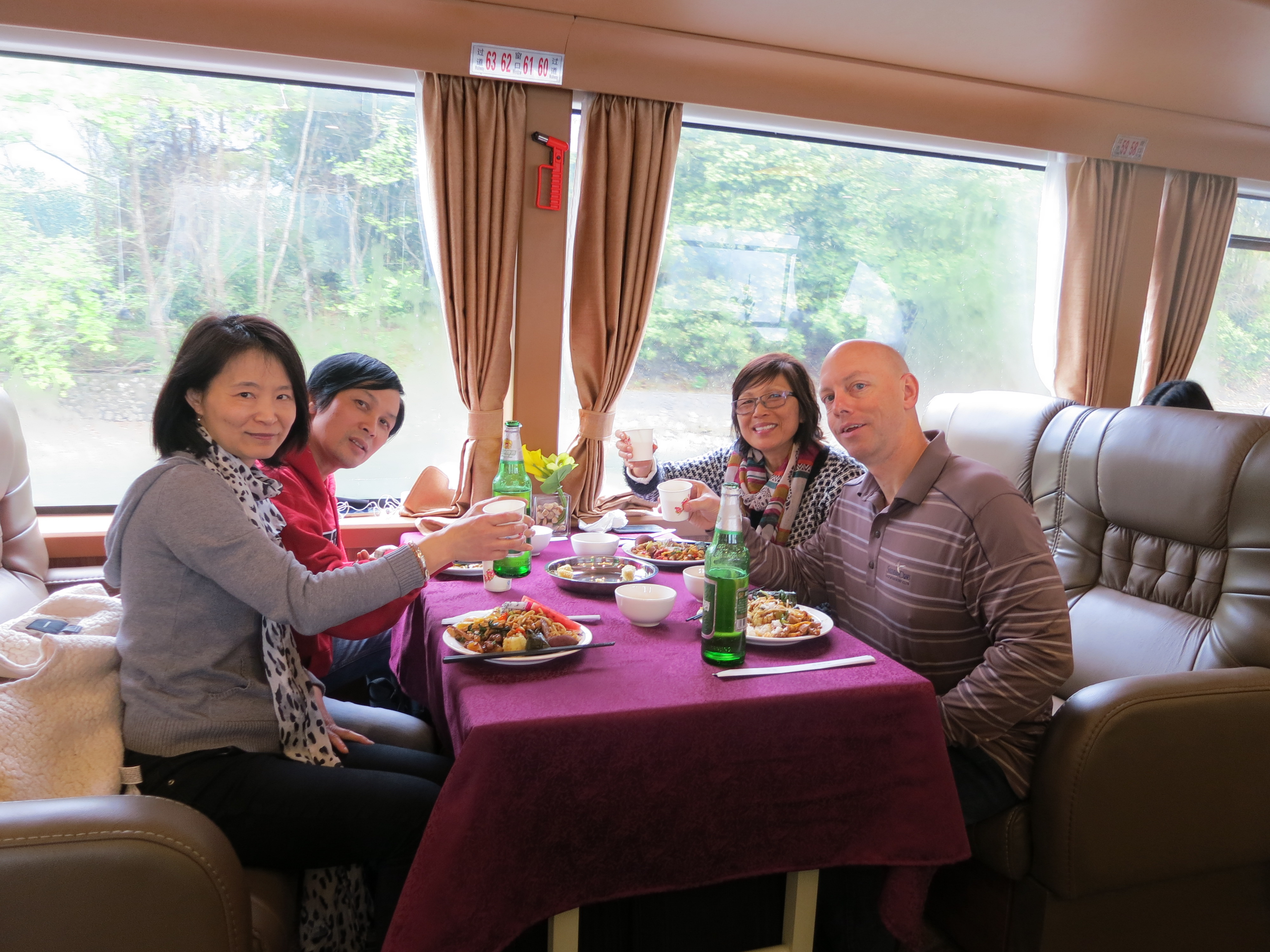 It is a bit of a shame that the weather was cloudy, misty and raining as the views are supposed to be spectacular. I took quite a number of pictures but they are all in the mist which is kind of cool but I would have more prefered a sunny day. The image on the 20 note is of this river and the views from it.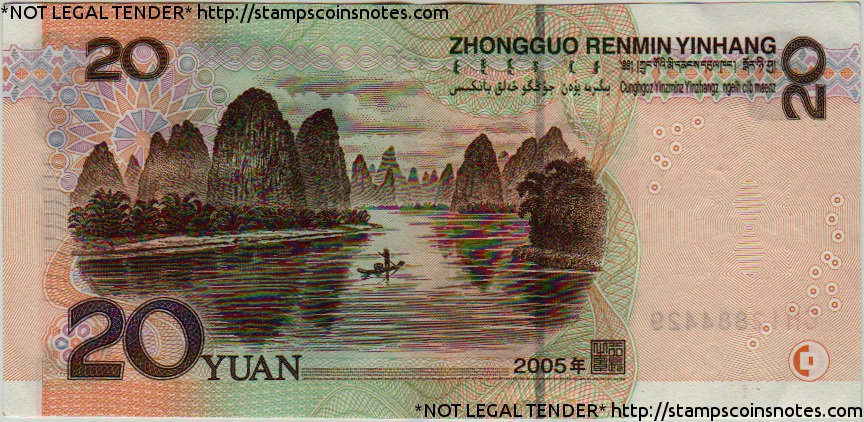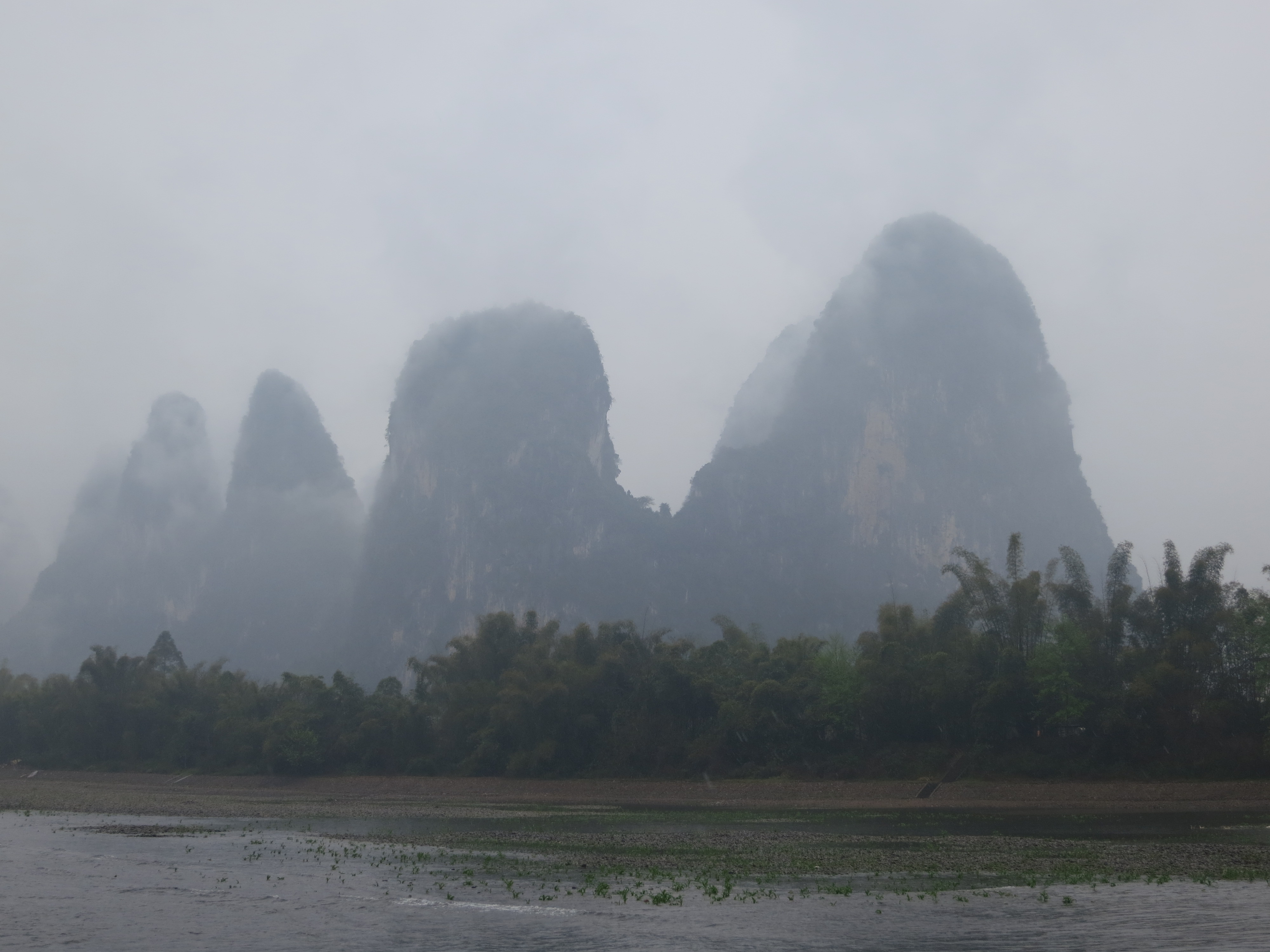 At the end of the trip we had to wade our way through a sea of people getting off numerous boats and all making there way to the city through a packed walkway with vendors on each side, just crazy. When we got to the end of the walkway we found people who want to take you places taxis etc. we negotiate with a lady and agree on 40 yuan for the ride to the hotel. The we start walking to find this taxi and it is a long way in the pouring rain, so since we walked so far already and it seemed on the map that we were close to half way there we decide to renegotiate the price of the trip which did not go our way. So now we walk in the rain with all our luggage to the hotel it is taking longer than we thought and still a long way to go. Lets get a taxi and go from here, now hindsight says we should have just took the taxi in the first place, but this trip is about adventure and this little walk was just that an adventure and makes for a good story. I seen a tee shirt while on the trip that says bad choices make the best stories, its not that great of story but I will certainly remember it. Now cold and wet we are at the hotel and take a rest, a nap, and get warm.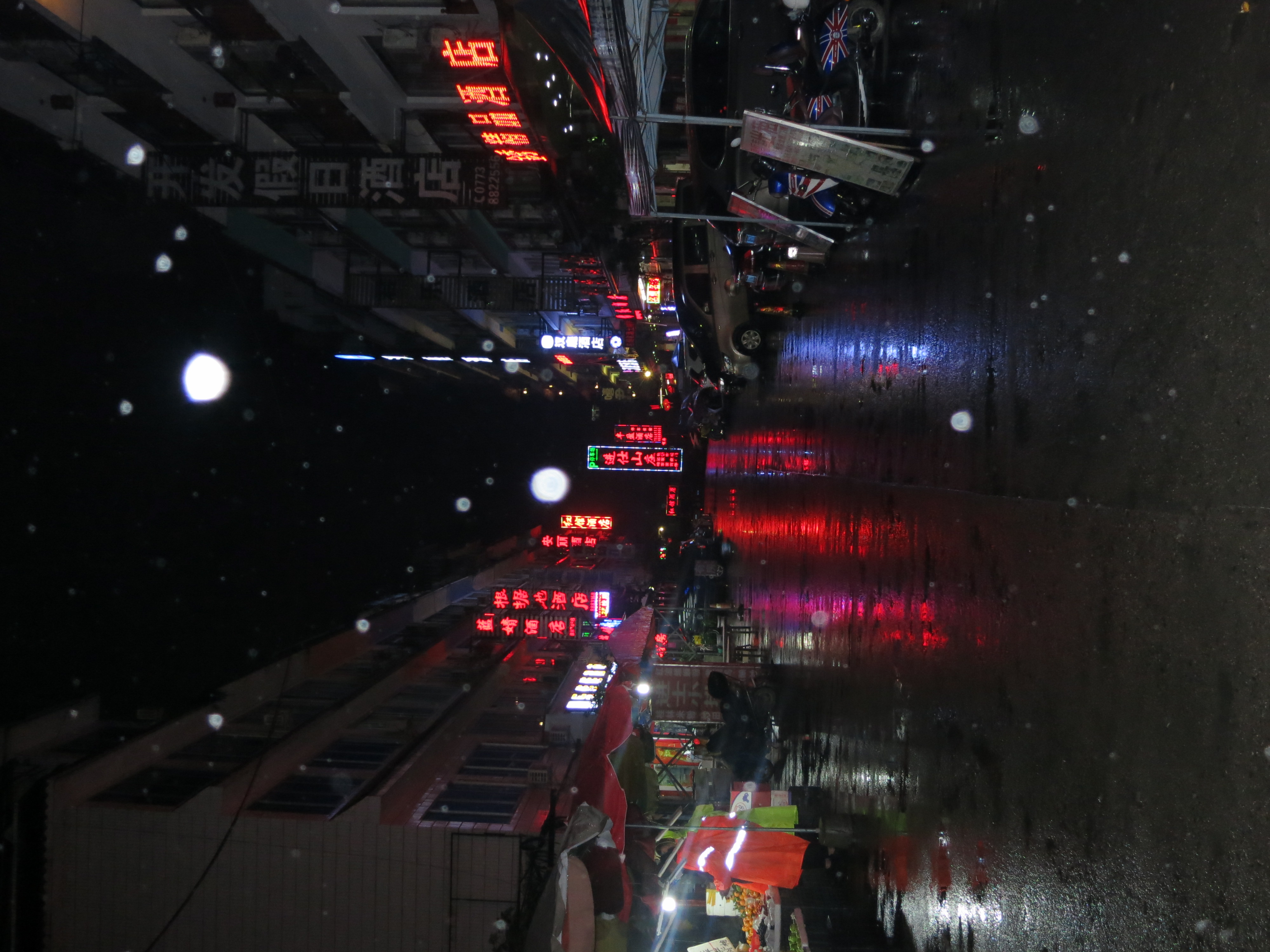 We make the decision not to participate in the evening show and try for a walk to the west street to see what that is all about. Part way through the walk it is raining even harder so we just go into a restaurant and have some dinner.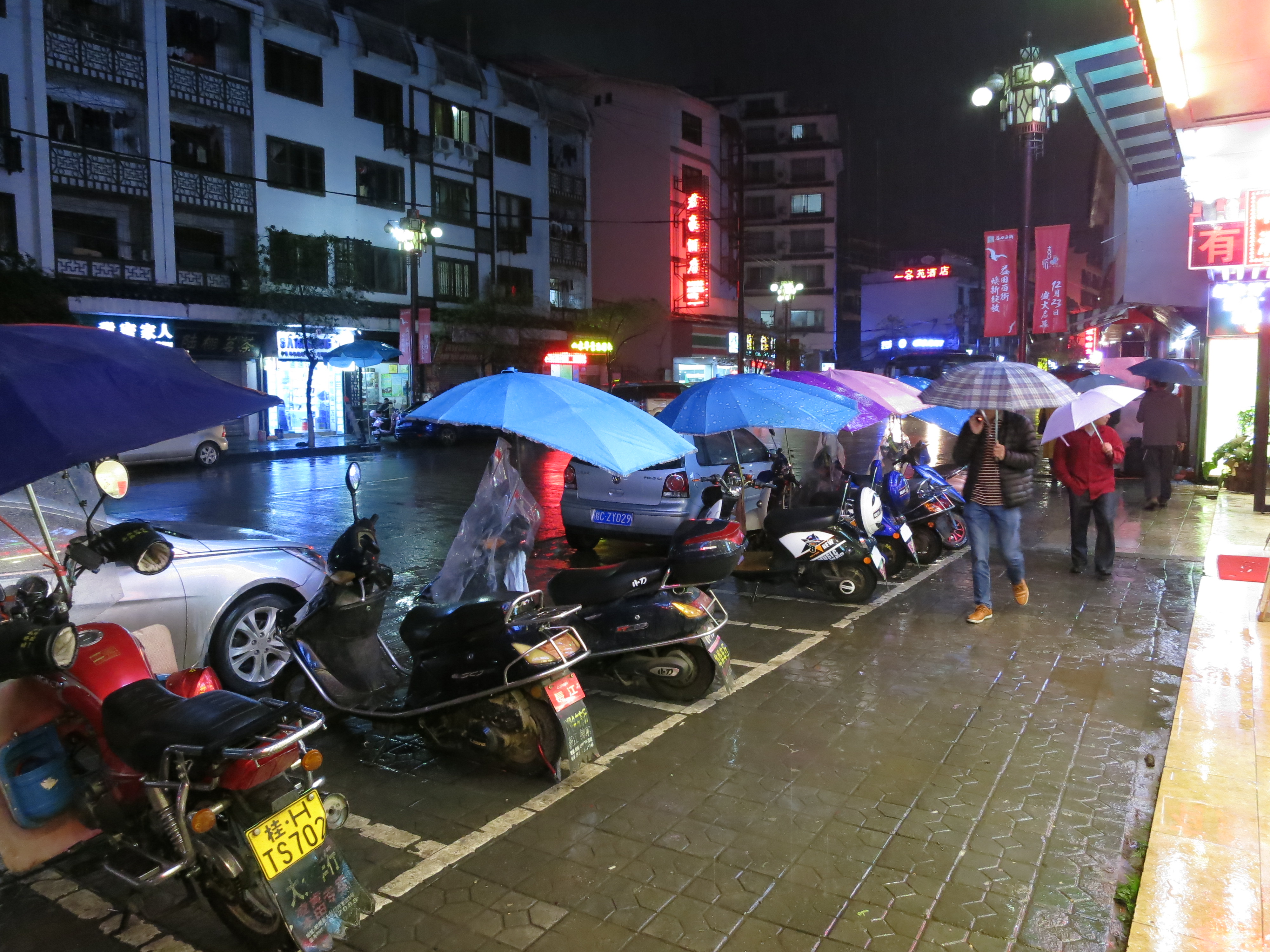 Look at the picture above how they deal with the rain on scooters, they have a special made umbrella with a long back to help with the rain.
Food safety is of utmost priority and is displayed prominently in the shop.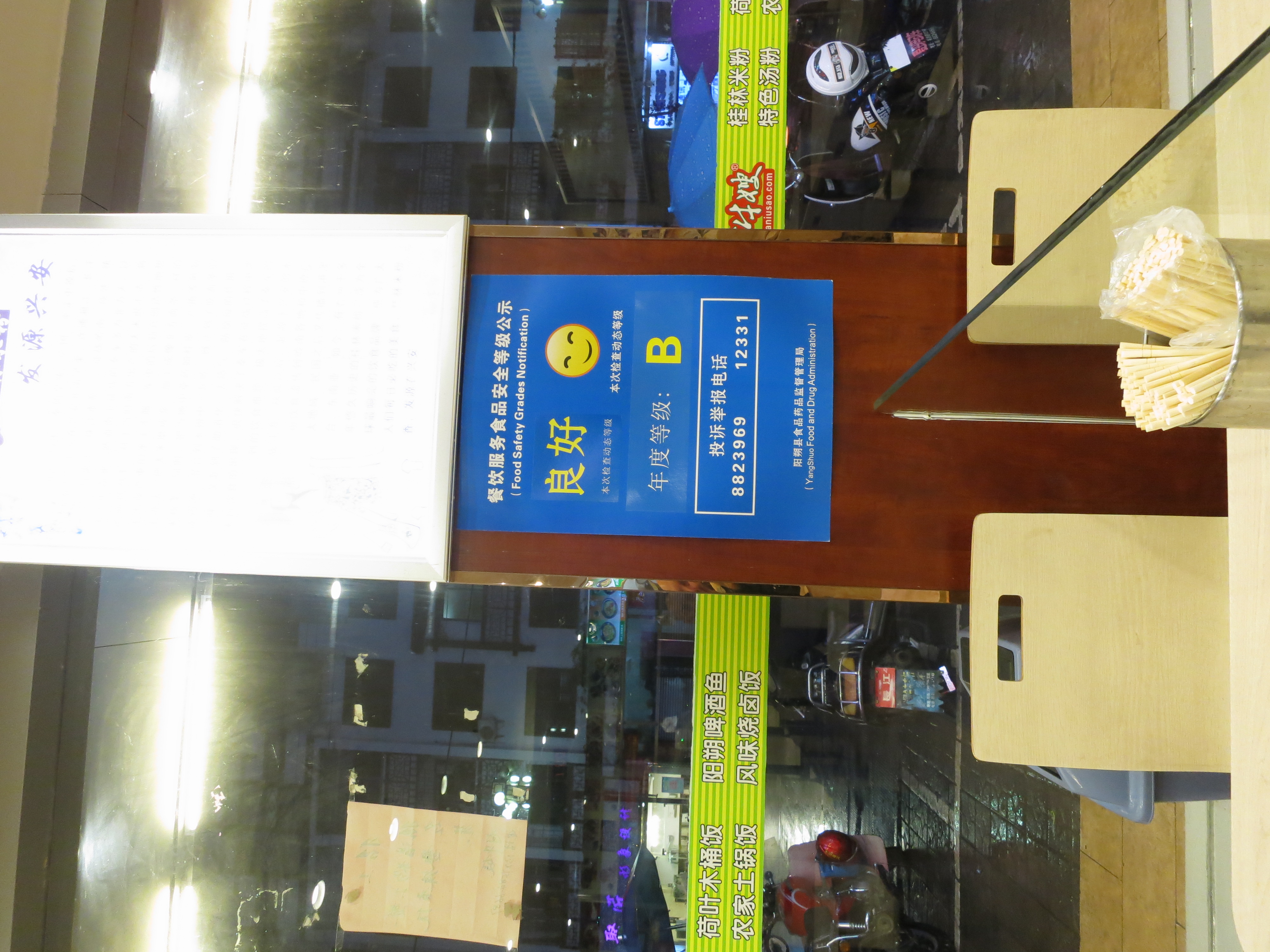 Travel day today to Zhaoqing another bullet train for a fast ride, but we need to take the bus from the city to the bus stop about 45 min away. We get up early and wait on the street for the bus to arrive. The rain has stopped at least for a while and we get some interesting views in the remaining mist. The bus ride is bumpy and takes us through some interesting country side. The train station is large and located in the middle of nowhere with spectacular views check out some of the pictures in the gallery http://ian-phaydy.ca/ian-phaydy/index.php/gallery/category/28-zhaoqing.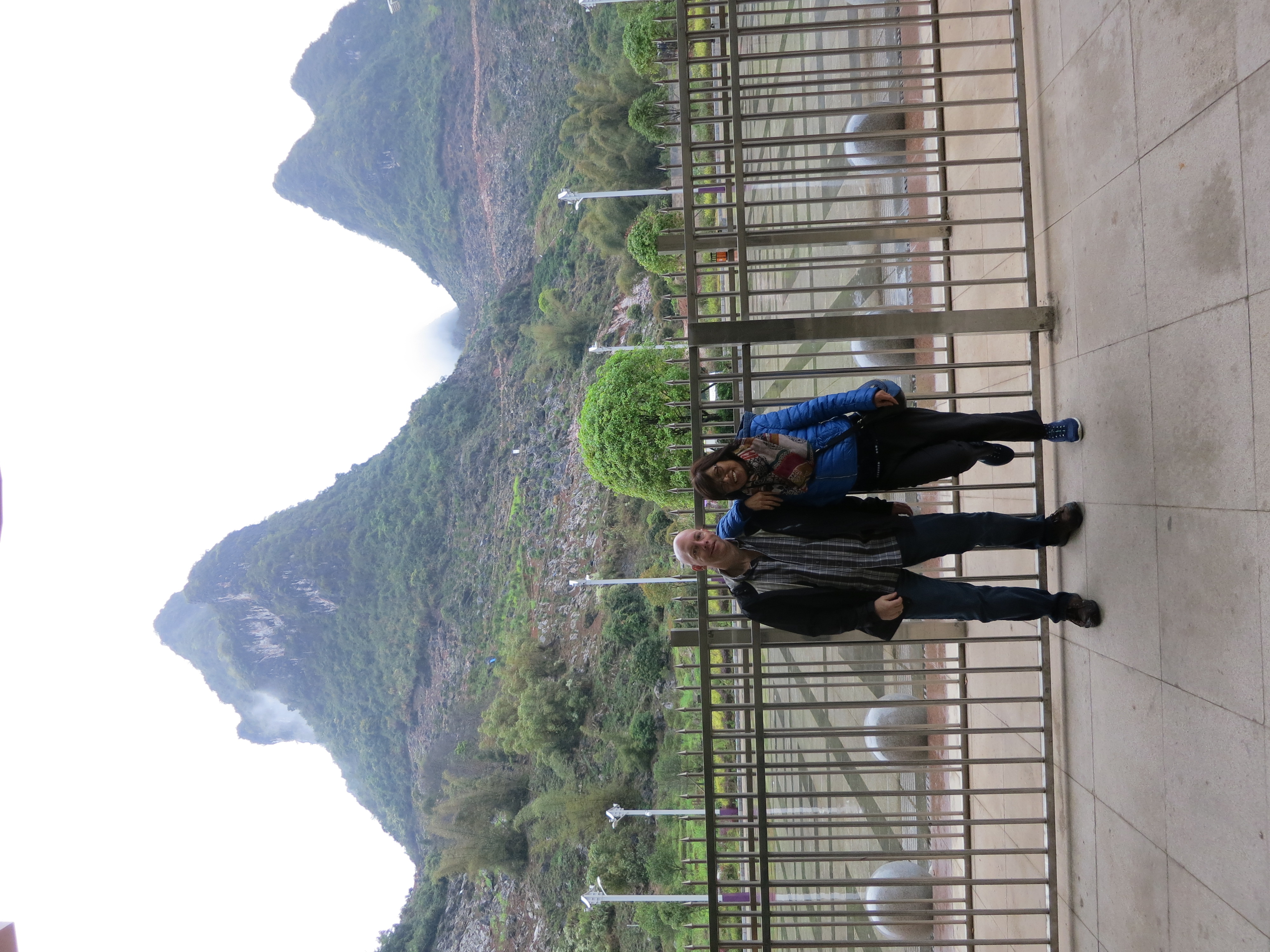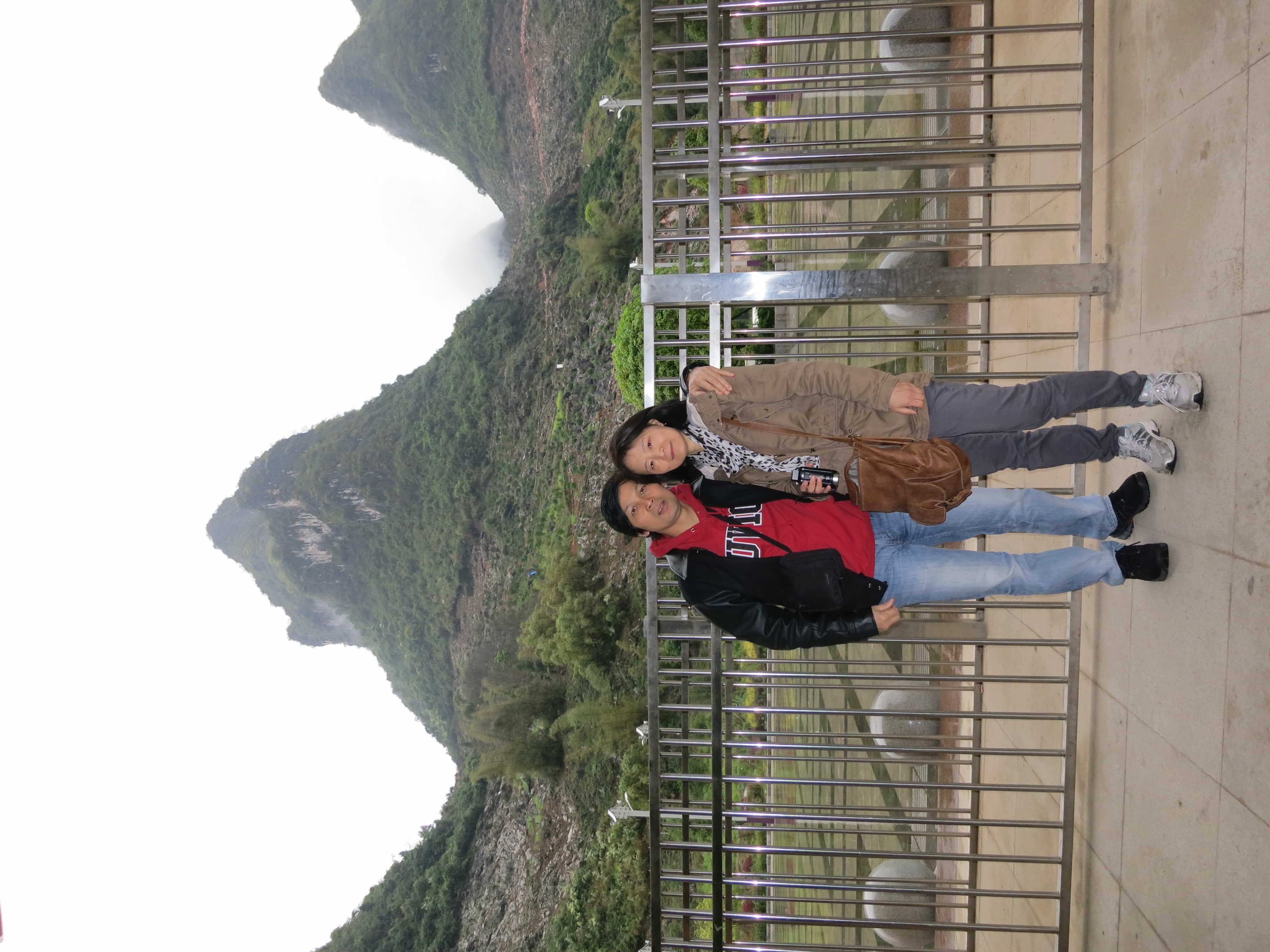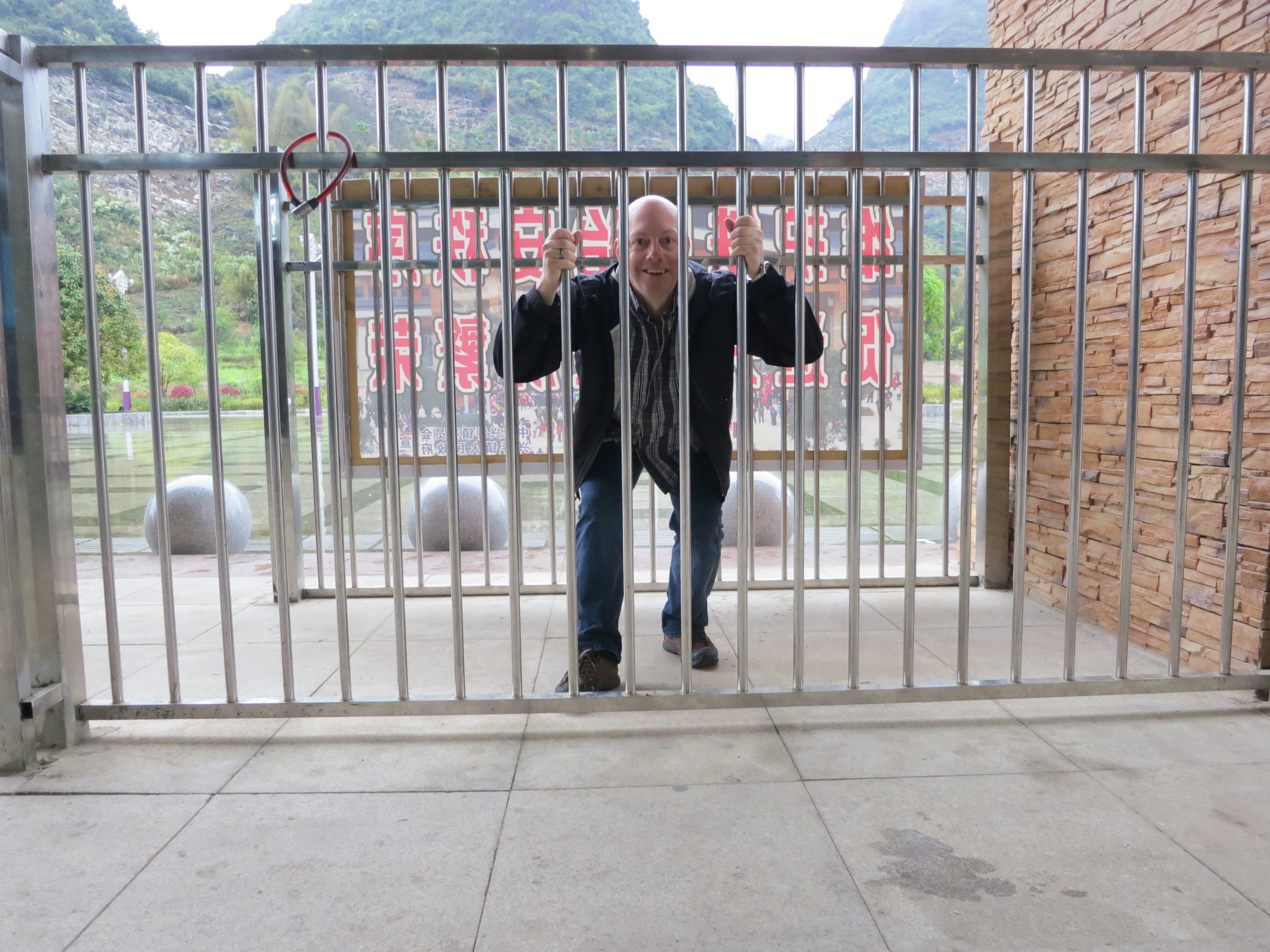 Dim-sum for lunch with Jane's cousins, aunt and uncle which was really nice and made me feel better. Oh about that seems the food safety rating of B was really not that good. I am the first one of the group to fall victim to some food that my GI tract did not like, more on that later, remember I said poor choices make for great stories. After lunch we went on a tour of the city and had some conversation.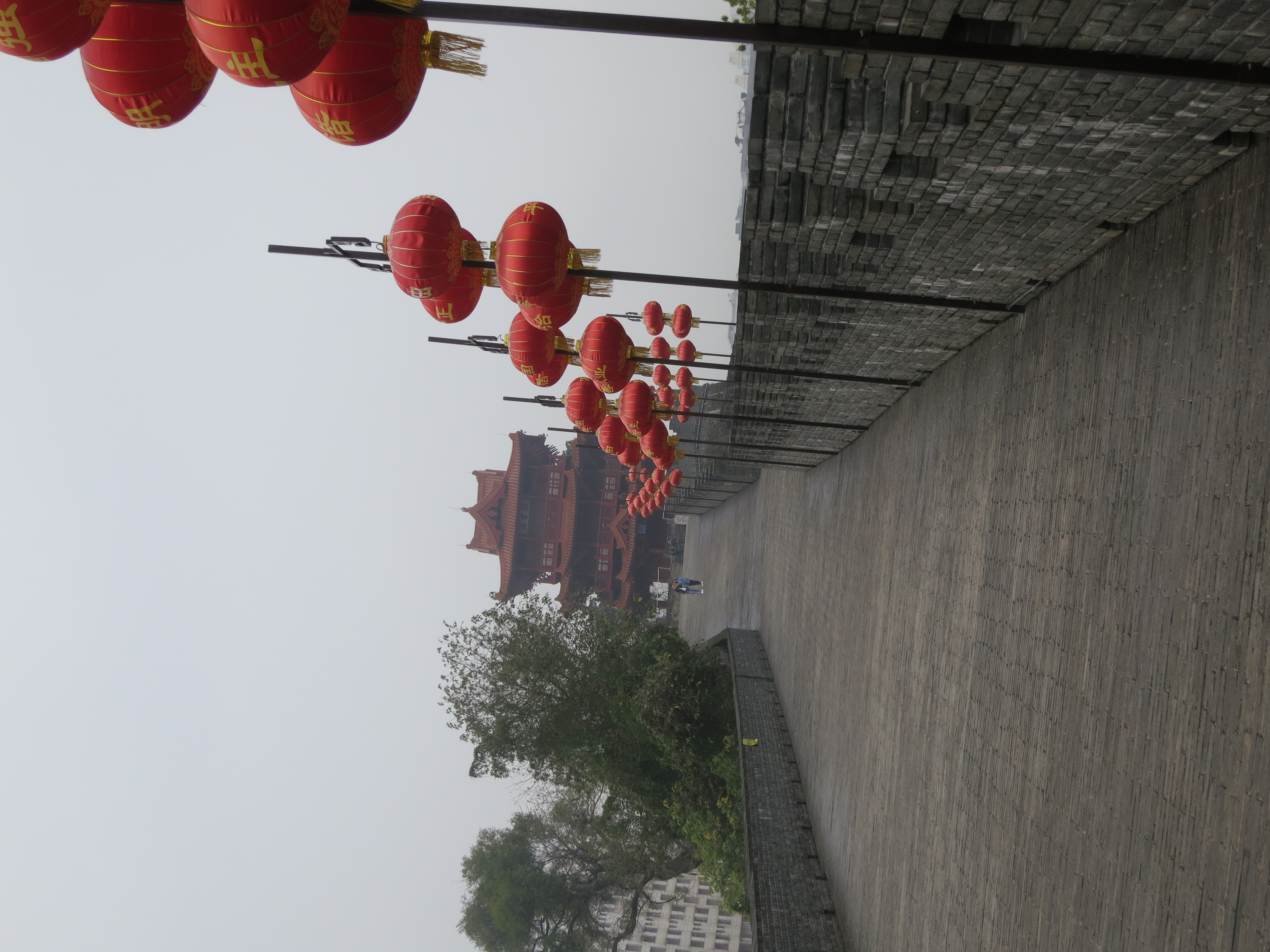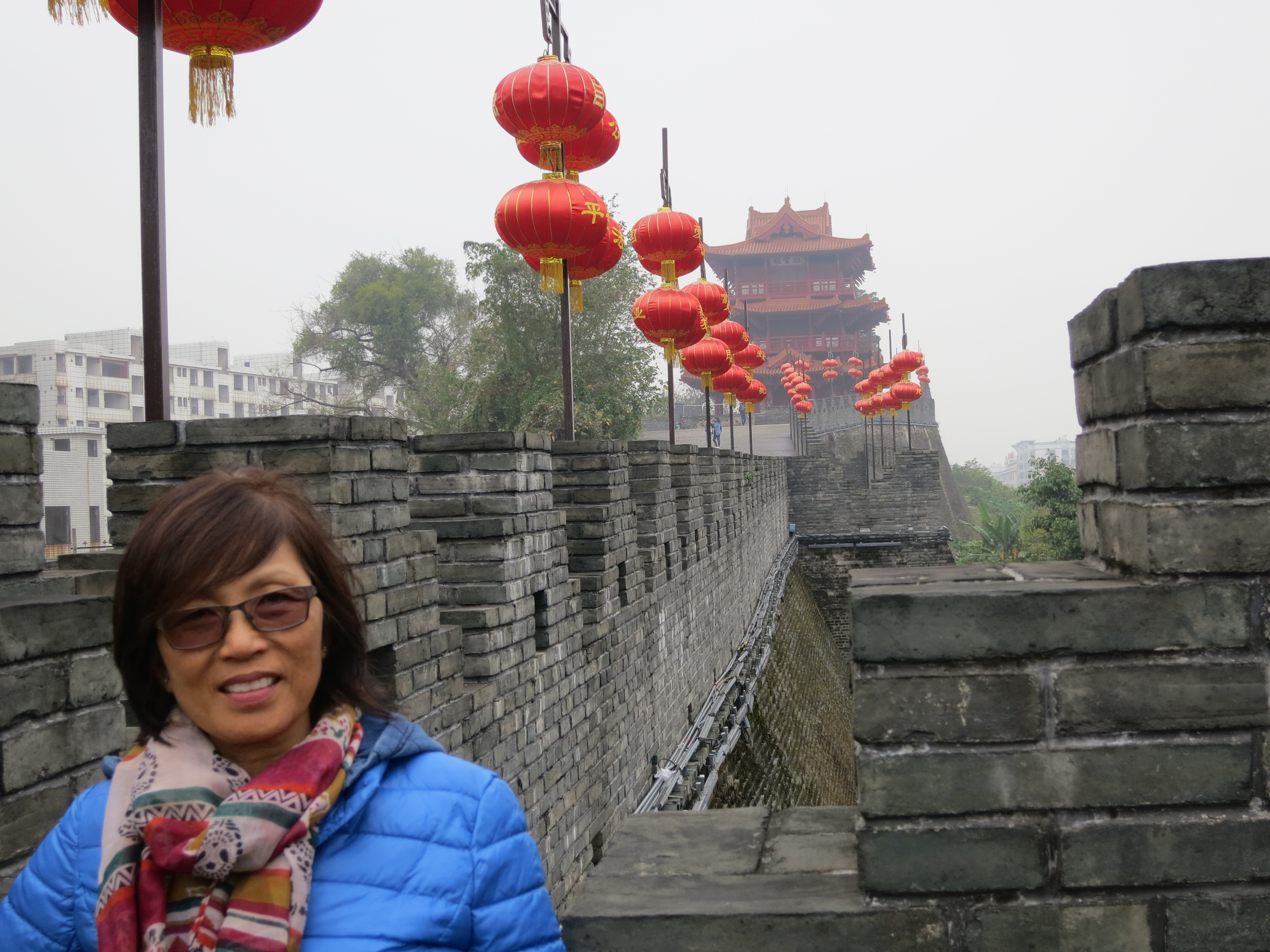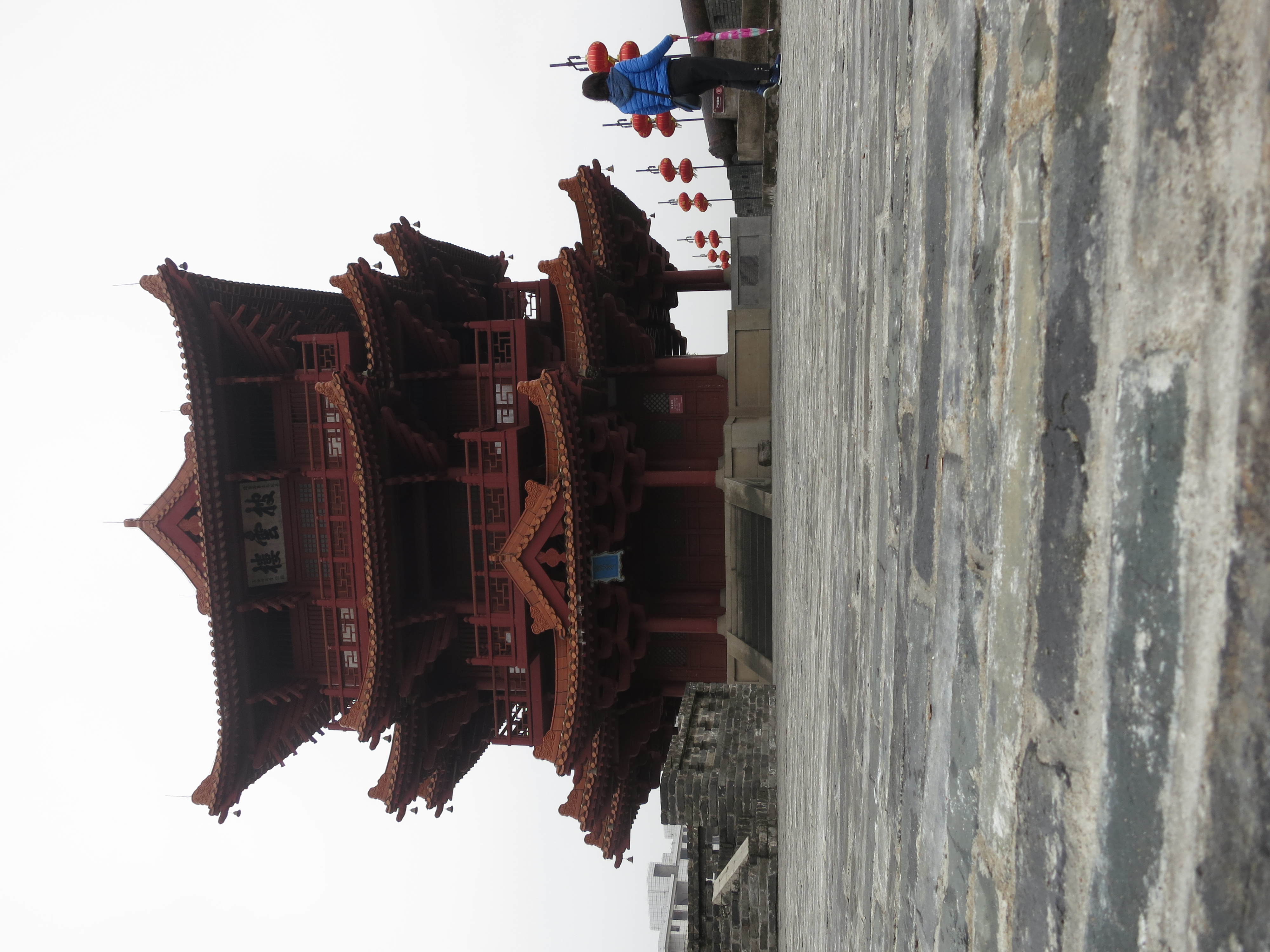 Jane's cousin (Connie) has a friend with a jade store, and they opened it up just for us to see some pieces as we had mentioned we would like to look for some while we were there. This is a good opportunity as you really do not know what you will be getting regarding quality and authenticity when shopping in the markets so now I know the quality and authenticity will be there. When we get there I am really starting to feel bad nauseous and the whole bit from last nights B quality food, but I hold it together and we got a really nice piece for Phaydy.
Dinner was in a private room with fish done 5 ways which was quite spectacular. One thing, I was feeling worse and worse and eventually at the end of the meal I leaned over to Phaydy and well I lost consciousness and during this unconscious time I threw up. I feel so embarrassed about this and really can't explain why but it happened and I can't change that fact. I joked that I was able to hold myself together all day until I seen the steamed fish with the eyes looking at me.
From the time we arrived I was noticing the amount of construction and building states even from the plane on the decent I noticed it. There seems to be construction everywhere, and the odd thing is a lot of the newly constructed buildings are empty. The buildings are finished but empty. The other thing I noticed is that the older buildings are built really close together and the exterior of the building is a total mess. I take a guess that they must not have a strata that looks after the building in general and only take care of their own unit from the outside. Another thing that I noticed was that there are bars on the windows of all the units not just the first two floors. So even 9 or 10 floors above ground I can see bars on the window or balcony. Now these bars are not thin bars but thick narrow spaced bars probably stainless steel. The other thing about the buildings is the doors all have the same type of bars in front of the door, so a double door, one cage and one wood or metal door. I have to guess from that practice that theft is a big concern with the people, but when looking around at the people I don't see much in the way of people that would commit crimes like that.
When you look at the older buildings the outside is really dirty and every balcony has clothing drying on them which looks really bad from the outside. I know why Paris has mad a law not allowing laundry to be dried outside of the buildings.
The old buildings that are empty I assume are being emptied to be replaced by new bigger buildings. Now the buildings are build in clusters of similar shaped and size large buildings. The buildings are distinctive in color and also mostly have a design at the top of the building which in my opinion looks far better than the flat top buildings that we have here.
I can now understand that there are complete ghost cities built to house people in an area even before the people arrive. This way the city or community is planned from the start and not grown organically. Not a bad idea actually.