Another day in Luangprabang, we had only one full day to see all the attractions. We decided to see everything that we could in town, because anything out of town would take a minimum of 4hrs to max of 6hrs by car/boat. We met Marca by Mekong river taking pictures so we decided to sight seeing together. We went to King palace first, now it's a museum then few more wats after that I was poop. We went back to hotel to rest till dinner time. Ian couldn't wait to go back to his favorite restaurant (street foods). Nothing else to do at this time except shopping, my favorite pass time.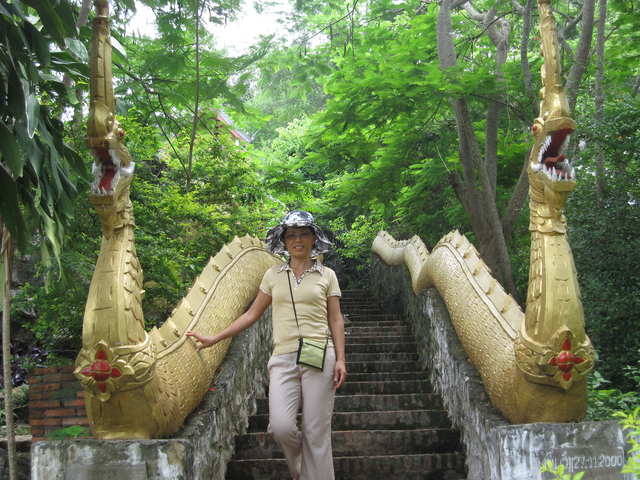 Up in the morning, and off again, we are going to the most northern place in Thailand, forgot the name off the top of my head, sorry Minnie, a place where we can find views of Myanmar across the river, and a bridge across the boarder.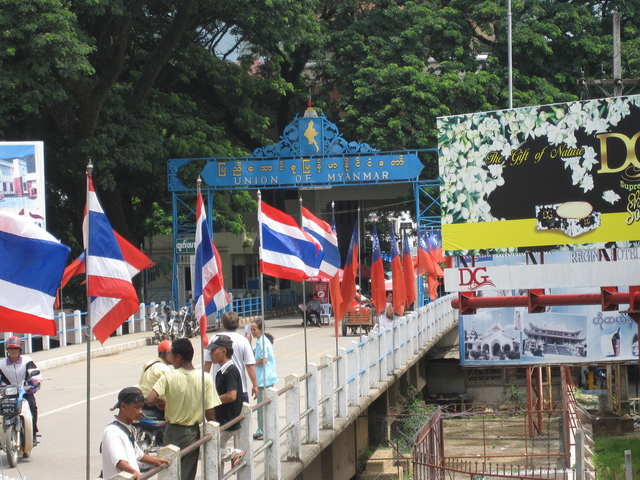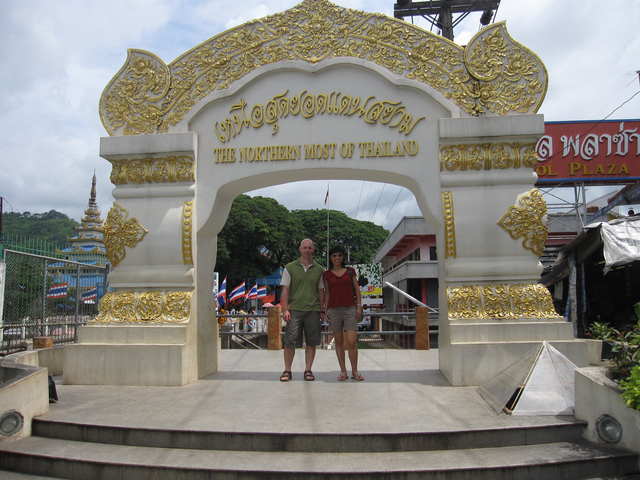 We decided not to go, as the things are same same. Ok why did I say same same, well because I have been seeing t shirts that say same same on the all the time, I did not know what it meant at first, now I know, everything in every market is the same, thus same same. I bought a t-shirt of the golden triangle here, at the closest point I could get to Burma without swimming across the river, which I watched one guy do, and just walk into Burma, go figure the visas and travel has to be planned ahead of time in order for us to get in. In the car again, to see the golden triangle, did you know that there is not actually a triangle of gold, but rather just an island in the middle of the Mekong where the three countries meet together.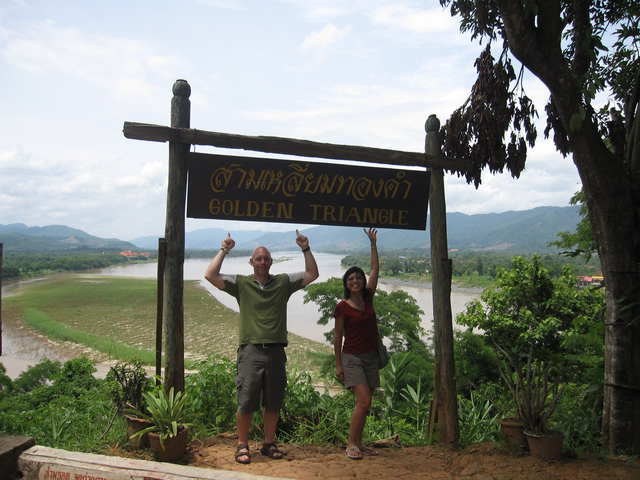 The gold is from the currency used to for the drug trade that happened here in the past it is pretty much cleaned up now. We visited the opium museum and found out lots of how and why it became big in the area. got to try some as the museum was doing a little bit of cleaning up, and was letting some go cheap. Wow I can see why the recommend taking it while laying down, a little to strong for my liking. Oh you didn't believe that did you it is illegal here as well you know, or maybe not. So off in the car again for a long ride to Chaing Mai to end the trip, or so I thought then came the white temple. Oh I almost forgot to mention Minnie went over and above and took us to a temple that has many monkeys she took us there because she wanted to show us her temple, the one of her birth year I really liked the temple the monkeys the fish, and the fact that she went our of her way to take us there.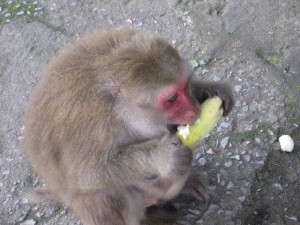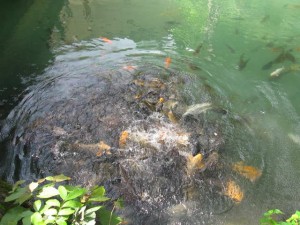 Got up very early to see Monks walked on the street in a group of 10plus for Takbath ( people waiting by the street offering mostly rice). We don't have this in Canada due to lack of Monk plus Lao people are scattered away from each others. We have temple in Langley but only one Monk lives there, so people would take turn to bring foods to him.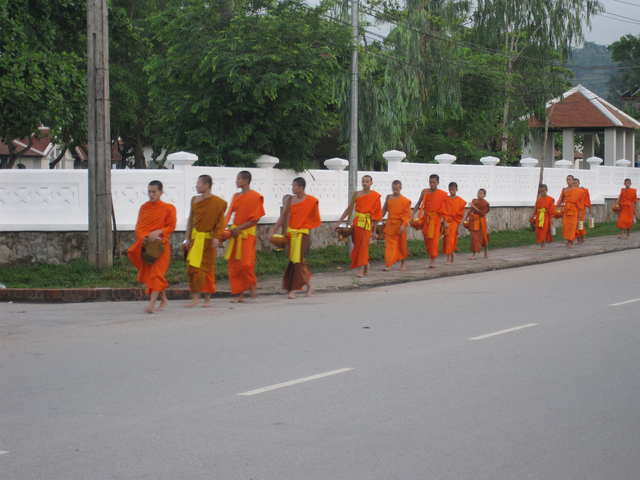 Got back to hotel, had breakfast & it was time to head out to Vang Vieng. It was a long ride 7 hrs on a twisty road. We got in vangVieng @ 3pm, got in hotel Ian decided to do tubing so he had to rush before it got dark. Few people went out tubing but I decided to explore town by myself. B y the time I got in town I met up with Rolina so we both kind of tired & thirsty so we had fruit juice & chat for over an hour. It was really a nice chat, I knew more about her, she was kind of a loner in the group. she didn't join us for dinner nor drink most of the time. She said she didn't feel comfortable in a big group but like chatting one on one, it's more personal basis that she likes. I really admired her on what she did, she is a maxican girl who moved to Switzerland & lived there for 4 years. After this trip she will go to Newzeland for a month after that she will settle down in Australia. She has no idea what she will be doing there but willing to take whatever come her way to make enough money to live there. Her live story gave me new perspecctive in life that you don't have to have the money before you can explore life in other country as long as you are willing to work hard to stay safe & alive. .....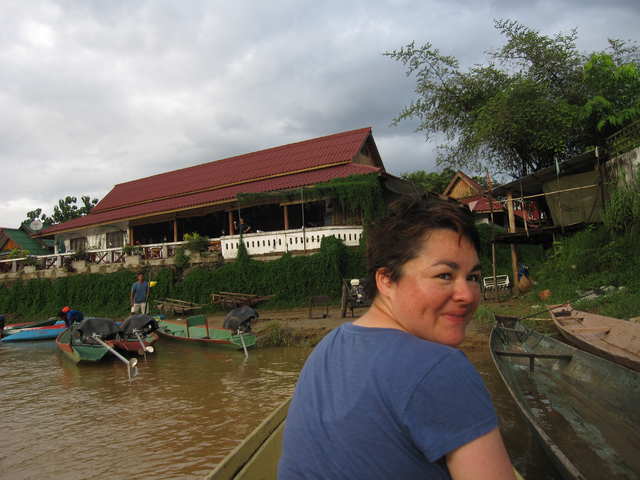 So its a long trip to Chaing Mai, and I am asleep in the car not expecting any more stops when I wake up because we have stopped. My neck is sore from the poor position that I was sleeping in. What is happening, did we stop for a bathroom break no there is beautiful white temple in front of us. It is called Wat Rong Khun the white temple, and is really new so new in fact that it is not even finished.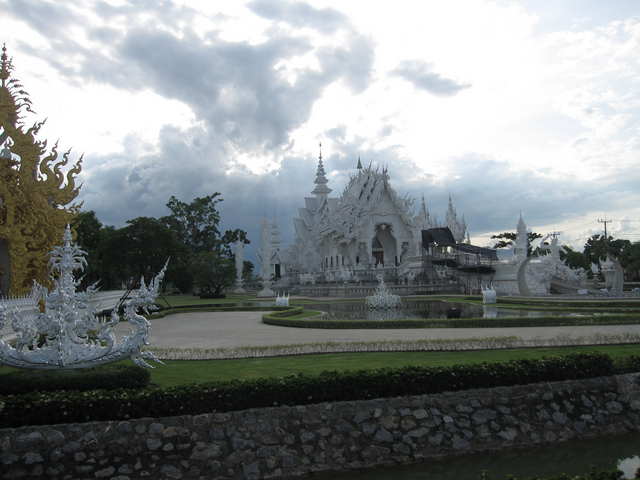 All white with mirrors lining the whole thing a big contrast to the gold and brick of the other temples what a treat. I go in with Minnie as Phaydy can not go in as she is wearing shorts. I stop to take a reflection picture in the lake in front of the temple then proceed to walk in, before the entrance is a pit full of hands reaching out, as you have to cross those in hell wanting a way out before entering the temple very new and forward.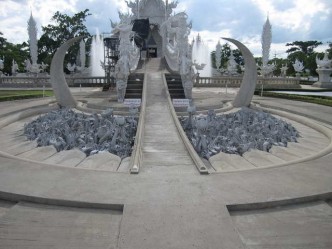 Everything about this temple is new for today, and not from the past once inside it is so beautiful, not finished yet, but a full mural of history today. In all the ancient temples there are wall murals depicting wars and struggles of people building the temple. In contrast this new temple depicts things of today, the struggles for oil brand names, military power space control. There is a world trade center attack, in the eyes of a scull a picture of bin laden, and George bush.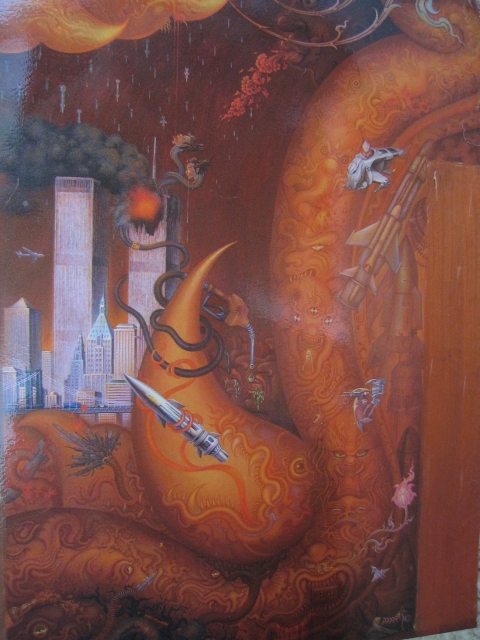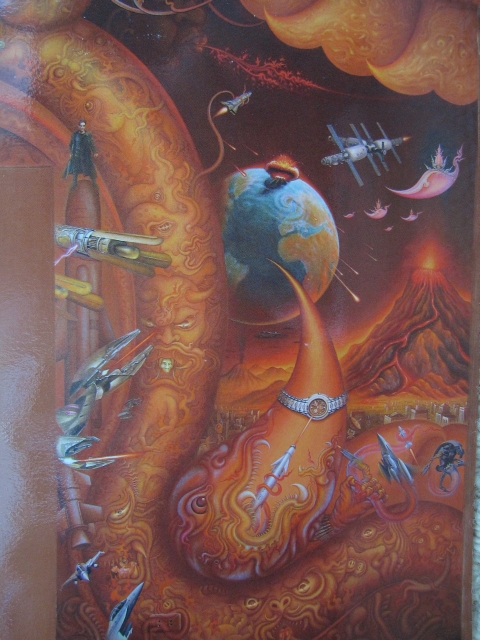 I could sit there for an hour and not see it all. What a great ending to a trip the last temple is about the new, the first temples so much the old. I started in Ayuttya with old ruined temples and I talked about how I felt standing in a place with such history, and imagined the people that were there at that time. Then I come full circle to a temple so new, not depicting the old, but depicting the new todays struggles, and looking into the future wow. I have been struck in a different way very refreshing. The designer is quite the artist and has many pictures that he has done that are just amazing I will have to share that with some of you when I get back. A great trip we can not make it to Myanmar, and will now travel to Kho Semed for a couple of days on the beach. Blog off
Another 3hrs on the road, had breakfast, went for a walk in town to make sure we didn't miss anything the night before & back on the bus heading to Vientiane. We got in Vientiane & it was pouring rain. By the time we got in hotel I wasn't feeling too well so I took a nap since we planed to stay couple more days i didn't feel the rush to go anywhere. Got up just in time for a walk with the group to restaurant & had Mai Tai a warm up drink by Mekong river before dinner.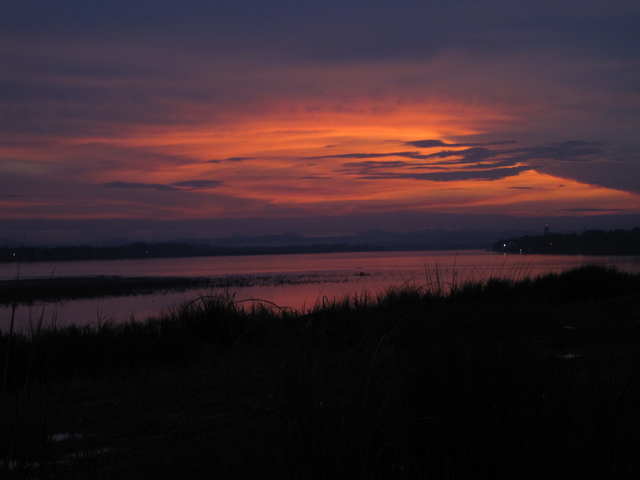 I was surprised to see how low the river is now, I remembered it to be quite big & the water was clearer, not as muddy looking as now maybe it's raining season. Nicole suggested Western food for dinner since everyone is tired of eating rice so we all went to Italian/French restaurant for Pizza, pasta & steak for dinner. I haven't had the chance to have a decent wine in this side of the world so we ordered wine, wasn't good but wasn't bad either. The night didn't end there we had another stop at Martini bar & had couple of drinks there before heading back.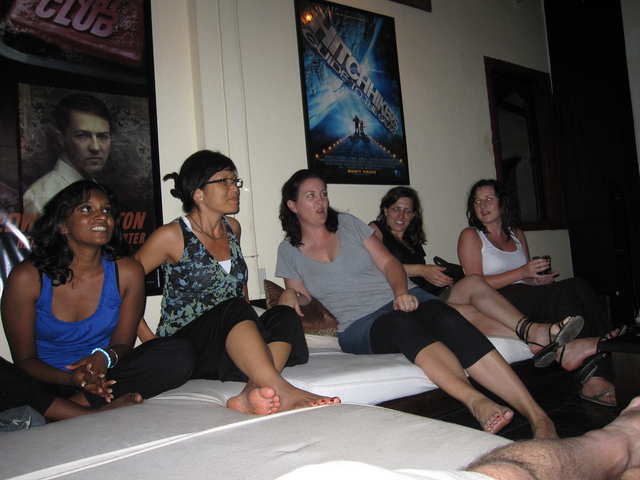 Nicole informed everyone to go out early if we wanted to hit all the attractions because we had to head out to catch a train to Bangkok by 4pm.
We got up a bit late because we weren't rushing to go anywhere since we'll have 2 more days here. Well we were wrong after checking with Travel agency to find out how we can get to Chiang Mai by Jun.22 because we had dinner plan with new tour guide by 6:00pm, it was impossible for us to stay in Vientiane 2more days. The first flight out from Vientiane was 7:00am on Jun.22 there was nothing else available & it would cost us $200 plus each, it means that we had to find 2 nights hotel & only one full day to see things so we decided that it's not worth the money & the trouble . We had to rush back to Nicole to let her know that we decided to go to Bangkok with the group. By this time it's 11am so we rushed out to get Tuk Tuk , negotiated the price to see all the places that we wanted till 3:30pm. As you can imagine how we rushed around, I'd like to show Ian where I went to school, luckily my high school was near by the Patuxay or Anousavaly in the old day. Patuxay is one of the tourist attraction this day that was changed so much from what I remembered. They have many souvenir shops in different level where they were just empty space before. The did good job on garden it looks prettier & water fountain was added later as well. I remembered spent lots of time for years with my friends there, especially having lunch there with my sister Kham & my brother Vanh every days on school day.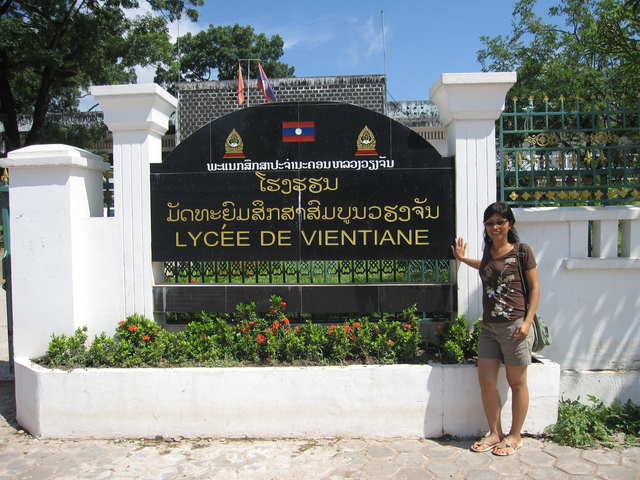 We headed to That Luang, that is not just another Wat. There is a big festival every year in December for couple weeks, I used to hang out there almost everynight till the end because I could walk from my house. I was close enough to hear all the music & party that went on till mid night.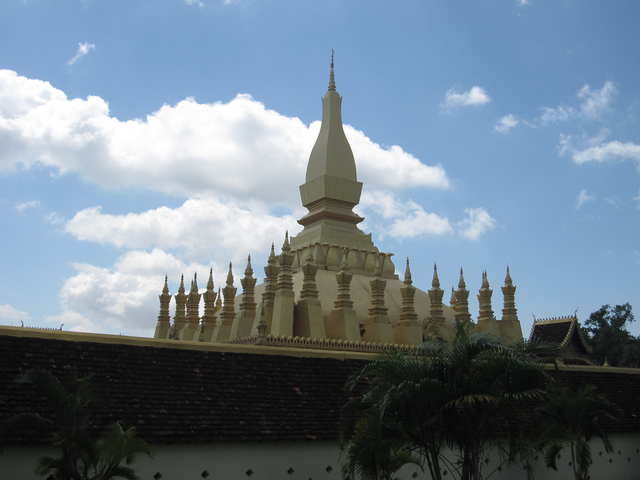 I told my Tuk Tuk driver that I wanted to see my old village but not sure where because thing got changed so much. Anyway after few questions along the road we found my cousin's house that was built on the same land that my old house was. Knowing that they don't make much, I was surprised how big the house is. My cousin wasn't home, I met his daughter, her husband & her son, she remembered me. I had couple pictures with her so my mom would know that I did visit my cousin.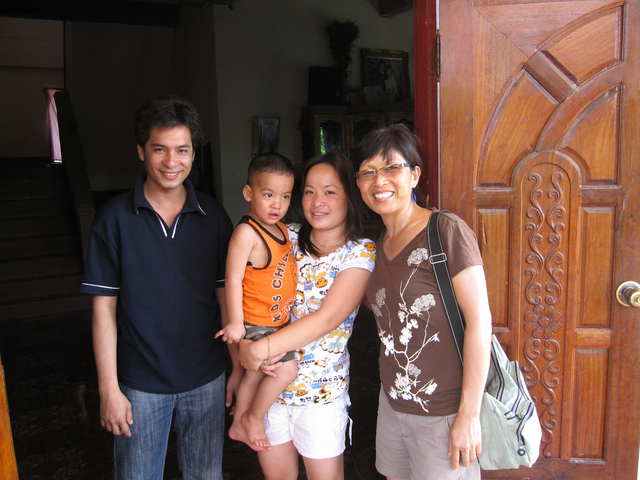 We walked across the street to see my old friend, she didn't recognize me at first. We chatted a bit & she insisted that I had lunch with her before I rushed out. She was mostly busy with her customers so I chatted with her husband more to find out about their life. They did good for themselves, have big house & big car.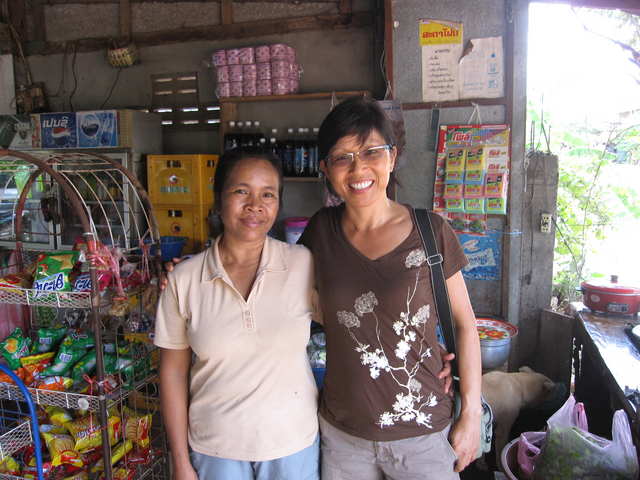 Off we went to Wat Xieng Khuang, it's a bit far 40min. so it was a bumppy road at certain section. Ian took lots of pictures there & had to rush back because I wanted to stop at Talat Soa. I was disappointed that it got changed to be a mall rather than an open market that I remembered. We went through it quite quick, nothing that I really wanted there so we left empty handed which was good because we had no space in our bags anyway.
We stopped to get a bottle of wine that we found in the wine store that I had this wine at home before so I was sure that it would be good. We had noodle soup before we met the rest of the group just in time on the bus to border of Thailand.
There was quite a wait at the border for a 6:30pm over night sleeping train, it was a very hot & tired day and Ian found out that they had a shower room at train station for 5 bath. Of course I needed a shower, I couldn't go to sleep without it after a long hot day rushing around. Did I mention that the whole group went to eat & left a pile of bags with Ian, Marca & I to look after?. It was good though that three of us had the time to take a shower.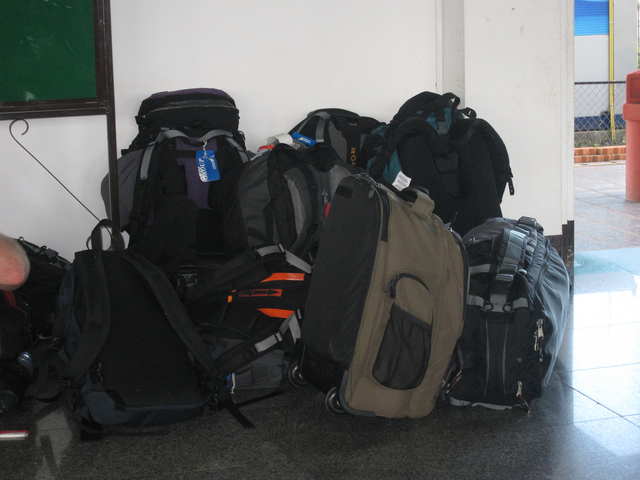 I've never been on a long train ride leave alone sleeping on one. We had dinner & wine, pretty relax after a long day. That wasn't so bad sleeping on a bunk bed, going to washroom was not too convenience but doable, I know it's clean because I can see the track below :-).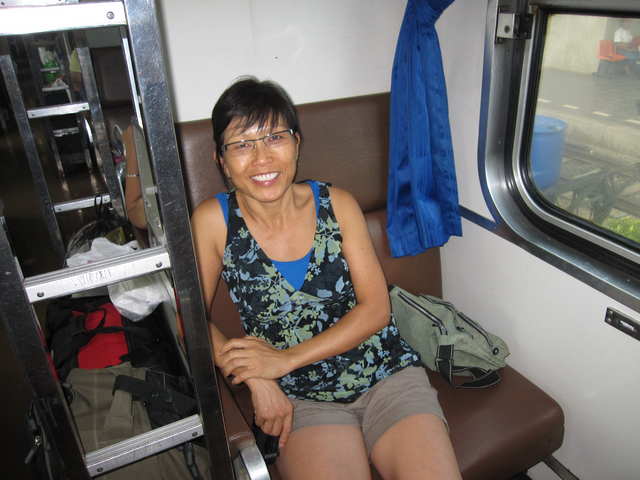 We got in Bangkok train station by 7:00am, got meter taxi & got big hugs from everyone before departure. It was sad that the trip is ended but we were also looking forward to the next one in Chiang mai. Bought ticket from Air Asia 2100Baht each & the morning flight just left, so we had to wait 3hrs before next one. Went to food court to refuel, interesting that you need to pre-bought the ticket at 500B minimum for different food stand, they just swiped the card. Of course my eyes always bigger than my stomach so Ian had to go back for reloading the card.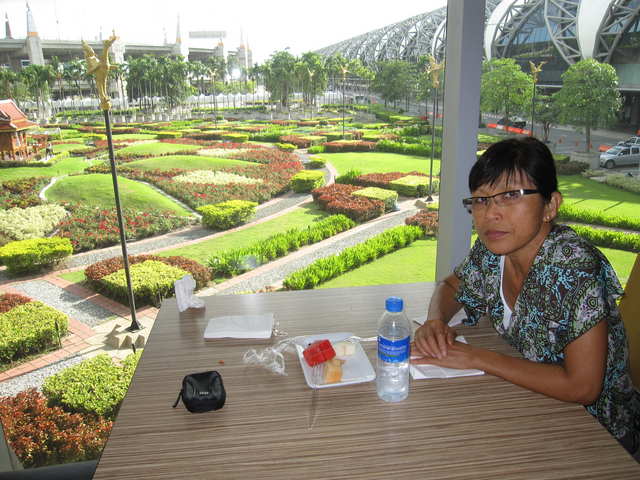 It's only take 1:15hr from Bangkok to Chiangmai, 150B for taxi to Chiangmai Plaza Hotel. After many hotels experiences at a standard level, we were kind of surprise at comfortable level hotel was so much different in the size (fancy furniture's/ layout) & services that you get. Boy I can't imagine what luxury level would be like. Anyway we were really please with our choice to come here earlier.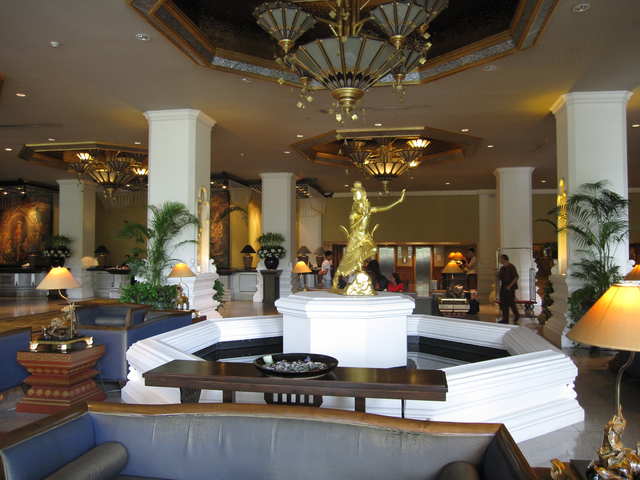 Went to check out what's there to do before our tour start tomorrow evening. Booked for Jungle Flight next day from noon till 6pm. Again our hotel was in the center of all the shops & many Wats around, plus Suday night has special night market that spread out at least 3 long blocks (awesome). Got hungry again so we tried out Sabu Sushi, all you can eat for 300B that's close to $10/person. Of course we stuffed ourselves, couldn't help it, so many selection & sooo good.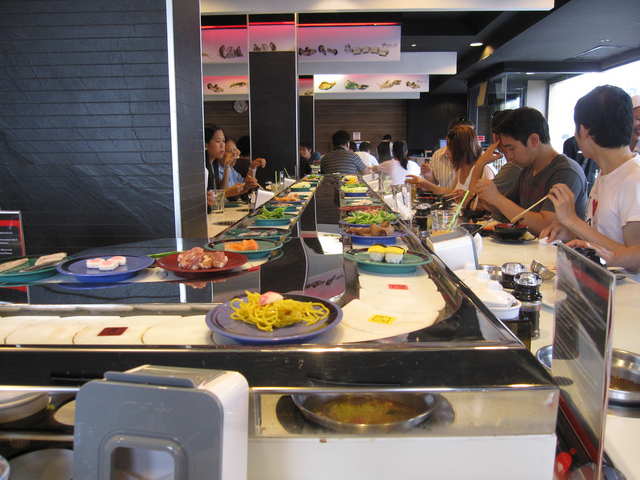 Night market was very busy, both side of sidewalk were used plus the middle of the road. so as you can imagine traffic is flowing one direction only so if you go against trafic you won't be able to walk. Spent more than 3hrs there & had to walk back few more blocks to hotel. I was poop but didn't want to take Tuk Tuk hey I had to burn up those yummy foods that I kept on stuffing them down.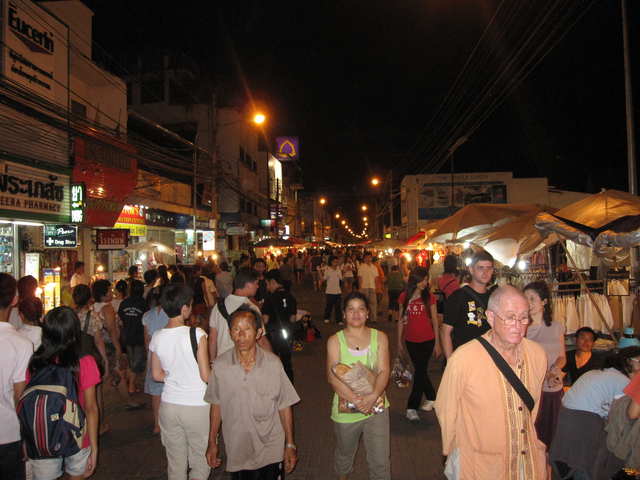 Well since our trip to Burma was not going to work out due to visa and other logistics, we took Minnies advice, and found our way to a costal island to spend a couple of days relaxing. We wanted somplace that was nice, but not too touristed, and we found it. First we had to get there, so booked a flight from Chaing Mai to Bangkok, and then we needed to get to the coast, there are many ways, bus, mini bus, and taxi all of wich had thier challenges after going to the bus terminal, and not wanting to wait 2 hours we caught a taxi to the pier. Two hours later, we find our selves at the pier and have hosts greet us, odd. We get told that the last boat had already left, but we could go for 2000 baht (we only paid 1500 baht for the 2 hour taxi ride). The research that I had done earlier, said it should only be 50 baht each way so now I am confused, and then since we did not have a room, they were going to book us a room all they had was 5000 - 21000 baht per night, no no no I was thinking of staying for more like 1000 per night. Se we mentioned this to the girl, and she reluctantly pointed us to a pier a 100 meters away were we got our 50 baht tickets actually got a round trip ticket for 100. The ferry stuff now, we were told the ferry is leaving at 5:00, its now 4:50 so we go to find the boat, but there is a whole bunch of boats, and none look like they are loading. The guy we pass says the boats are not leaving till 5:30 I ignore that as I assume that he just wants us to eat and drink at his place. We read the ticket again, and is says any boat, but we are not sure, so we ask someone, and they point us to a boat. We noticed one boat getting loaded with stuff, and a bunch of school kids I wanted to go there, then we seen another boat that had two people on it. So here we are sitting on this boat wating for it to leave I guess I wont start questioning things until 5:30. So this bigger boat comes by and wants to dock where our boat is, so they come crashing in, yes they actually bump into the boat that we are in, and proceed to throw a roap to tie the boat to the dock. Now we see our driver com running down the pier to get his boat out, now it is a struggle one boat wants to dock and is not giving way, and the other boat wants to get out, but the bigger boat does not want to let it out. Eventually the boat that we are on, manages to push the tail end of the bigger boat out enough that they can back out and are no longer blocked. This whole thing could have been a lot faster, and easier had the bigger boat just let our boat out once the intention was made that our boat was going to leave. Who knows what the deal is between those two. So I assume that we would be on our way, no the boat with the school kids pulls up beside us, and motions for us to get on that boat, not knowing any better we take our bags, and move to the other boat. Now we should be on our way, hold on, the engine on this boat stalls, a guy comes out opens the hatch goes down for a while and comes back up, the engine starts. Now we should be on our way, not so fast, another 50 meters, and the engine dies again I don't think this was the correct boat to get on. I look for any paddles, as we may need them I deffinetly see live vests (thats good). After all that we make it to the other side safely, now we are on the bottom level of the boat, and it docks to the pier where there is no lower exit, a couple climb out of the boat using the tires piled up on the post of the pier, Phaydy thinks I joking when I say that is our way off, in a short while she realizes that it is the way off. Good thing for government safety regulation. I love this place.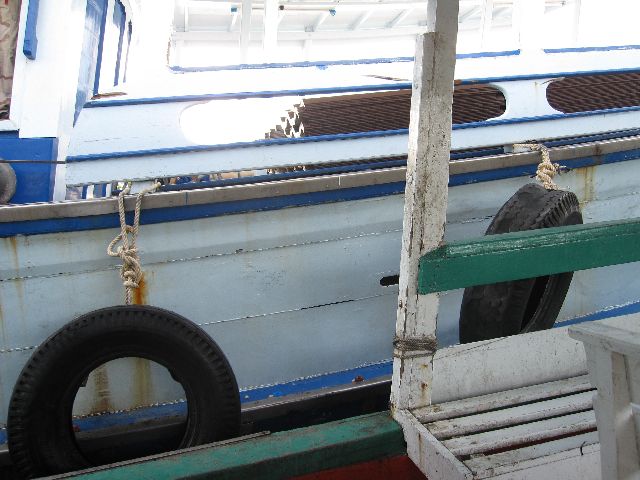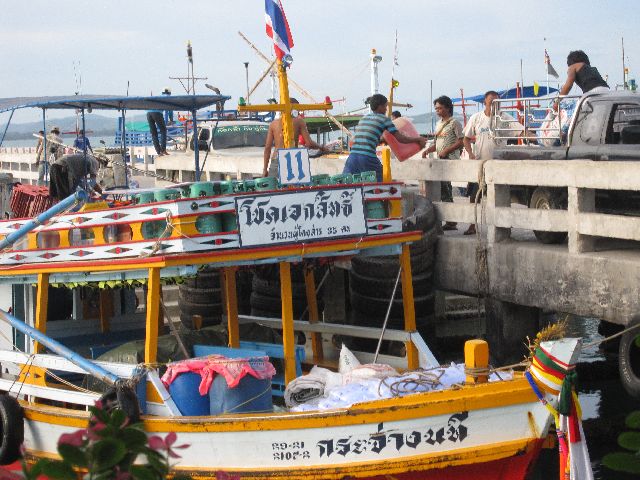 We are on dry land now, so lets get oriented and get some food, there is a little pub so we drop in there order some drinks, and some noodles. There is a guy sitting near by that is a falang (foriner) that looks like he may know a bit about this place, so Phaydy suggests that I go talk with him. I do and find out where to stay on the island, it is not that big, and most of the stuff in near the beach which is 800 m down the path. Armed with some places to stay we try to get a taxi to take us, they just say its a short walk and just walk it. Go to the first place on the beach they don't have anything, but send us to someone that does, no hot water, but who needs it the water from the tap is warm anyway, and the outside temperature stays in the mid thirties anyway. Now we have our place and go for a walk on the beach, great sand, and seaside restaurants everywhere. We sit down at one that has a short table with triangle pillows to have a few drinks, the food looks so good that we have some of that as well. This became our restraunt for the rest of our stay (I liked it).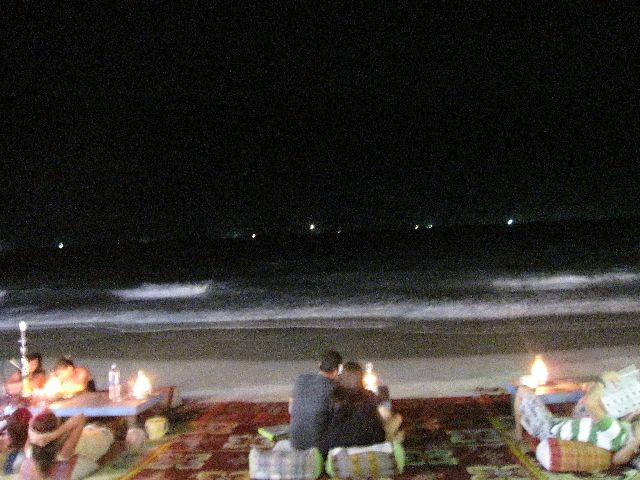 Not much to say about being on the beach except for we got up paid for our chair and stayed there all day. They guy we met at the bar the other day comes and sits at this place everyday. He is a retired fellow from the UK who has been living on the island for four years, he has been sitting in that chair everyday for four years. Now some things you see while just sitting there I noticed that there was an influx of people coming to the beach with each ferry arrival, and once they arrive they imediatly stop to take a picture, but not a normal picture, it has to be some sort of model pose. Then the catch each and every time they do the jump pose, so joking arround I try to get Phaydy to do the jump, we she is having non of that. I still want something for the blog, so I say that I will do the jump, and let her that the picture, so here we go, take one, did you get it, no I did not get it, take two, did you get it, no I didn't ...... take twenty, did you get it, no awe crap you can't take picktures, here let me take one of you, two takes two pictures, lets try this again, it can't be that hard, a few takes later it can't be done. So what you see are the best two.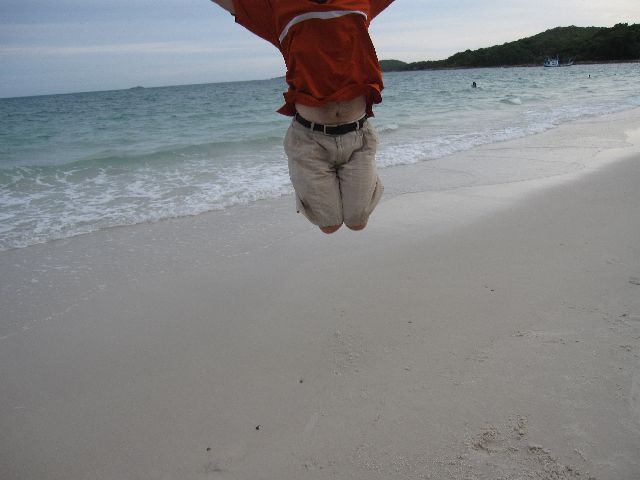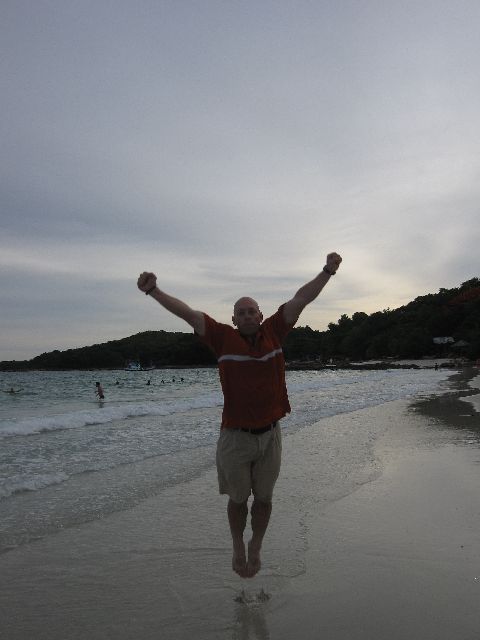 And the two of Phaydy nice reflection in the water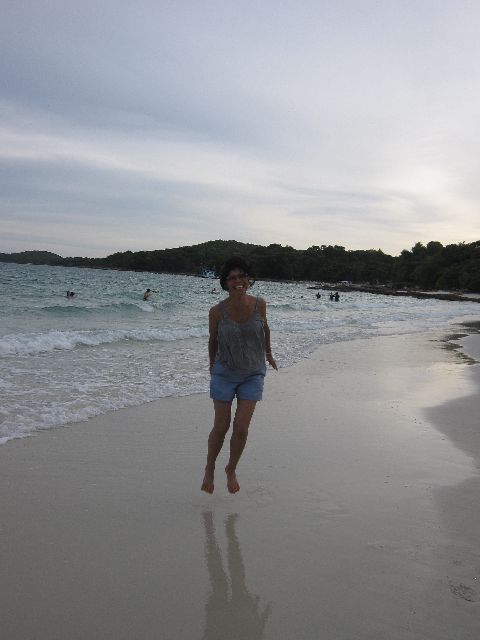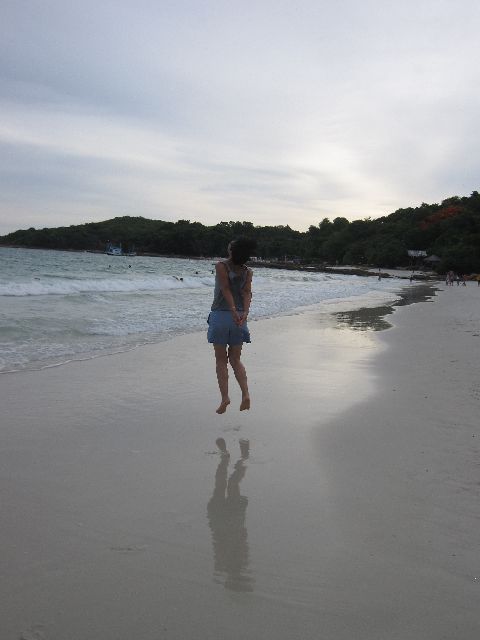 What a great place will have to come back sometime. The guy (Adrian) said if it was any more laidback one would fall over. I must agree.
Went down for breakfast & went for a walk around the ruin wall, stopped at the market again. just checking out the cost of living here regarding clothing's, foods etc... didn't really buy anything it was really hard not to. Everything were so cheap that you didn't think that it's any good. Went through whole sale flowers market that were so many different kinds. Got hungry again, so we decided to have noodle soup (Phoe) small street restaurant. Surprised to get such a small amount of food that I'd need second bowl. Anyway we decided not ordering another one & find something else in the market to top up. Guess how much we paid for that noodle soup? 50B for two bowls, that's $1.50 no wonder people here are so small (skinny) compare to us. We grabbed some fruits & off to have them by the bench along the Ping river
.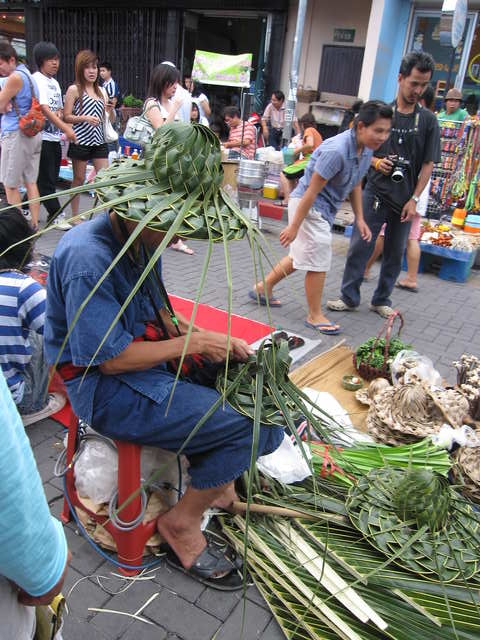 Tour bus for Jungle flight picked us up on time & there already 4 couples in there. It was more than an hour ride on winding road to the mountain. After the safety talk we headed to Trekking, it was my first time, I always wanted to do it in Whistler but haven't got the chance. There were 22 platforms that we went through, the scaryest one was that they dropped you down fast from really high. I wouldn't never do the bungy jump, I didn't like the feeling of the free fall nor not trusting whether the cord is secure or whether it would stop before you hit the ground.
After a long day zip trekking, we made it back to hotel to get ready for dinner. This was our first dinner at Kantoke Palace, that's where we met Minnie our Chiangmai tour guide. She had given us our week plan with her starting next day. Dinner was not bad I said that because I expected real Thai cuisine, not so much northern Thai food that mostly catered to tourist. Shows were pretty good, they had different dances & talents show that preprogrammed for tourist. The best show was watching Ian up on the stage dancing with the dancer. Ian didn't want to go up but I was not going to let him rejected the girl who was asking him for a dance. Anyway Ian did good job on his first Thai dance, I was quite proud of him. Next day we got picked up & headed to Hmong village to see how they live, what was there before the government stepping in to help them out. Now it's a tourist town full of colorful crafts along houses & street. After that we went to see Wat which I don't remember all the Wat name. It's very pretty Wat built on the hill, 200stairs up & the look out to city was quite pretty from up there.
That was the real beginning of Chiang Mai & Chiang Rai Trip, we got picked up early by Minnie & her driver. We started out with visiting orchid & butterfly farm. There were so much information on how to grow orchid from beginning to the end. I need to pull up the web to get info in here but i can always get it out anytime so i won't bother to list the step. I was amazed by how orchid grow without soil. See the photos, I personally have not successfully keep one alive for very long time. The butterfly farm was not in season, so not enough of them to us a show. I bought pretty pink orchid earing for souvenir, love it. Off to Elephants show, they gave us a wonderful entertainment from the banana feeding to bathing, lumbers collecting to painting. Who said elephant is a big animal & not very smart, well they proved to me that day that they are very smart animal. I always want to ride one & we did it there, we had pretty young one who has a mind of its own. He was pretty calm but like to stop enjoying his feast along the trail & in the river. We ended there with lunch by the river, it's very well organized show, thumbs up for the organizer there. Next stop is Hmong villages, the plan was to see three different villages, first two are free & last one we had to pay admissions fee 500 baht each. Minnie suggested that we should bring sweet for Hmong kids, so we stopped at the market on the way & that's where her mom works. She sells ready to eat food like T & T market food court for people who has no time or too lazy to cook. I remembered back when I was younger mom would bring ready to eat food home when she was late from market & I remembered that I really like them because it was different from how my mom cooked it. Hmong kids were so sweet, as soon as we arrived & brought out the sweet they were running from all corners. They would call each other out so they all can get some. You can see in photos Ian was smiling from ear to ear enjoying giving them sweet. In all Ian had more fun giving than kids receiving them. What a wonderful memories to think back & remember each kids reaction , some were pretty shy, some scare & some pretty happy to see you. Off to long neck village where we paid admission to see them, they don't really live in that area. It's more tourist display, the girls were dress up in their custom such as rings on their neck & their ankles & colorful clothes. I really feel sorry for these ladies even though it's their tradition & choices they've made but how can you be comfortable & happy having all these rings on your tiny body all your life. They started to wear them very little & they don't take them off they just keep adding up to 20 rings max on their necks. I had the opportunity to try the rings on my neck, it's hot & very heavy. Minnie was telling us that the new generation are not wearing them anymore due to new life style that they are exploring other side of the world, have to get job in the city where people are totally dressing differently. Heading to Chiang Rai by speed boat that's not very speedy along the river, this river border Thailand & Burma which run into mekong river that border Laos & Thailand. This is where the golden triangle is formed, between these three countries. It was a long day by the time we checked in the Hotel in Chiang Rai, pretty big & fancy hotel. Of course the night didn't ended there, we ventured to night market for foods & entertainment. Again lots of the same stuffs that so cheap that we didn't think it's worth buying. We got foods from different vendors & watch a ladies boy doing their Cabernet show. By 10pm I was so poop, all I wanted was to sleep. Ran into Minnie & her friend while waiting for hotel taxi to pick us up. She was quite please to see us out enjoying the local hangout of course mainly catering to tourist. She was mentioning it normally busier in high season than when we were there.