Angkor Wat has a grand entrance, very nice walk way crossing the pond. The stones were original built in 10 century, It's amazing how people those day can built something so impressive. It took 36 years using 380 000 people to finish it.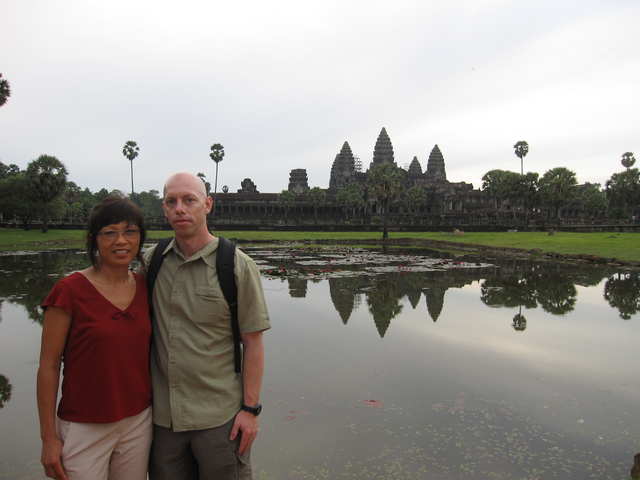 we spent just over 4 hrs there, first hour is waiting for sun rise which was quite disappointing because it was cloudy day. we still enjoyed seeing the rest of the Wat. We proceeded to see two more castles before headed back to hotel for lunch. We had 1hr to freshen up & eat before heading out again. Everyone went different way to find restaurant, Ian & I found one next to hotel. That was a mistake we ended up paying $13 for foods that would cost $5 for both of us somewhere else. It's not the cost I'm complaining about the food-We cook much better than that at home. Oh well you win some you loose some! lol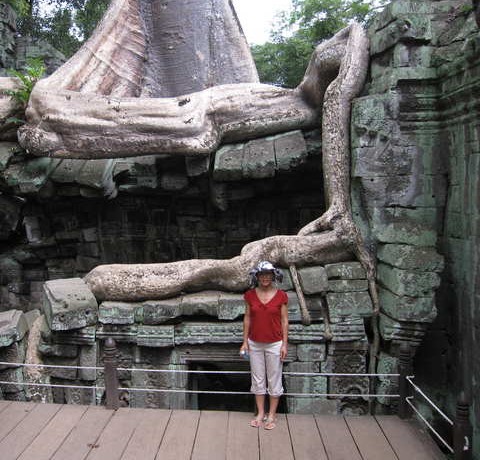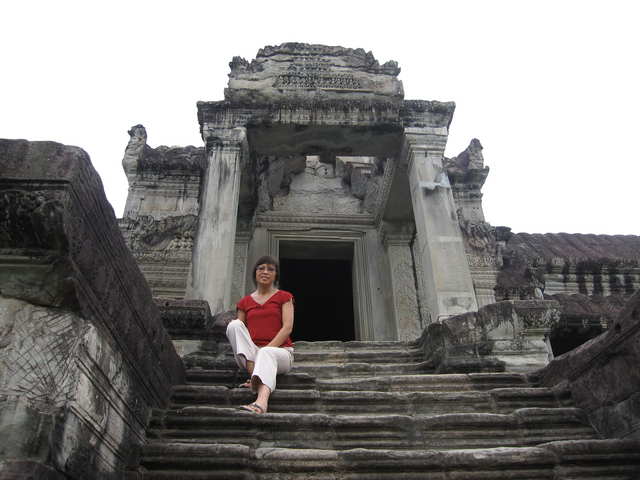 We've seen two more castles in the afternoon & headed back for a rest around 5:00PM. Everyone agree to meet for dinner @ 6:30PM just enough time to shower, change & out the door gain. Patrick, Ian & I walked to Kmer restaurant and the rest took Tok Tok. We got there half an hour after them cause we got lost in the maze. We had curry soup & I enjoyed the dinner very much cause it's really close to what I cook at home. Again I can't resist the night market, not as big as the Bangkok one but enough stuffs to look at. Of course I went on spending spree again, I bought sling bag to carry around my junk like tissue paper, sun screen lotion.... that was my excuse anyway oh because it's also cheap :).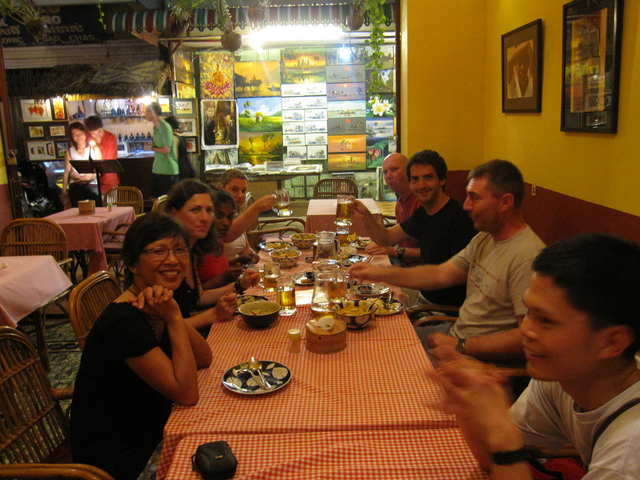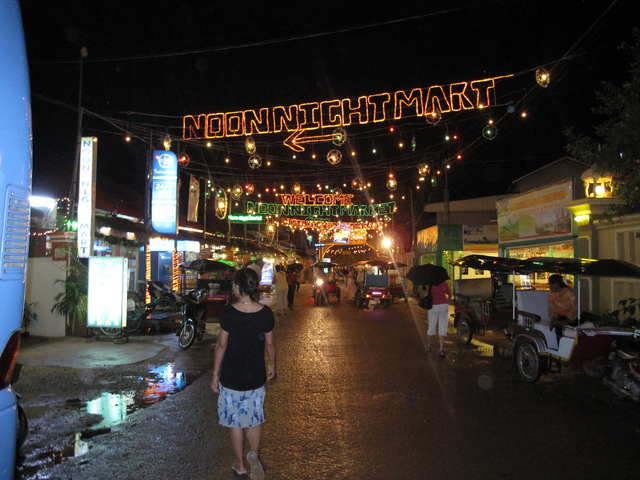 Luang Phrabang is noted for its many temples, scenic views, and long lines of monks collecting morning dak bhat. Since we arrived in the evening we went into the center of town to the night market and got some food, purchased some goods at the market, and went to the Hive bar for some drinks with the rest of the group. I guess the Hive bar must be the bar of choice in the lonely planet book, because it was just full of tourists.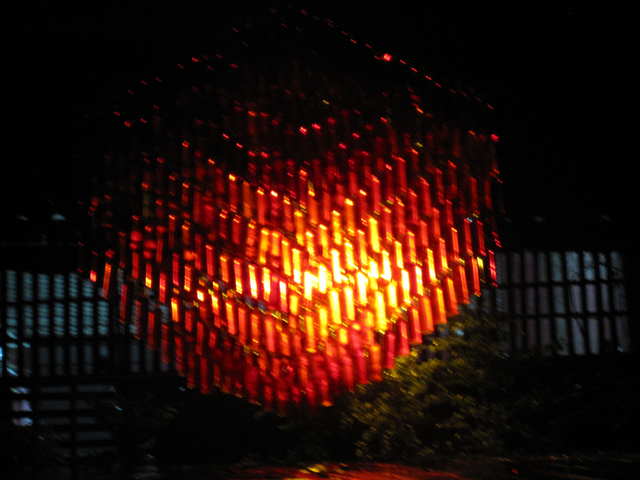 Beer bottle mosaic at the hive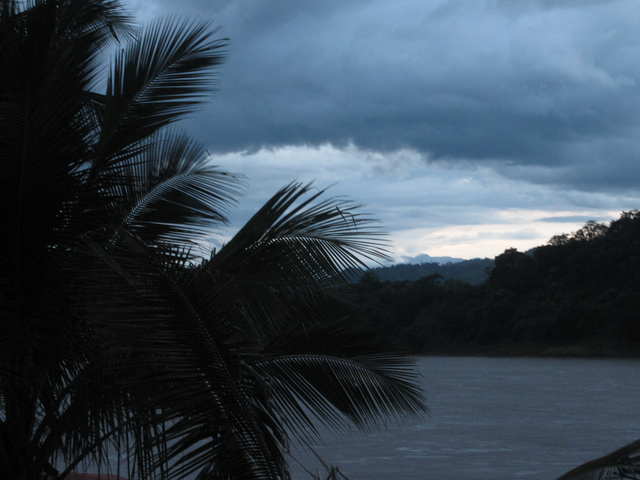 The next day, I got up early in the morning 5:45 to see the monks collect the dak bhat, seems I was not quite early enough as I only seen a few, and not the hundreds that the place is known for. I checked out the morning market (dalat sow), and then sat by the Mekong for a while. Since we were only here for one day, we had to decide what we wanted to do, take a boat up the river to see the buda cave (4 – 5 hrs), see the waterfalls ( 3hrs), or stay and walk the town. I had seen pictures of the caves, and the waterfalls, so decided to walk about town and see the many wats. I took many pictures, you should see them in the photo gallery in the Laos section. I started to look at some of my cameras features, in particular, the colour enhance, and colour swap, you will see a number of the photos that I took using this method, where the robe is in colour, and the rest of the the photo is black and white cool effect. The colour swap pictures make the trees look like it is fall, but everything is actually green.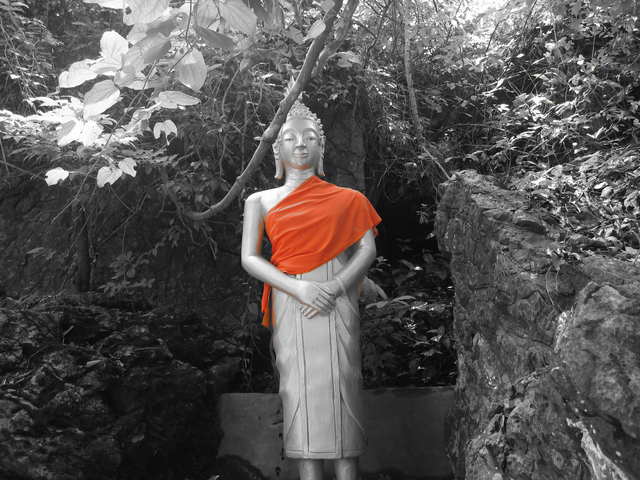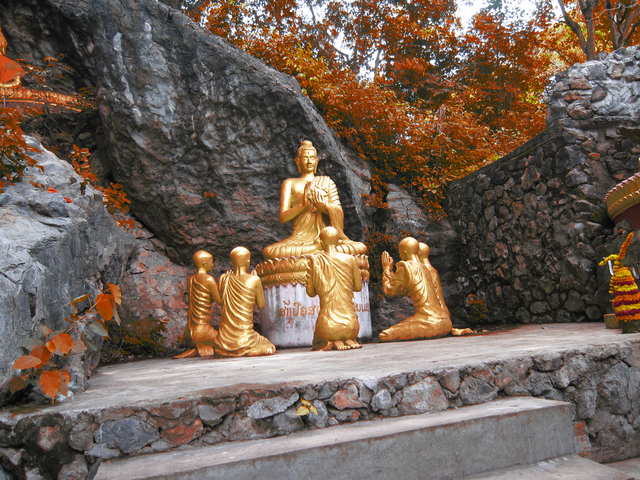 A good dinner, and an early night so that we can get up to see the monks this time at 5:20, and we were rewarded with seeing many monks mostly young collecting their morning dak bhat.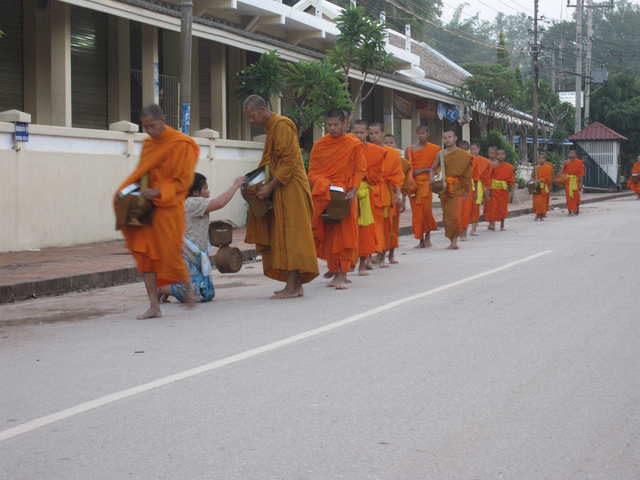 Then the group leaves for Van Vieng on quite a scenic trip through the mountains. For those of you who think that the road to whistler has a lot of curves in it, if you drove on this road you would think that the sea to sky hwy was a straight line. Small villages dot the road, which is in essence carved on the side of a hill, I'm not sure how they get their houses to stay, or what they do for a living, but there are many villages, and many people living in them. I'm glad that we did this trip rather than fly. The views, the farms on the side of a hill, the mountain tops surrounded by clouds, the mist rising from the forest due to a recent rain. I like it
Another travel day from Siam Reap to Phnom Penh from 6:00AM to 11:00AM. @ Town View 2 hotel. Check in & rush out to find quick lunch because we had to leave by 11:30AM to chilling Toul sleng Prison. We had a very knowledgeable guide who was able to explain the life of prisoner so in detail that it chill my spine. Walking around this prison cell from room to room giving me the chill & goose bump. I can't even imagine what they went through before they got executed. I can't describe the emotion that went through me seeing their pictures on the wall. Hundreds of innocent faces that happen to be born in a wrong place at the the wrong time. Second stop was killing field about 40min. away from prison. This is where Pol Pot soldier brought prisoners in by truck load daily to be executed. There were bones along the walk way, skull were stuck in the monument towel built by Chinese?....Overall today was a sad somber day. We went to our tour guide house for dinner $6/person, there were lots of foods so it's a pretty good deal. His house is not too big but 4 families live there, because his wife have 3 sisters who are married & in Cambodian tradition men move in & live with wife's family.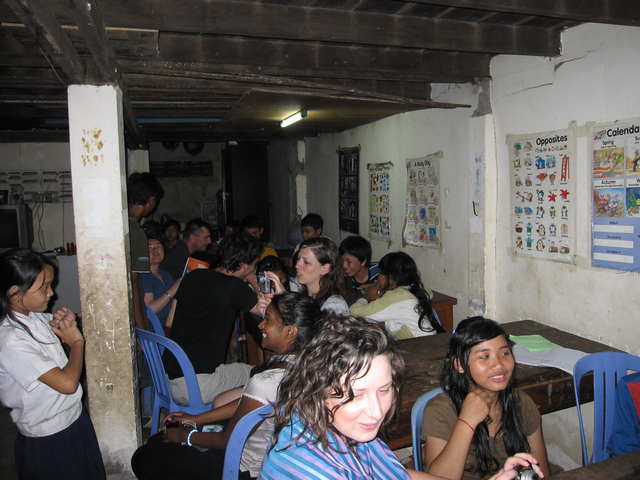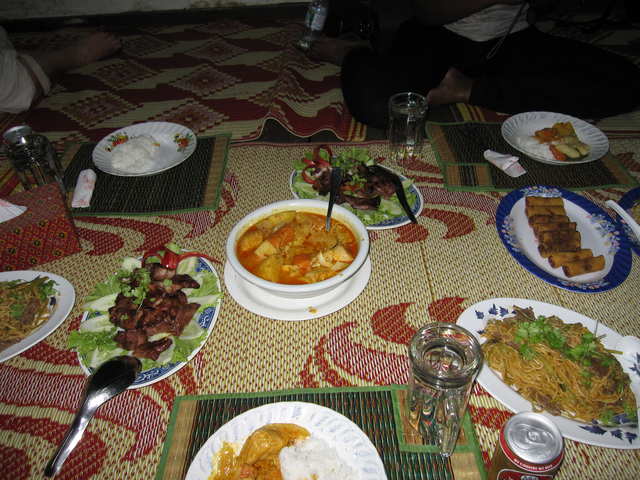 We also get to meet around 20 village kids age from 6-15 in their english class room. This class room was set up by the tour guide under neat his house so we donate $1 each to help him pay for the teacher & supplies. On the way back to hotel couple people decided to hang out in the heart of the darkness night club so we joined them. This suppose to be the craziest club in Phnom Pen ( drugs are abuse openly there) but we've seen nothing happening, it was pretty quiet there were more worker than customer so we decided to leave by 10:30PM. Few of us stayed longer, guess what @ around 11PM people just pouring in. There was pretty crazy party there for sure oh well I had good night sleep.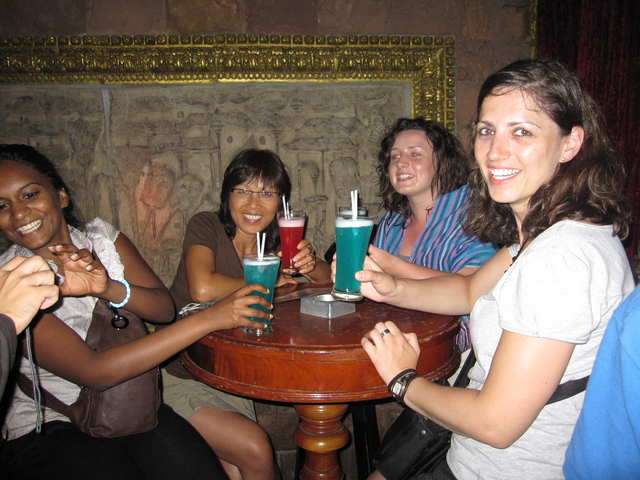 So after the windy road we arrived in Van Vieng just after mid day. We had to rush to get the last tube ride down the river. Let me tell you about the tube ride, it is a tradition to take the tube ride and float down the river, the scenery is spectacular, but what makes the ride special, and ruins things a bit as well are the bars that line the river. The bars are along the river, and have rope swings, slides, etc for you to play on. This is all in place to get you to have a few drinks at their establishment, now realize that one can get more than just drinks here, or special drinks as they call them.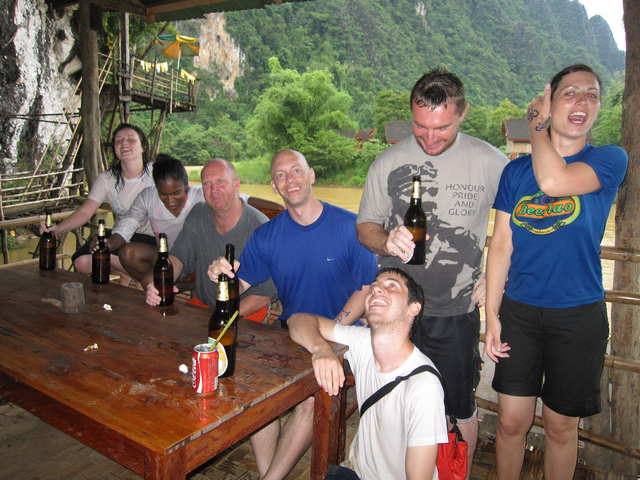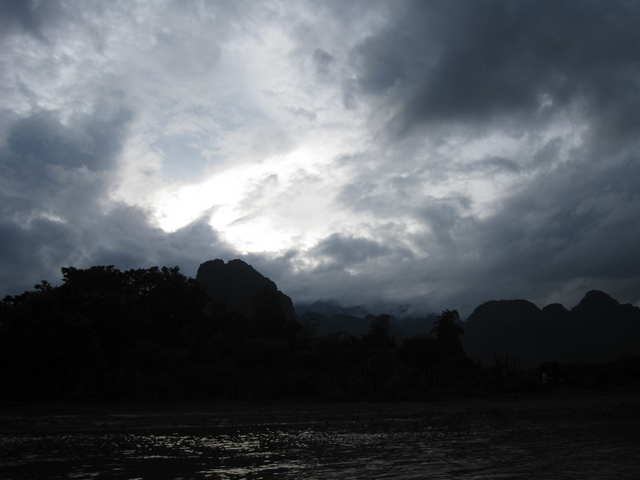 So seeing all the kids swinging, drinking and partying is interesting, but the mountains the seem to come out of the river, are beautiful. The group stopped at a number of the bars along the way, and had a lot of fun. At the last bar we were graced by a long boat visit from Phaydy, and Rolina, who brought the camera, so you can see some of the pictures along the river, and some of the swing over the river.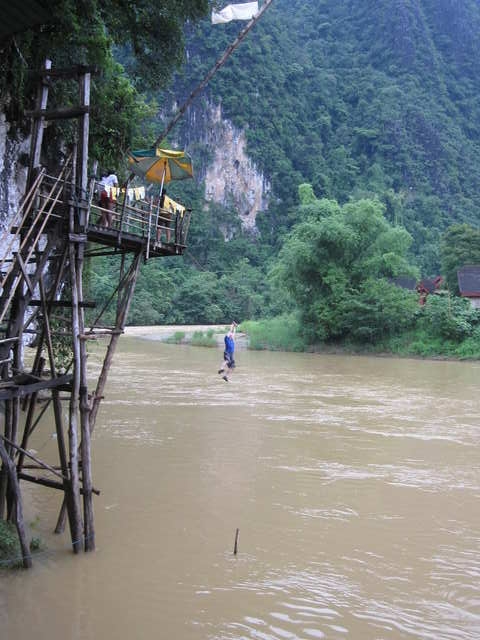 It was a whole lot of fun, some of the group say that it was their highlight of the trip, it was fun, but I would not say that it was the highlight of the trip for me. Another thing that is interesting about this place, is the many cafe's that have tables and pillows to sit at, and watch reruns of friends, Simpsons or something like that.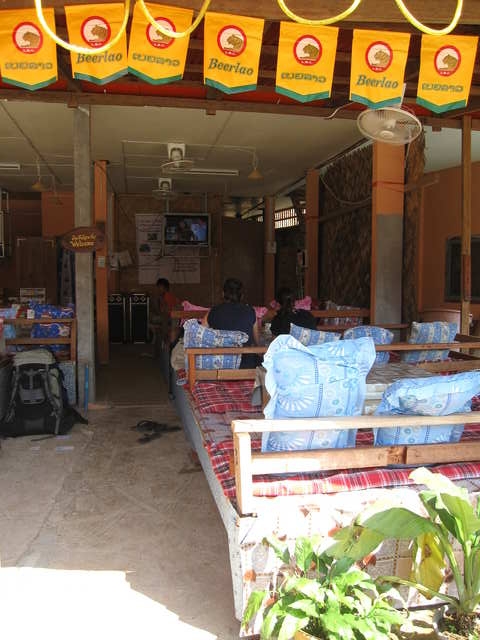 They are all young backpackers stoned or drunk,at ruined by the drunk party antics of the young backpackers. For dinner we tried Lao BBQ similar to Korean BBQ, but with a broth in the bottom to cook noodles and vegetables, served with jeow sukiyaki. A nice stop on the trip.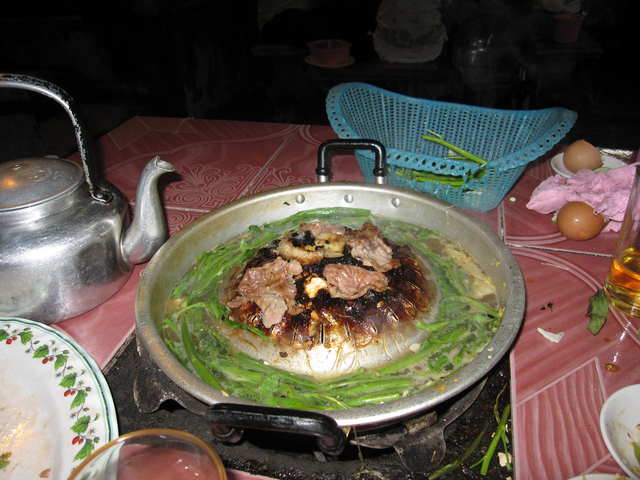 Phnom Penh to Kratie started out at 7 AM should only take 4hrs but took us more than 7 hrs due to 4 times blown up tires. It was a very hot day, I felt bad for the driver luckily there were two of them. They had to change tires themselves, and they don't have good tools. We had to get off the bus few times for them, and it was boiling hot. We got in Kratie late so not much to do, got shower & went out for dinner with the group.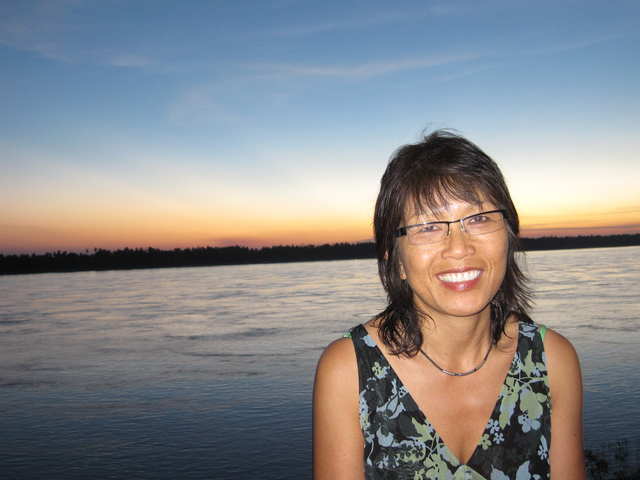 Next morning after breakfast we head out to see Irrawaddy Dolphins by motor cycle at 8 AM. It took about 40min to the river, got in the boat and head out about 15min to the area where Dolphins are playing. We spend just over an hour there watching or trying to take pictures. There weren't many of them so we didn't see them close up, all I can tell was they were grey , but not sure the size because they didn't jump up to show show off their beauty.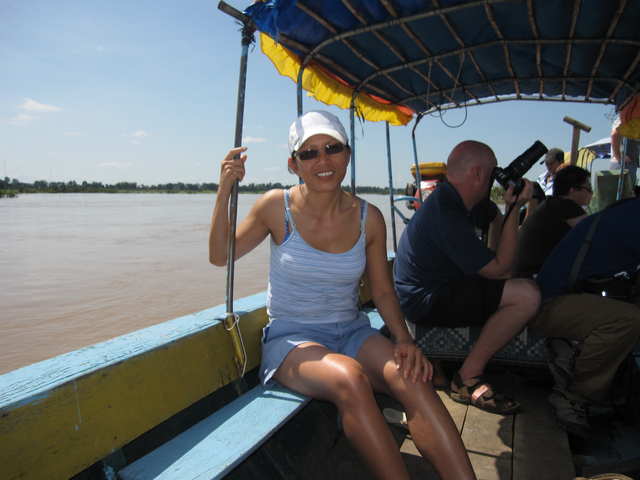 Back to hotel, grab a sandwich & head out to Lao ( Don Khong) in Champasak. Visa into Lao cost us Canadian $52 that is the highest price in the group. We don't know what Canada did to Lao maybe because we don't have Canadian Embassy in Lao? :-( We stop to see waterfall on the way cost 10000 kip per person, exchange $100US=84000kip. We got to ferry terminal but had to wait 15-30min or till they had more than 3 cars on ferry otherwise we had to pay 60000kip more to go on alone. Another hot day & waiting seems so long when you can't wait to get in hotel to shower, i took shower at least 2 times a day. Finally we arrived to Don Khong & checked in Pon's hotel by Mekong river. It was comfortable hotel, nothing fancy but it is a bonus that we got the water view room. Don Deng is very small island so we had dinner @ hotel by Mekong river, it's Ian first Lap in lao so he decided to have Lap Pa with lots of chillies with Koa newn. I decided to have fried fish in tomatoes that I was craving for awhile. First time drinking Beer Lao, I'm not a beer drinker but find that it's not as bitter as other beer that I've tried before, large size cost 15000kip=less than $2.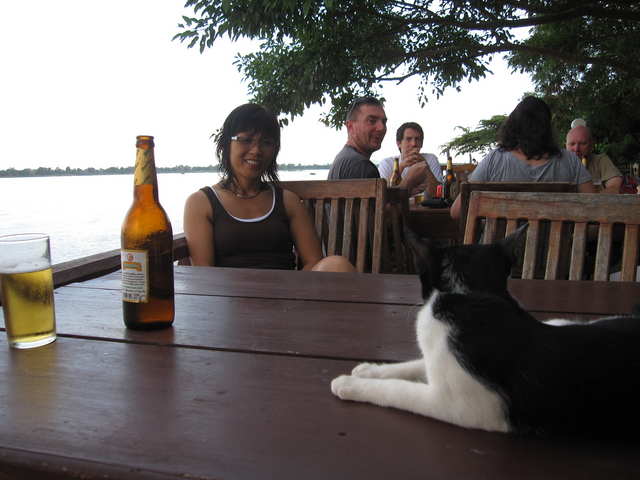 So here we are in Vientiane, Phaydys home from the past. When we arrive we are in the midst of a torrential downpour, man can it rain hard here. The streets fill with water, one can not even cross the street without getting soaked. Our plan was to stay in Vientiane for a couple of days so we relaxed a bit that afternoon before having a few drinks by the Mekong, and then on to a French restaurant for dinner. Now I said when I started this trip that I was only going to eat local food, so why French, well for one it was the last opportunity for dinner with the group, and two Laos was a French colony at one time so I am actually eating local go figure. I had a steak, I like steak. Off for a couple of martinis to end the socializing with the group.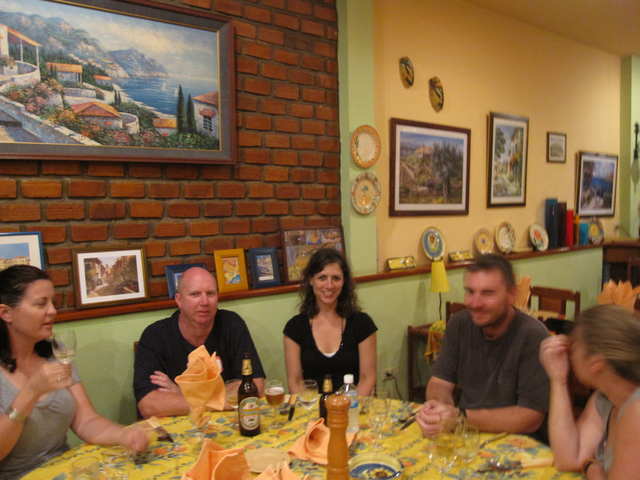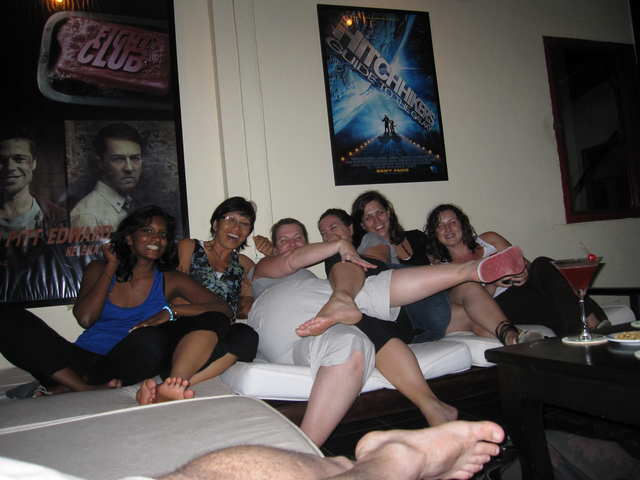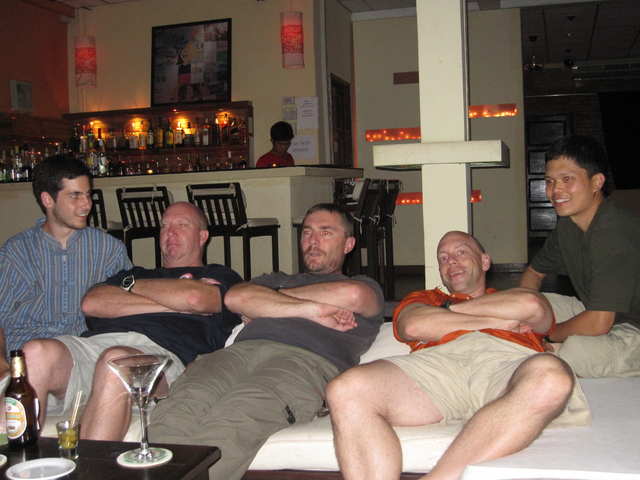 The bars in Laos all close at 11:30, so for those of you who don't even start partying till 11:00 or 12:00 you would have to change your habits or not go out at all. In the morning, we plan on finding our way to Chaing Mai for the day after next I found out some prices, and ways to get there, and none seem to be good, and they each take up a whole day. So we made the executive decision that we would travel with the group at the end of the day back t o Bangkok on the overnight train. So now we have to see all the Vientiane has to offer before 3:00 if you looked on the photo gallery you will see that I had already posted pictures. We seen where Phaydy lived, went to school, That Lunag, the fountain, the vertical runway (I'll get to that in a bit) and the budha park, and were back by 3:30 to cross the friendship bridge to Thailand. So the vertical runway, this is known as Anu Savaly or a copy of the arch de triumph in Paris, complete with the champs de lise.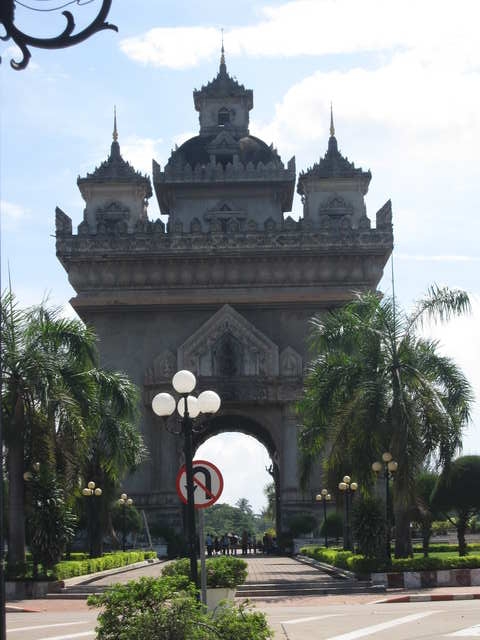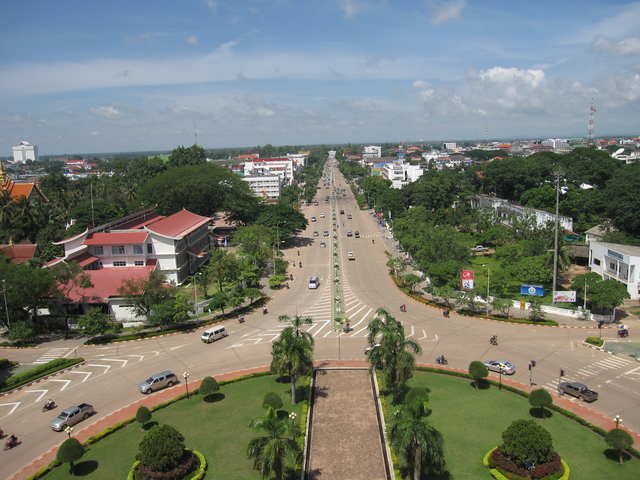 So now why the vertical runway, well in the time of fighting, and when the US had a secret military base in Laos, the US government gave Laos a bunch of concrete to build a new runway so the US could fly and land their planes. How nice, to the Lao government took the concrete and made this monument, good on them! Finding Phaydys place was an adventure, she knew that it was near That Lunag so from there our driver was directed to the house, but everything is different, no land marks to go by etc.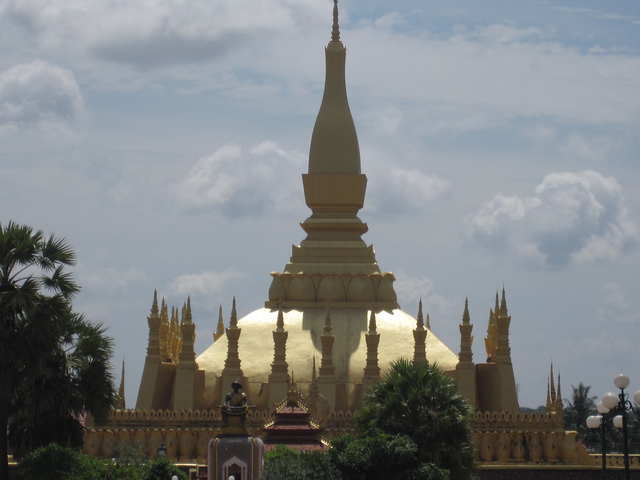 We end up near the place, and ask someone she knows the place and directs us to it, but we are not sure, so I take a picture, no thats not it, delete the picture, ask someone else its just over there, so we go over there, what a beautiful place, take a picture, knock on the door, and someone comes out, that not the correct person, ask them where it is, it is one lane over, delete those pictures, then off to the correct place. Took some pictures, thats it it is the place see the people inside, and have to move on.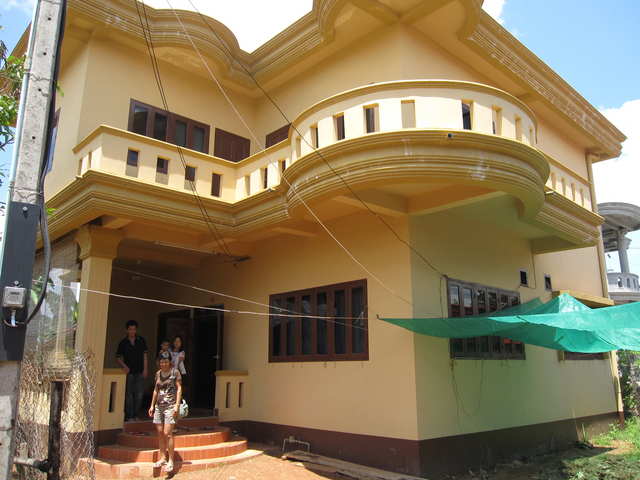 We first stop across the road to a childhood friend of Phaydy she did not recognize Phaydy, but once introduced they talked for a while, and we had lunch at her place, she was busy serving other people, it is nice to see her restaurant busy. OK after lunch out to the budha park an unbelievable place, so many sculptures and artifacts I was only able to take a few pictures ok a whole bunch, but still not everything.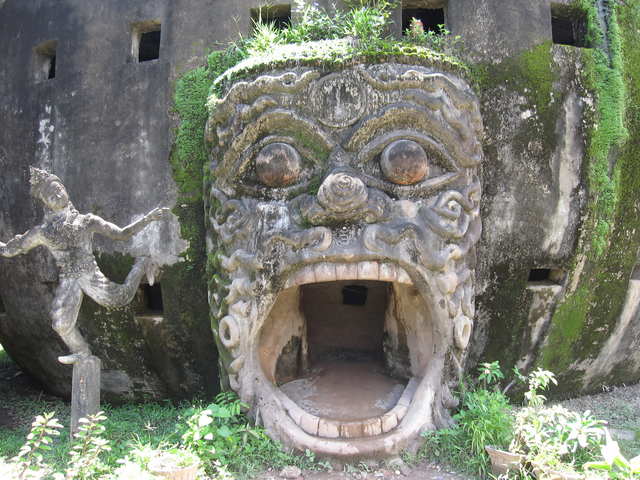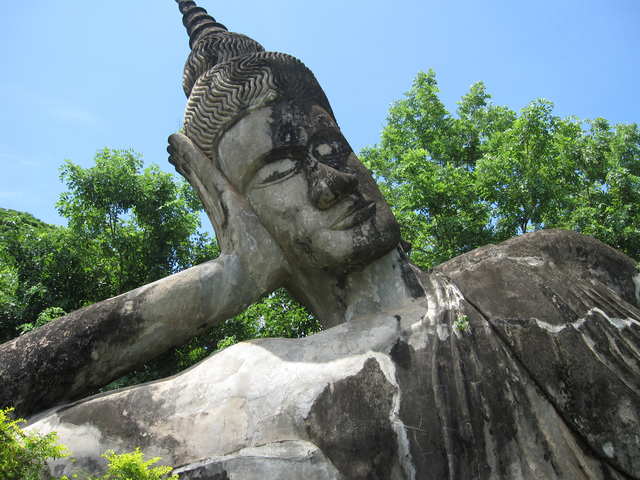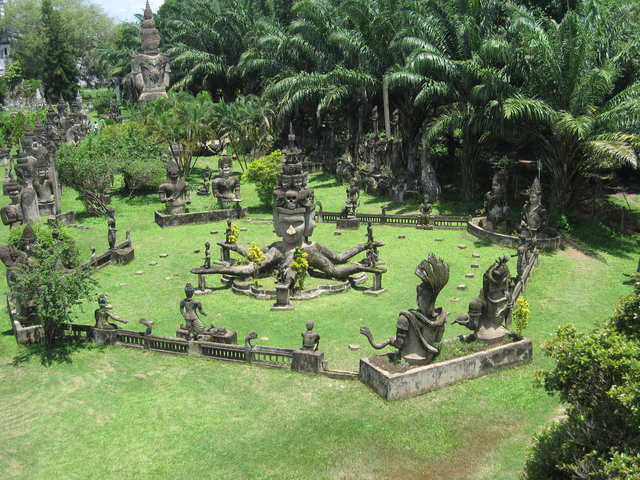 It is really hot today, my watch says 40 c Hot. Back to meet the group, eat some food, and buy a bottle of wine for the overnight train. So we seen everything there was to see and made it to the group in time, power tourism. The overnight train was fun, I played some mind games with Zara a bit, by showing her some people in the water beside the train tracks, and said those were the people that did not pay, so I hope that she had her ticket still.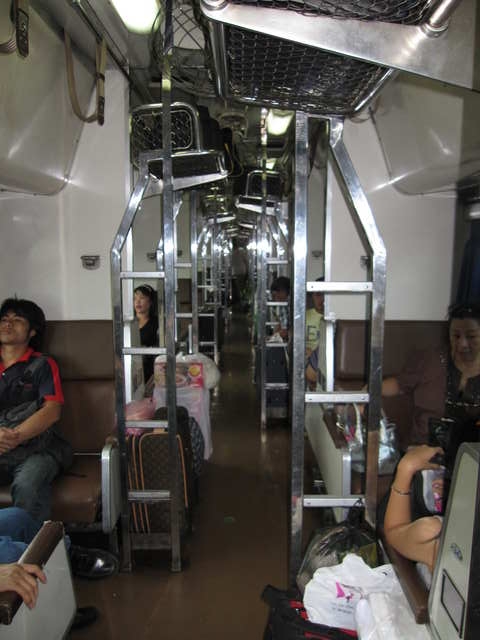 It worked for a while. Not really a good place to sleep, but did get some rest. In the morning when the train arrived, that was the end of the group tour. and we all parted ways.
Awake by roosters chanting at each other like 5am, can't turn them off so decided to watch TV. Most of channels are Thai program, only one Lao channel that mostly reporting news around the world but not much of what's going on in Lao. Decided to get ready for breakfast & tried to find out what we can do here. We only have two options, one is to rent a bike & cycling 32km around island & two is to hire a boat 5000kip/hr to go from island to island, there are 40 islands in the area, some big & some small. Anyway we decided to bike because I think I need some exercise after all it gave me the excuse to eat more.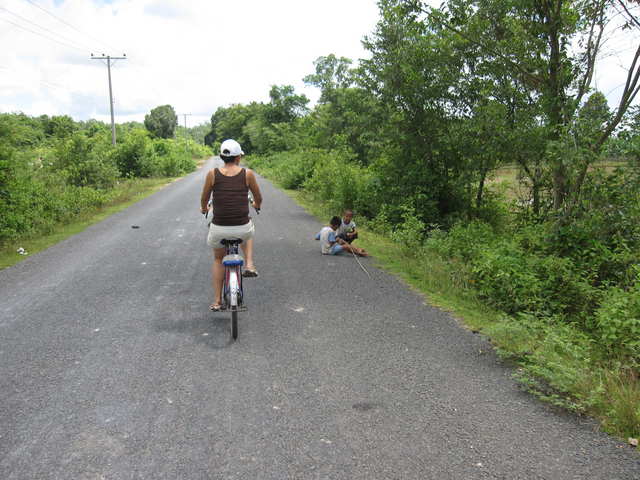 Rental cost 10000kip all day so I thought I could do in the morning take a break & go out again in the evening. Boy was I ever wrong, I couldn't even make my first round, it was hot & was my first time riding this year that's my excuse anyway. I had to stop few times to walk due to dinosaur ride (dino sore ass). We stopped to have lunch, truly laotian style very spicy papaya salad & noodle soup cost us 30000kip=$3. 8KM left to go but my left knee got really sore & thinking I should walk all the way back but one German guy got flat tire so we decided to give him by bike & I got on the back of Ian's bike all the way back, that was nice :-) Took a nap before dinner & stayed up with the group till late before hitting the sack.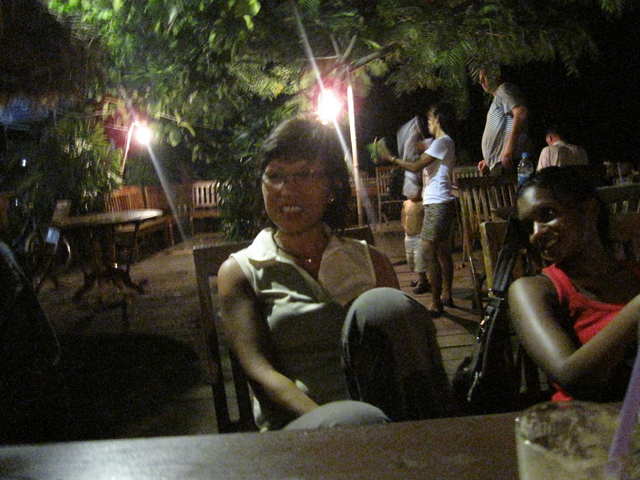 After breakfast we packed up & get ready to move on to Don Deng. On the way we stop to visit museum & wat phu which built in the 9th century, it's quite high up on the mountain so it's quite a bit of climbing to do. Looking down once up there it's quite pretty & peaceful.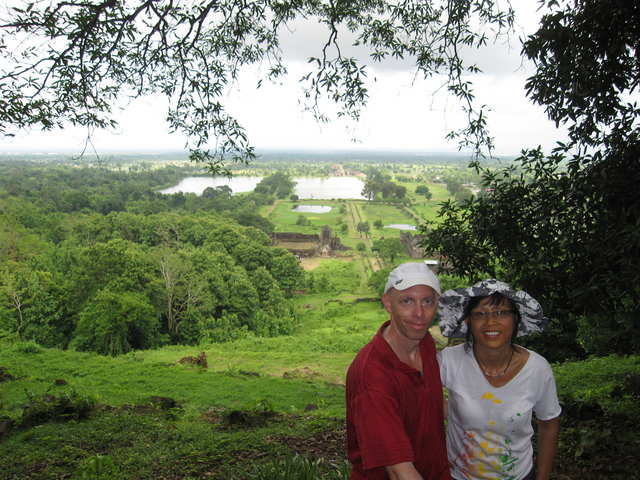 We spend more than 2hrs up there before heading to Don Deng via boat. It was a very interesting boat ride due to the way it's set up, there are no safety regulation into this boat design. No safety guard nor safety seat, you take it at your own risk :-O actually it's not bad, I felt safe in it I was thinking it would never be allowed in Canada. This was a home stay experience so we got split up to different houses, two to three people per house. We got a very old traditional house that the toilet is separated from the house, there is no bathroom that you can shower except couple barrels of water that you can stand outside (yes no cover) & clean yourself out in the open. I decided to do my shower & used the toilet from next door neighbor because they have proper bathroom.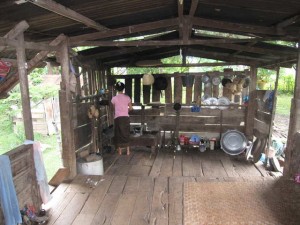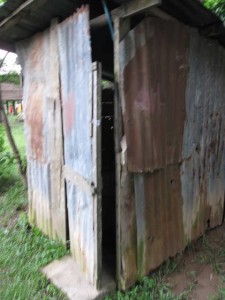 This was our bathroom
We had group dinner in one house (Laotian style), I noticed not many people like it. I know it was hard for me too to sit on the floor for a long time, my legs went sleeping few times. Dinner was ok nothing special, that's what the local eat so we just happy that someone cooked their specialty for us. Night was short, we were in bed before 9PM because nothing there to do so everyone just head back to their homestay.
So we caught a plane asia air to Chaing Mai and booked into the hotel that we are supposed to be in, but a day early Sunday. Now what a contrast to what we have been staying in. this place is beautiful the lobby is huge, music playing many more stars than what we have been in. There is a special Sunday night market in the old walled town, so we decide to go there and see what we can see. On the way, we see a shabu shabu place to eat, and decide to go in, what Japanese in thailand, so maybe call it a hot pot, or sukiaki and we will be fine, ate too much though, as it was all you can for an hour. The street market was good, all kinds of goods that will not fit into our carry on bags and a whole bunch of stuff that is cool while you are away on holiday, but is somewhat useless when you are back at home in the real world, or is this the real world and home is made up. The next day we slept in a bit, no roosters to wake us up. Then went on a jungle flight trip, where we zip trekked through the trees for a few hours, great fun.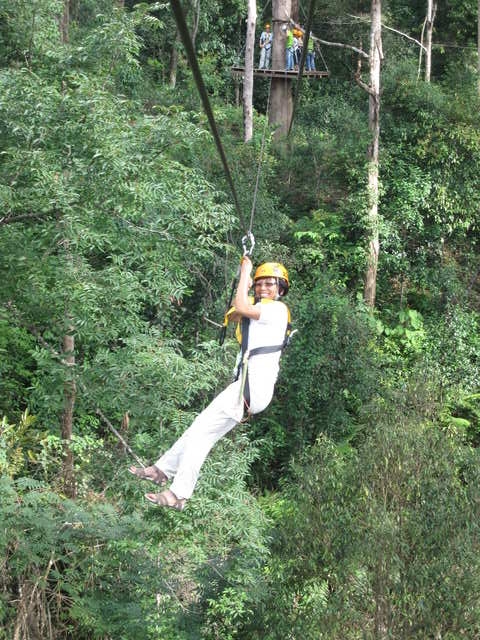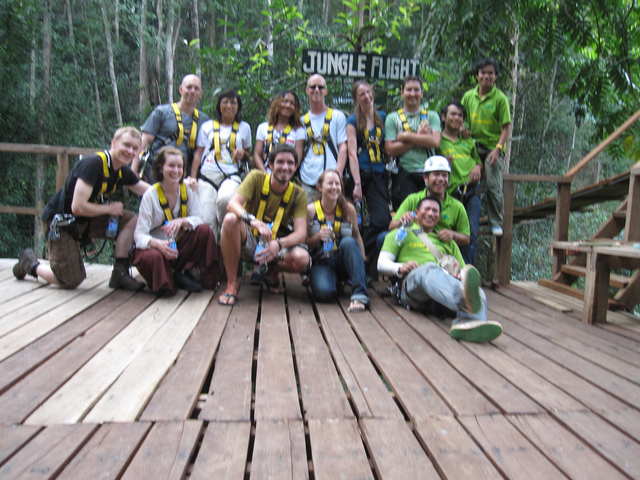 Our booked tour started in the evening with a kantoke dinner. now this was nice to see, but a bit, no a whole bunch, setup for tourists. with preprogrammed recordings for the dances that were going to come up in a number of languages. A little tacky for me, the entertainment was good, and the food well it was good, but overcooked, I expect this from a mass produced meal still had a good time, I was up on stage for the last dance, you can see the pictures, there is a video as well, I will get that up sometime when I get more bandwidth and time to figure out how to get them to display. This is where we met Minnie our tour guide for the rest of the tour, and she explained what we would be doing over the next few days, a nice girl I will comment more later.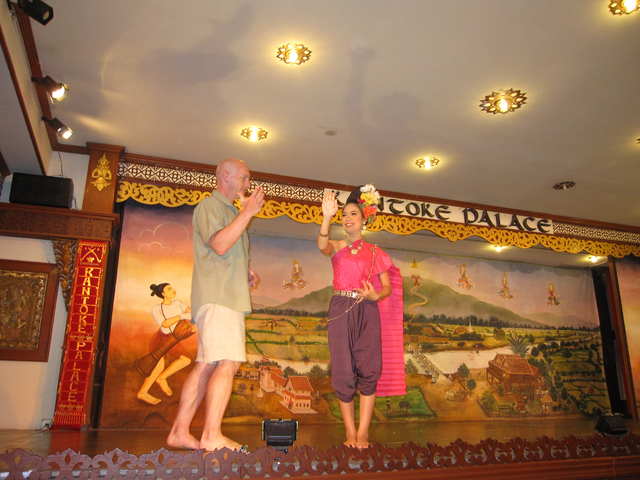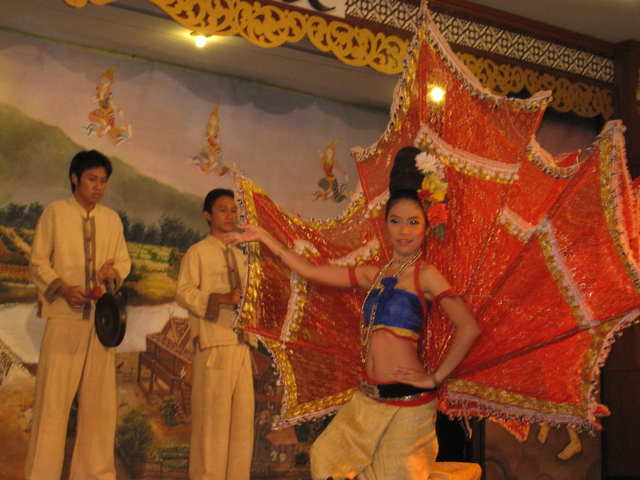 The next day we took a tour with another group to Wat Dusep, spelling is not correct, but who cares at this point. we first went to a Hmong village, and seen how they lived, and used to live. They used to be a large producer of opium for the world, now with the help of the Tahi King, they have given the groups more things to sustain themselves rather than drug trade. What Dusep was beautiful a landmark of the north so many things I can say, but I will keep them to myself as you have heard enough about temples. I still find them interesting for many reasons.
Breakfast was at 7:00AM, so we all meet up at the same house. After that we had till 9am to explore before heading out to the airport for Luangprabang. There was no direct flight from Parkse to Luangprabang so we had to go via Vientiane.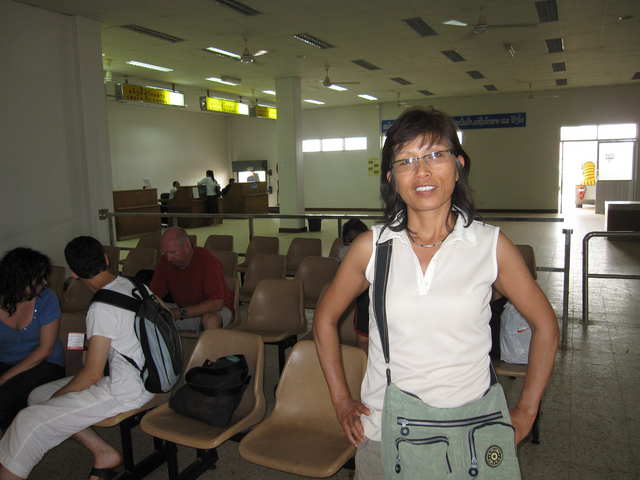 We had more than 3hrs once we got in Vientiane air port, so we got out to have lunch at Joma restaurant, it's a foreigner hangout. Foods & drinks are all cater to westerner. Ian & I took off after lunch while everyone else just chilled there. We walked along Mekong river looking for familiar places that I used to hang out when I was younger. Places have changed a lot since 30 years ago even 15 years that i was there in 1995. After couple hours of walking we decided to find tuk tuk back to airport, guess what? the rest of the gangs were in the tuk tuk passing us so we hop on with them. By the time we got to Luangprabang it was quite late so Nicole showed us where's the night market & the popular night club. There were street full of foods, all kinds of foods that we liked so of course Ian & I decided to eat street foods which was not recommended, oh Marca was with us so he ate street foods with us. It was pouring rain during our dinner, I felt sorry for the vendor they had to cover up their goods, some were packing up so there weren't too many vendors in the night market.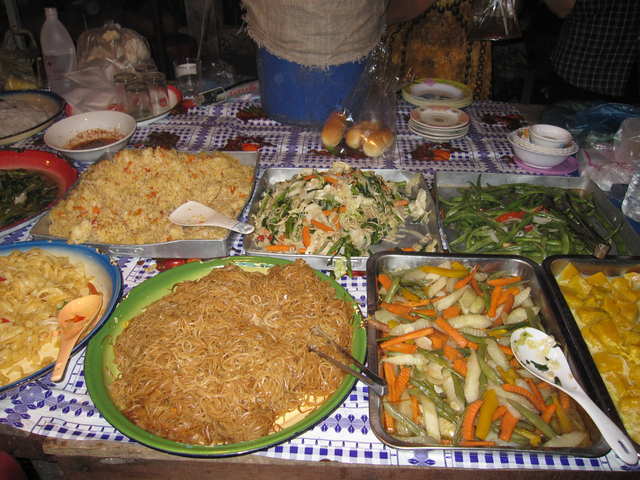 We walked for awhile & decided to meet the gangs in the pub but it was still early so no one there. After couple of drinks we decided to head back & the rest showed up but we needed the rest so we didn't stay, beside the music was so loud that we couldn't have decent conversation anyway.
The next morning we started our tour to Chang Rai, and the golden triangle. Got picked up by Minnie in the morning and went to a orchid and butterfly farm. Well not too may butterflies, I guess it is not the season, but learned a lot about how orchids are grown and cultivated, I now know why the orchid my mom gave Phaydy for Mothers day did not do so well, if it is still living after we get back I will better know how to take care of it, and hopefully restore it to have beautiful flowers again. I took a number of pictures of them, I will have to put together a gallery of just plant pictures that I have taken over this trip. Sorry mom I hope I can revive the orchid, it was the hot sun that did it in. Wilma I hope the watering of the plants is going well.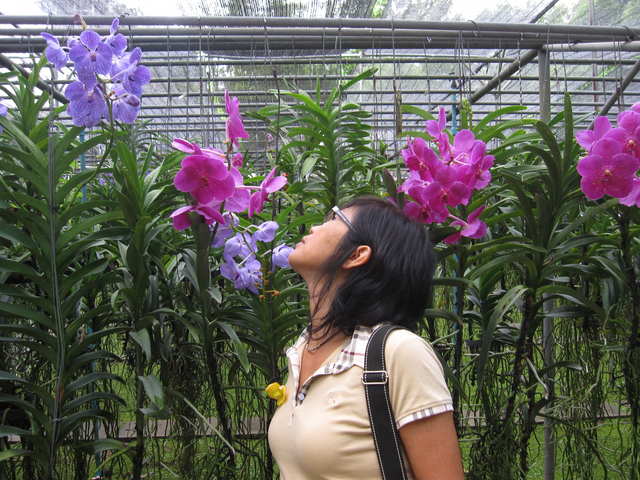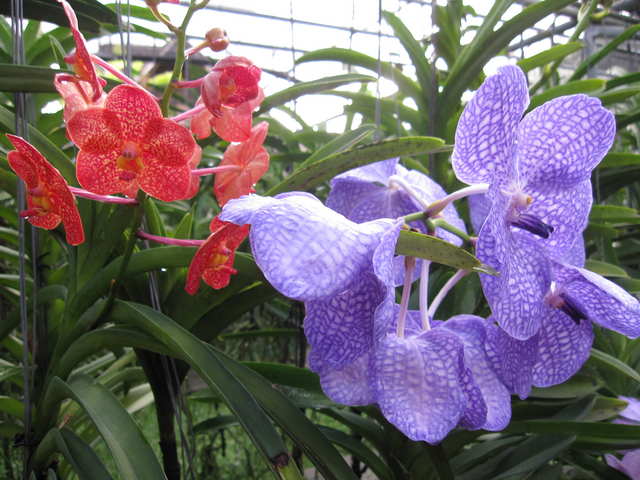 Then on to the elephant village, were we witnessed the care of the elephants, fed them and took a ride on one for an hour. I really liked this one, I was not that excited before the trip that we would ride on an elephant, but going for the ride through the forest, was a really nice experience.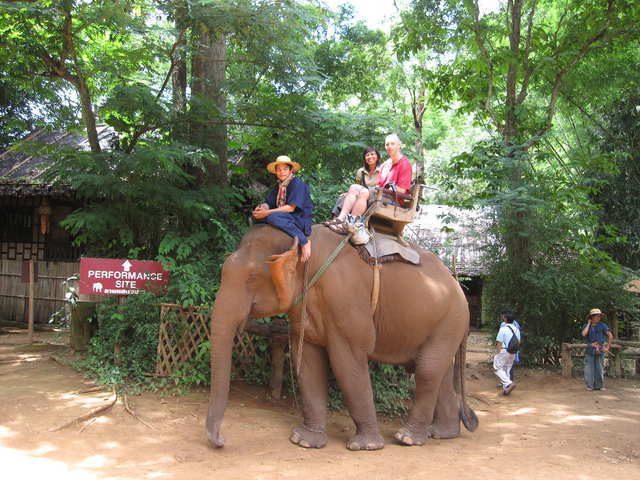 Had lunch and then in the car again to visit a market where Minnies mom worked, I was tired, and had just eaten, so I slept on the way there. Once there we purchased some sweet goods for the hill tribe kids, did not know about this, but found out later the reason why. It was nice to see Minnies mom at the market as we had started to have some really nice conversations with her in the car while driving. So now a river boat trip for a while, where we went the opposite direction toward the Myanmar boarder, and seen the flags that cross the river indicating the boarder. We obviously did not cross but turned around and enjoyed a trip down the river lined by farms of chillies (yum) oranges, and a variety of other fruit and vegetables.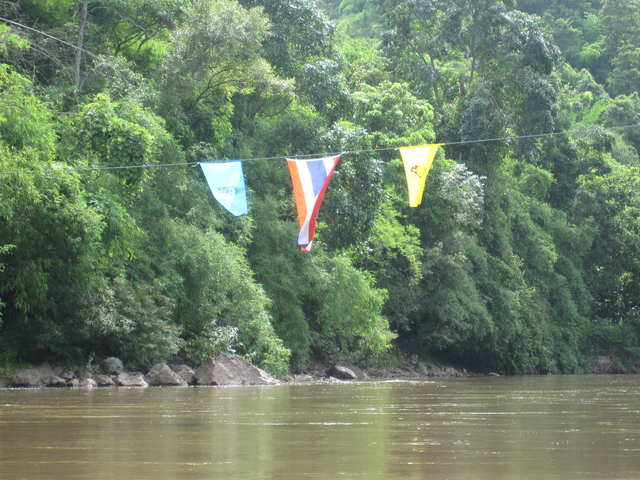 Out of the water to visit some hill tribes the different cultures of the hill tribes were explained to us during the drive, and we read some articles about them as well. Minnie was a fantastic guide in this way, she went our of her way to make sure that we understood the cultures, and the details of the people and the places that we were about to visit. The first tribe that we visit, Akah I believe we pull up to just an intersection with a few people outside. We get out, and Minne describes some things about the people. I bring out some sweet treats for the kids, the first was a little scared, a new face, you know how kids are, then one hears, about us, then another, and soon without any calling or yelling, every kid from the village is at my side getting a sweet treat. They may have eaten the sweet, but the sweetest treat was mine seeing the smile on the face of a small child who really has nothing, and maybe make them happy for a while. How glad am I that we stopped to get those treats. Take a look at the pictures and see if you can tell who is happier!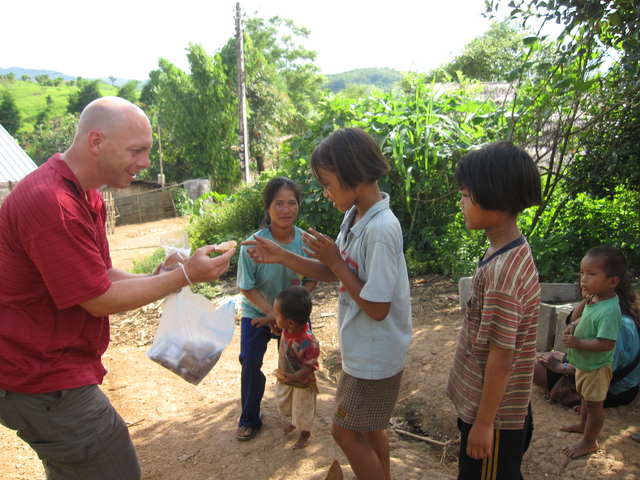 Off to another hill tribe village, this time a village of the long neck people originating in Burma. Now these people are fascinating, how can their necks be so long, they are people that have the same bone structure as every other human, so what is the deal. I read up on it and I know, what it is you should too. I don't want to spoil the research for you just tease you into looking it up yourself. If you ask me later I will tell you.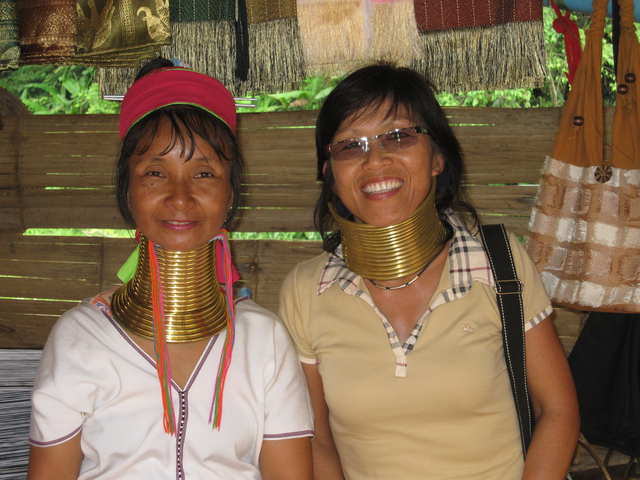 We must have been one of the first few groups to go through, as they had stalls all set up selling their traditional handy crafts they all sell the same stuff and want you to come to their shop. Who to chose, and I don't want anything anyway. I feel for them as this is their only livelihood, plus the admission fee that we pay to see them (it is good for them to get something and not just be a spectacle). Oh did I mention I ran out of treats for the kids at this place I wish I had more :-) Another hill tribe, and then off to the hotel in Ciang Rai. What a full day and lots of fun.