The plan today is to go to the park, and relax after our marathon day of walking. Alain must have been really tired, so we had to walk the maze to his place, and get him up. We then had a bit of lunch at the favorite buckwheat noodle place. Then off to the island park for a relaxing day, and possibly take a river cruise. Well we navigated our way to the correct subway station, got out, and wondered what direction to go to get to the park. So wandering around the area, the wind picked up, the thunder caped, and the sky opened up, and it rained really hard. Realizing that the day at the park was now a bust, we ran back to the subway station and went home. Oh well another day.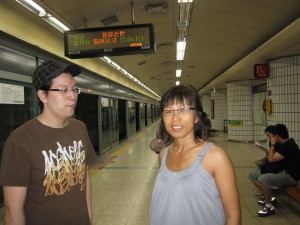 In the Subway
So after a not so good weather day yesterday, and thunder all night, we were hoping things would clear up today. We were lucky that things did clear up, a bit, and there was no rain. We had Alain's favorite cold noodles again for brunch, and proceeded to Namdaemun market. This market is one of the oldest markets in Seoul, it is really crowded, and I'm sure that you can buy pretty much anything that you wish. Stalls for just about anything, socks, hats, belts, clothes, pots & pans, you name it, it is there. Did not purchase anything (the bags are just not big enough). It is just interesting to see all the people that are there and how they go about their daily routines.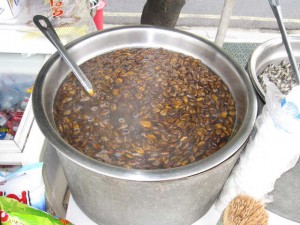 Silk worms for snack
Instead of walking all around, we decided to take a river cruise to see more of the downtown area. So the cruise was good, not that exciting, but we did get some open views of the city. The interesting thing is the grouping of the apartment buildings, and the density that the population live in. There was a magic show on the cruise, I can not believe that all the people would actually go and watch that LOL. We stayed up on deck chatted, and looked out at the city. The sun decided to come out so the day was good.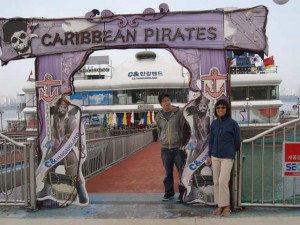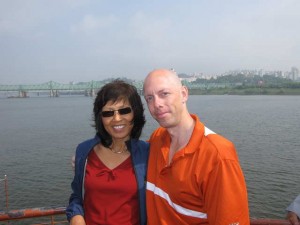 Well after a marathon day yesterday, I slept till 10:00am & still felt really tired. Waiting for Alain to join us for another adventure day but no sign of him so we venture to find him. Pretty good for foreigner to find anyone in a twisting alley that have no address nor name, we found him & went out for lunch at his favorite restaurant. Today suppose to be relaxing day in the park but turn out to be relaxing day in hotel room. The rain sent us back to hotel but we had fun chatting till midnight. It was a very good day catching up with Alain about his future plan & dream. That's what I love the most is being part of his life.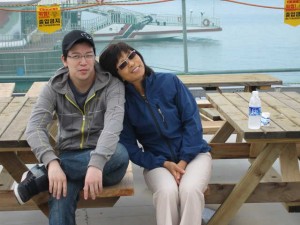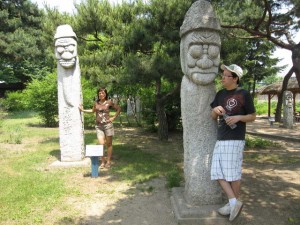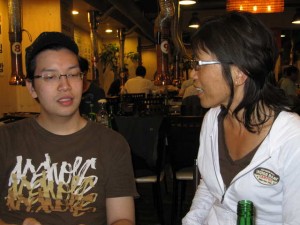 In the heart of Seoul there is a tower atop a big hill, it is the highest point in the city, and is supposed to have the most spectacular views. So our next stop after dinner is the tower. For dinner we went to an area where all the restaurants serve the same dish, as we walk by each of the owners are outside trying to get us to come in. Not sure which one will be the best, we just chose one and sit down. The meal is a mix of noodles, vegetables, and an egg boiled together at the table to form a stew. We also get chicken feet on the side, covered in a deep red chilly sauce. As this can be quite messy, they provide aprons and plastic gloves for the guests so that they do not get everything that they are wearing all red. Overall quite a nice dinner, would have never found a place like this without Alain as a guide.
Now on to Seoul tower, we get into a taxi and ask him to take us to the tower, he says that he can not go up to the tower, but can drop us off at the bottom, and we will have to take a bus, so we agree. By the way taxis here a so cheap, something that would cost us $30 in Vancouver, cost us the equivalent of $3. So at the bottom we decide to walk the 2.6 Km to the top on our own. The walkway is quite good, separated from the buses and taxis well, and has a soft layer under your feet. Yes some of you heard correctly taxis were passing us, that guy we had said that he could not go to the top the slimeball. So we get some good views on the way to the top, when you see the pictures bellow you may think that it is foggy out, no, it is sunny, and what you see is the thick fog in the city (Seoul is the second most polluted city in the world next to Mexico city).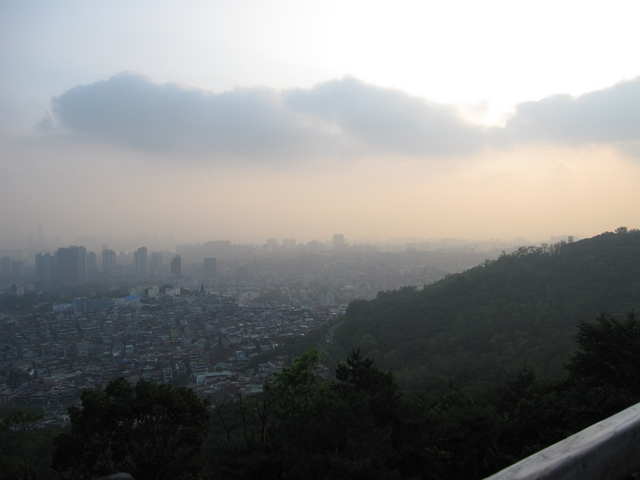 There are many people walking to the top, from young to old, and some running, some biking. It seems like the grouse grind, only a lot less steep, and all paved, maybe more like mount Douglas in Victoria. At the top, we walk around, and see that the fence surrounding the edge, is full of locks that people put on the fence, many with notes on them etc. cool. Walking down we seen many more bikers coming up, a couple of running groups, and even one guy who was running while skipping a rope the whole way up. Retiring to the hotel we stayed up and chatted with Alain till the small hours of the morning, as tomorrow we travel to Bangkok.
When we parted on th second night we agree to meet no later than 10:00AM, guess what? You know Alain just can get up early so we venture to his place to wake him up again. On the wayto Alain we stop at Starbuck for coffee & we spend $6 a cup and no free internet because we don't have Korean keyboard. Anyway we found one PC place to update our blog as we saw that Kim already wants to know what we're up to. We miss you too Kim & Eric :-) We got Alain up went for lunch, did the boat city cruise. On the way back we bought silk worm for snack so Ian can try something he hasn't had, I thought he like everything no he doesn't like silk worm. We had pretty cool lunch & went hiking up the mountain, I really liked it kicking Alain ass up the hill cause he kept complaining it's so far...lol. l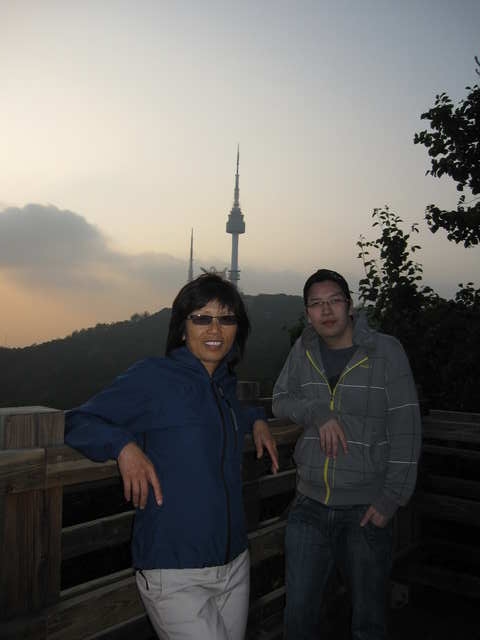 Kicked Alain up the hill
I had great day we got back to hotel with a handful of soju & chat till morning.
We got up late because not much plan except want to hang out with Alain till the time I have to leave. Again we walk up to get Alain up & went for lunch, pretty classic pig's guts soup with rice. We hang out near by hotel shopping area, we walk by everyday but haven't had the chance to check them out. Most of the store are selling the same stuffs that we've seen before so we decided to just hang out & chat in a Tom & Tom coffee shop till 3:00PM & it's time to leave. This is the hardest time for me cause I don't want to leave Alain behind. Anyway he promises that he will go home soon cause he misses everyone at home as much.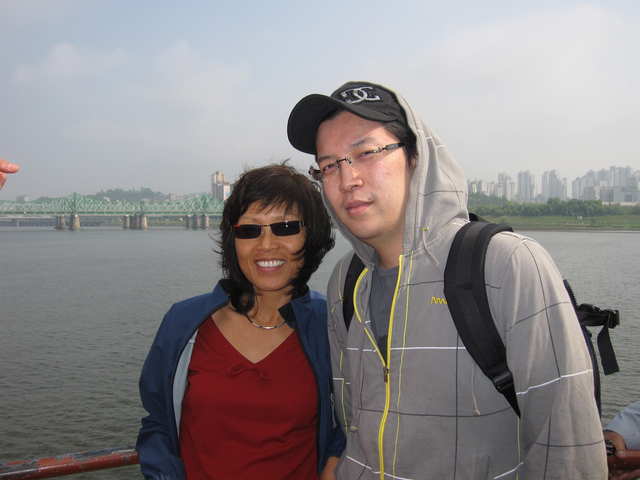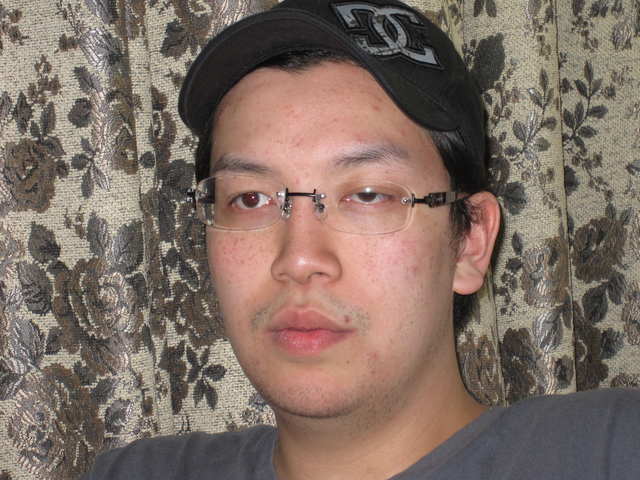 We got up a bit late, had lunch with Alain, said our goodbyes and we set off on the subway to catch our flight. We left later, as we wanted to spend more time with Alain, and knew that were were going to have carry on only, so we did not have to be there as early. So off we go on the subway, time is passing, we make all our stops on time, the problem is that we underestimated the amount of time that it was going to take to get to the airport by train. We get to the airport, and the plane is already boarding, my heart is beating fast, as I do not want to miss this flight. Now it is like amazing race, run to the counter, get a special one open for us, get our tickets, and go to the gate. Wait that security check thing, line up for that, Phaydy makes it through fine, but they do not like my bag (I somehow collected all the liquids in my bag). They check it once, then put it back through, don't like it again, check it over another time, all is good, but we lost some sunscreen (why do they not sell bottles that are 100 ml instead of 120 ml). Now we are both through, 10 min left till the flight leaves, I can see the gate we should be fine. Well we made it on the plane, note to self, leave the extra time even though we only have carry on.
Our hotel is the royal hotel in Bangkok, near the royal palace, and wat Po, so we decided to walk around and see what we can see. Getting close to wat po we were approached by a guy wanting to show us around, not that unusual, but what was unusual, is that this day only, the tuk tuk drivers got vouchers from the government for gas, if they give a good discount to tourists (good for us). We were supposed to go to a few places then that would be it, instead, we ended up keeping the guy the whole day, and seen so much. We ended the day with a river cruise which was quite nice.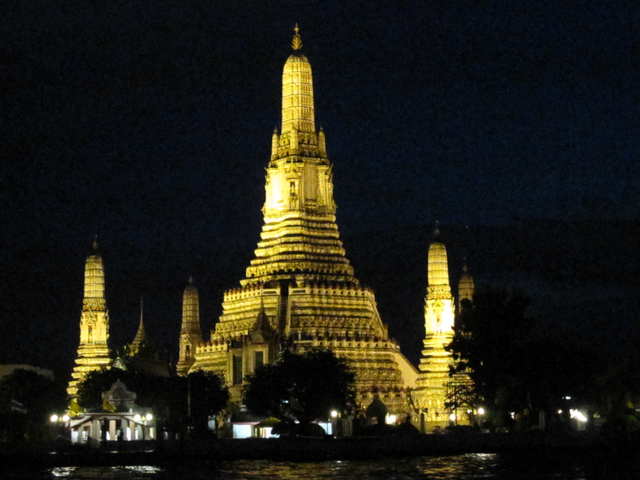 Now on to some real meat, the driving in Bangkok is something to behold, they have lights, and the lights have numbers beside them that count down to the change, so that you can really get ready to go when the light changes. Even the walk symbol has a guy that is walking, and as time gets short, they symbol starts to run. So now back to the driving, all the scooters, and tuk tuks tend to find their way to the front of the line, this includes weaving between cars, running up the middle etc, until you get to the front. Right turns are also interesting (like our left turns) it is a race to get a few vehicles through the turn before the on coming traffic catches them. Now rush hour it gets worse, there is two lanes each way, now one would think this is the case, but the fast lane of the opposite direction is open game before a light, and sometimes the scooters and motorcycles use both the oncoming lanes to move faster. This is just crazy, but somehow it works, as I did not see one accident 16,000,000 people 5,000,000 cars, and who knows how many scooters.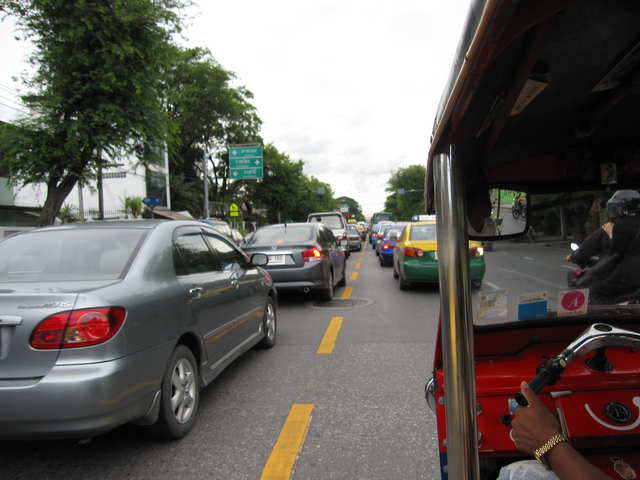 The cars on the left of the yellow line are good the ones on the right are in oncoming traffic hmm
This day we are taking a tour to Ayutaya, where the king has the summer residence. The kings summer residence was nice, but the real gem was the ruined temples, the brick once covered in concrete now exposed after years of weather, and wars, just amazing, to imagine that at one time all these structures were smooth, and covered in gold. I took a tone of pictures. The stairs to the temples were not too high at this time, but in the past there were at least 3 – 5 more stairs, over time they were covered in dirt from floods etc. this is something to remember. I hope that you like the pictures, I really enjoyed this trip. We took a boat back along the river, and were able to see how the people lived along the riverside.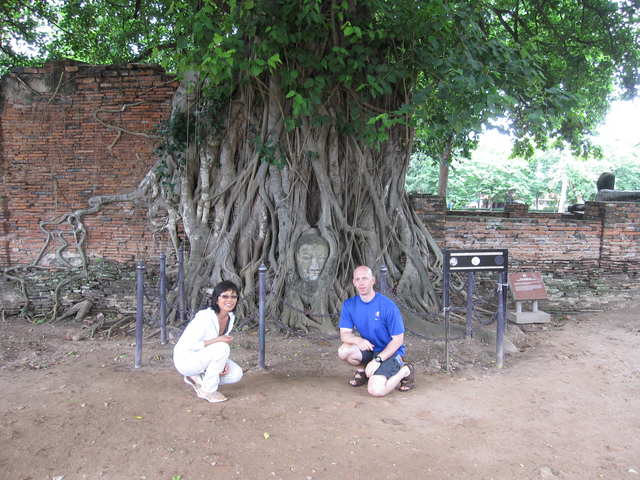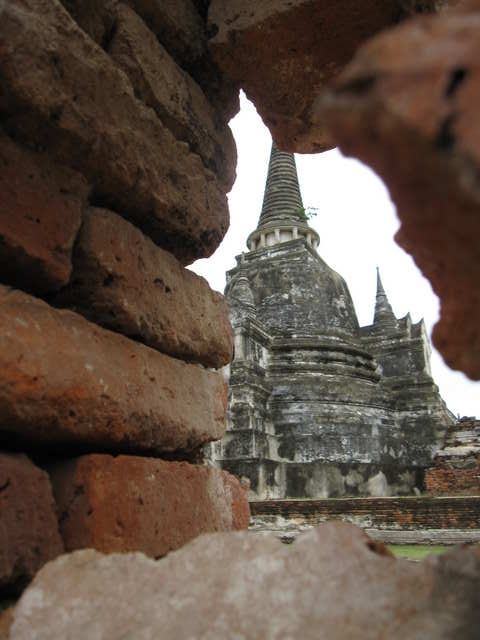 we didn't have any plan today, just wanted to check out what's around us, so we signed up for couple of trip that we really like to do. The rest of the day we run into tok tok with government promotion 40 bath to show us places in order to promote their tourism because it's a low season right now. We see almost every places there is to see plus some more than we didn't need to see.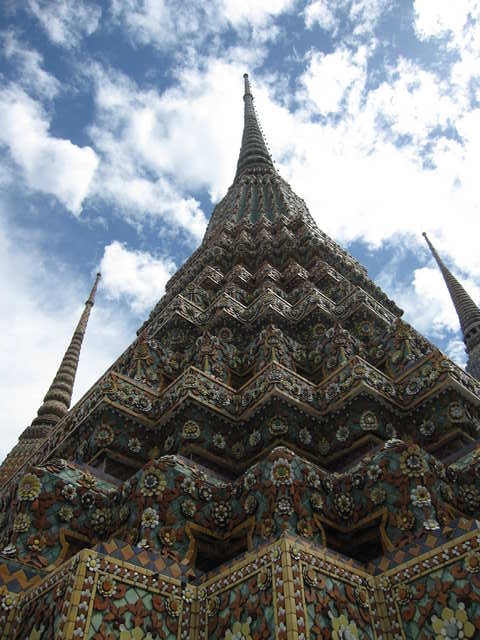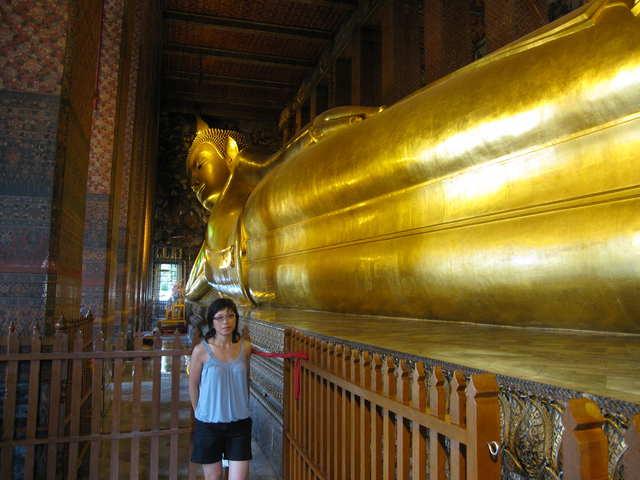 We ended up spending more money on things that we don't really need. Oh well that's vacation is all about right you talk yourself into buying something you don't need. Anyway we end up spending 300 bath=$10 on tok tok by the end of the day. Have half an hour left to get ready for dinner cruise which was the best choice. Night light along namchoapraya river was nice, dinner & entertainment were pretty good. Overall it was a productive long day.