So this past week Phaydy and I both got sick, no its not the flu (H1N1) or whatever they want to call it, but just a nasty little cold, that has us coughing, sneezing, and all stuffed up. Well I am glad that it will be over with before we travel. It is not that nice to have at any time, let alone while you have to be on an overseas flight for 10 hours.
I am however concerned about how we may be welcomed at our destinations. I have heard on the news about Canadians being quarantined in China, not because they have the flu, but because they are from Canada, and some Canadians have been reported to have the swine flu. So I also remember back when the SARS thing was going on, that Canadians that traveled to Thailand had some restrictions put on them, something like having to wear a mask for the first 5 days or something. I should look it up (tried but could not find anything on it).
So we should be better soon, and hope that there are no more colds etc. that we will pick up before we leave.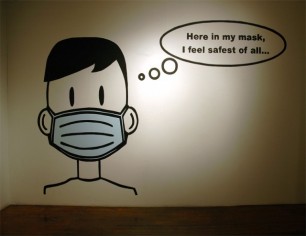 Mask or No Mask